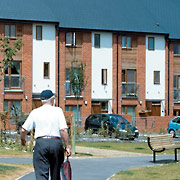 Architect
HTA Architects
Developer
Sentinel Housing Group
Contractor
Rok Llewellyn
Planning Authority
Basingstoke & Deane Borough Council
Click any image for a larger view
Design aspirations for regeneration projects are driven in part by the memory of the failures they seek to erase. One common briefing is that people want their own front door onto a street, with communal places to meet and a corner shop - not the slab and point blocks that new schemes are replacing. But doesn't that mean fewer affordable homes in a time of shortage?

Oakridge Village shows how this is not necessarily so. The demolition of impossible-to let double-banked maisonette blocks surrounded by Radburn estates and the A339 ring road has led to 148 maisonettes being replaced with 299 new homes, mostly houses. Spoil has become the bund to screen noise from the ring road, a sustainable urban drainage system bubbles away underground, and a landscaped square sits in front of a striking 400 m 2 community building housing a health centre and hall for use for everything from weddings to amateur dramatics - all this and the density climbs from 25 to 37 homes to the hectare.

The housing comprises 50% affordable housing, 15% keyworker accommodation and the rest private for sale to generate cross-subsidy. Space standards are high in both rented and keyworker units and offer plenty of bangs for your buck. This sensation extended to the sales launch of the first phase of 50 units where 700 people registered their interest and the keenest queued overnight to secure their property - in what had been Basingstokeís worst address.

Two ground-floor plan forms are used to maximise solar gain and to suit different orientations, using consistent front-to-back dimensions so that different types can be juxtaposed with ease. South-facing units have living space to the front and a bay window; northfacing units have living space to the rear with full-height glazing. The range goes from two to four bedrooms and there are options for twostorey, two-storey with an attic and three-storey houses with interior arrangements capable of adaptation and extension. Invisible tenure means homes for rent and sale are mixed across the site and are hard to distinguish, except that a modular steel frame design allowed some market sale buyers to add balconies without impacting on the construction programme.

A new road layout rounding a village green on a scale not associated with a project of this size completes the transformation of grim estate to trim village.
from grim estate to trim village