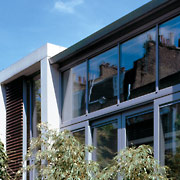 Architect
Buckley Gray Yeoman
Developer
Joel Properties
Contractor
JJ Builders
Planning Authority
London Borough of Islington
Click any image for a larger view
Property values in Islingtonís Barnsbury conservation area have long made the site of a small local van hire company ripe for residential development. But how? The 1930s garage off Liverpool Road sat between four rows of Georgian terraces and access was through a narrow gate alongside the corner building.

The resulting design accepts these sensitivities by developing only within the footprint of the garage and rising no higher than the original. So original walls to the garage are retained as the garden walls to surrounding Georgian terraces.

The new terrace of three townhouses set back from the retained wall deals brilliantly with overlooking issues and potential claustrophobia. The few windows to look towards the Georgian terraces are screened with timber and bamboo planting, while the rear of the terrace facing the retained garden wall is mostly glazed. Light flows through the section but, unusually for central London, there are few views of the neighbours.

The houses work to link indoors and outdoors to fight against any sense of claustrophobia. Each bedroom has an outside space and, for example, those at basement level have private spaces front and back. The scheme is so well screened from traffic noise by the retained walls and surrounding perimeter block that it must be comfortable to go to sleep at basement level with the doors open to the outside world.

The site also incorporates an infill house, located above the entrance road to the courtyard, inserted into the space in a row of terraced houses. The flying freehold represents a challenge in that it is a very tight space and an intricate site in terms of planning and ownership.

This is keyhole surgery, invisibly adding life without scarring.
keyhole surgery, invisibly adding life without scarring