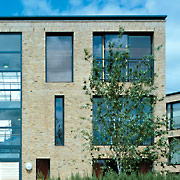 Architect
Feilden Clegg Bradley
Developer
Countryside Properties
Contractor
Wates Construction
Planning Authority
London Borough of Merton
Click any image for a larger view
Bennetís Courtyard contains 52 one - and two bedroom apartments and 164 sq m of commercial space. The brief from Merton Borough Council demanded a sensitive mixeduse development respecting the nearby Merton Priory and adjacent complex of listed 17th, 18th and 19th century industrial buildings. These include facilities used by William Morris and Liberty & Co and are now converted as part of a thriving craft market and cultural centre known as Merton Abbey Mills.

The new development consists of two long blocks. These ďarmsĒ encircle a central villa block whose timber-clad edge conceals the ground-floor car park. There is a communal roof garden above, which works not just for the new residents but also as a popular concession to those living opposite in Runnymede Close, as it maintains the landscape-dominated environment. The existing riverbank has been kept soft and informal, and demands for a hard surface for fire-tender access on the riverbank are served with a plastic modular grid camouflaged within turf.

From the outside of the apartment buildings, brick and half-deep window reveals hint at qualities to be found within. The revelation is the use of an atrium to house circulation decks to apartments. The commonplace 1200 mm corridor is abandoned and replaced with a concrete frame deck broad enough to fit sofas and occasional tables. Apartments have a bay window into the atrium, giving them dual aspect, but with holes punched into the access deck in front of the bays to protect privacy. This also lets light diffuse from above downwards to add to that entering from the glazed atrium gables. The impact is a phenomenon - a calm winter garden that will act as ďthe ideal space to meet the neighboursĒ.

The whole scheme similarly pays attention to environmental sustainability. The apartment winter gardens benefit from a communal passive solar sunspace and were designed to evacuate smoke naturally as part of the fire strategy. The internal communal spaces have hardwood decked walkways and lining with the same cladding to the projecting kitchen bay windows and external bays to the smaller villa block. The hardwoods used - Cumaru and Muiracatiara - are from environmentally secure sources.
the ideal space to meet the neighbours