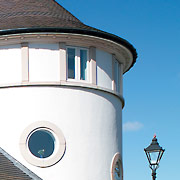 Architect
Morgan Carey Architects
Developer
Blandford St Mary (Homes)
Contractor
Blandford St Mary (Homes)
Planning Authority
North Dorset District Council
Click any image for a larger view
Bryanston Hills came about after the contractor ceased trading and the landowner stepped in to finish the scheme. The layout challenges the tyranny of the distributor road, highways on a domestic scale being the fashion in Dorset since the country's most famous developing landowner started it all in nearby Poundbury. The result is a layout that slows the car with a series of tight corners with restricted visibility and creates a series of enjoyable but small public spaces for people to meet.

The architecture is not intended to be remarkable. Buildings define and provide a backdrop to the public spaces. But planners did ask for two landmark Folly buildings, one as gatepost to the development, the other as "signpost" to the scheme for drivers on the bypass skirting it. There is a cupola on the latter, intended to act as a twin to the nearby church of St Peter and St Paul in Blandford St Mary. It stands over a porthole of toughened glass through which daylight penetrates a single aspect earth-covered dwelling beneath - an oddity for a new-build estate.

The parking and garages are always within curtilage, many approached from rear mews courts. In every case, these mews are "occupied" and thus supervised by the inclusion of dwellings. The garages have "cut" roof structures and usually rooflights to encourage workshops and hobby rooms. For example, one has a music studio and in another the workshop space over the garage could accommodate a small business. It is a scheme designed for flexibility.

Looking at the 1:500 drawings gives no clue to the extent of soft landscaping. Every front garden was planted as part of the sales offering, and every verge to every building line is bursting with foliage established early on. A protected badger sett is the only area not built on in the scheme, but the impression throughout is of a stroll down leafy country lanes.
a stroll down leafy country lanes