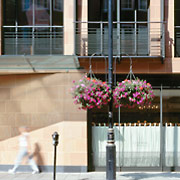 Architect
Kohn Pedersen Fox Associates (International)
Developer
Capital and City
Contractor
Mace
Planning Authority
City of Westminster
Click any image for a larger view
The development sits between Mayfair's Berkeley Square and Grosvenor Square and the brief was to design a prestige building for the international luxury market. A robust elevation at ground floor contains both office space and the area's most fashionable new restaurant, the London branch of Venice's Cipriani.

As with the street's other jet-set hostelry, the adjacent Claridge's Hotel, large hanging bays spring from this confident base to climb their way upwards towards the roof. These bays are in steel behind which are layered balustrades, glazing and blinds. The metalwork contrasts with the hand-set terracotta cladding in which a carving by Ian Hamilton Finlay translates a French Revolution commentary on freedom.

The rich palette outside is reflected within. In the lobby, handmade terracotta tiles from the Netherlands are enlivened with a unique bronze glaze that glistens, and finely detailed steel stair balustrades shimmer in uplighters beside them. They combine as an exhibition of craft rarely found in UK residential.

The project was not subject to the usual cost constraints, and in the cost-time-quality triangle, the latter ruled. The relatively long three-year construction period derived from the labourintensive, meticulous work carried out throughout. It delivered the promise spotted in the scheme for which it had previously won a Project Award.

The apartments draw on the typology of the London mansion block, with generous public and private spaces. A vaulted entrance hall forms the heart of each apartment. This hall is lined by a wall of service spaces, bathrooms, storage and utility rooms, through which the main living space is accessed.

In an era when every property advertisement contains the words "luxury" and "stunning", here they are not empty boasts.
here, "luxury" and "stunning" are not empty boasts