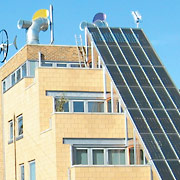 Architect
Bill Dunster Architects
Developer
Yorklake
Contractor
Tower Region
Planning Authority
London Borough of Tower Hamlets
Click any image for a larger view
ZEDstandards is the Bill Dunster Architects trademark for Zero Energy Development specification. Insulation and thermal mass make space heating redundant while background heating is generated by occupants, solar gain and incidental gains from cooking, TVs and computers. So BowZED, in Tomlins Grove, depends on a single 15kW wood pellet boiler to supply the whole block with hot water and backup heating in deep winter.

Large, south-facing windows provide high levels of daylight, and fitting 'A' grade appliances and induction cooking hobs then reduces electrical power demand further. The remaining demand is met by photovoltaic solar electricity and 1.5 kWp SwiftTM silent wind turbines. Both export back to the grid at times when they are generating more energy than the building can use.

The greenness of ZEDstandards has never been in doubt. But how would they transfer to a small infill plot in east London? The surprise at BowZED is the sense of amenity. Here are four apartments that are the subject of learned journals the world over for their energy efficiency, but first impressions are of light and space and how well the plan works.

At the top of the block is a studio flat with fantastic views across to Canary Wharf. Below this is a one-bed flat and two two-bed flats. The ground-floor flat has a small conservatory, a courtyard and its own street entrance. All are south-facing, away from busy Bow Road and down a classic Victorian terraced street.

ZEDstandards may scorn the latest glossy kitchens and bathrooms. But this is not asceticism. Sitting on the sunlit terrace, screened from the street by massive blockwork in place of the more commonplace and much less private metal balustrade, or standing in the utility room/conservatory shaded by PVs fitted inside windows, you can feel money well spent. You buy into BowZED for the quality; that you are saving the planet is the bonus.
there is a feeling of money well spent