University College, North Oxford
Entry type:

Number/street name:
Fairfield - 115 Banbury Road
Address line 2:

City:
Oxford
Postcode:
OX2 6LA
Architect:
Niall McLaughlin Architects (NMLA)
Architect contact number:
+44 (0)207 4859170
Developer:
University College, Oxford.
Contractor:
TBC
Planning Authority:
Oxford City Council
Planning consultant:
Barton Willmore
Planning Reference:
20/00116/FUL
Date of Completion:
12/2026
Schedule of Accommodation:
The scheme provides 102 bedspaces, comprising a mix of study bedrooms, accessible study bedrooms and 1-bed flats, in Phase 1 and 48 bedspaces in Phase 2, including again accessible bedrooms. There are planned to be 7 nr. wheelchair accessible bedrooms and 8 nr. 1-bed flats in the new development, the latter for graduates or junior academics. There are a variety of communal student kitchens across the site. (For the purposes of this application, a 'home' is defined as a household with a kitchen, which might comprise up to 7 student members sharing the household facility.
Tenure Mix:
100% University College, Oxford
Total number of homes:
19
Site size (hectares):
2.59
Net Density (homes per hectare):
7
Size of principal unit (sq m):
14 - 21
Smallest Unit (sq m):
14
Largest unit (sq m):
21
No of parking spaces:
14
Scheme PDF Download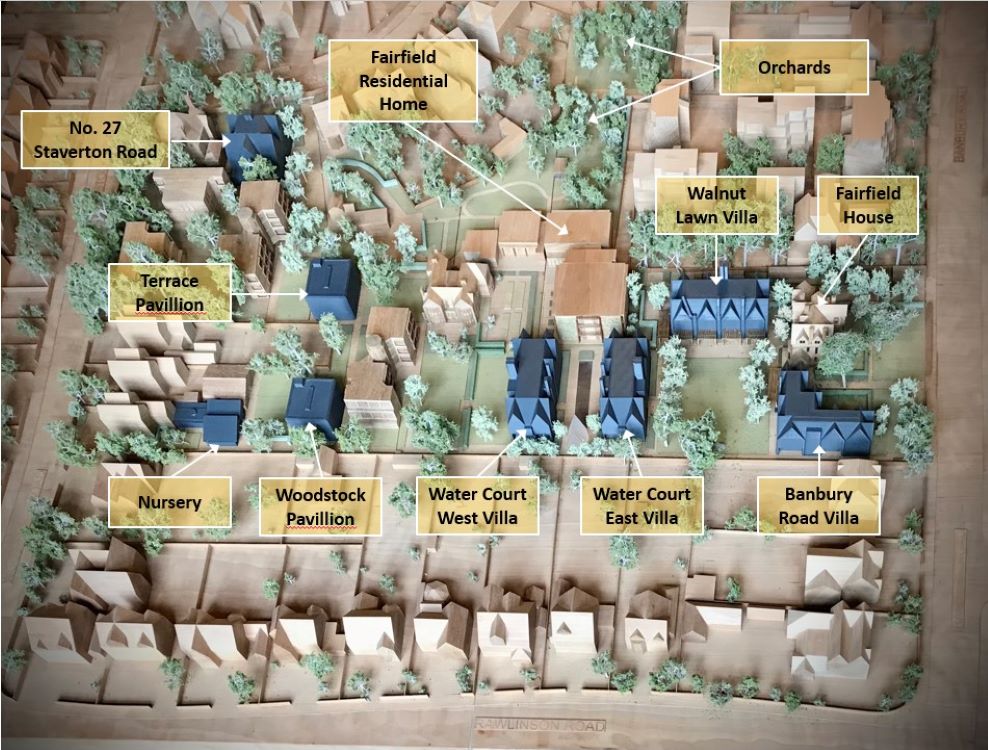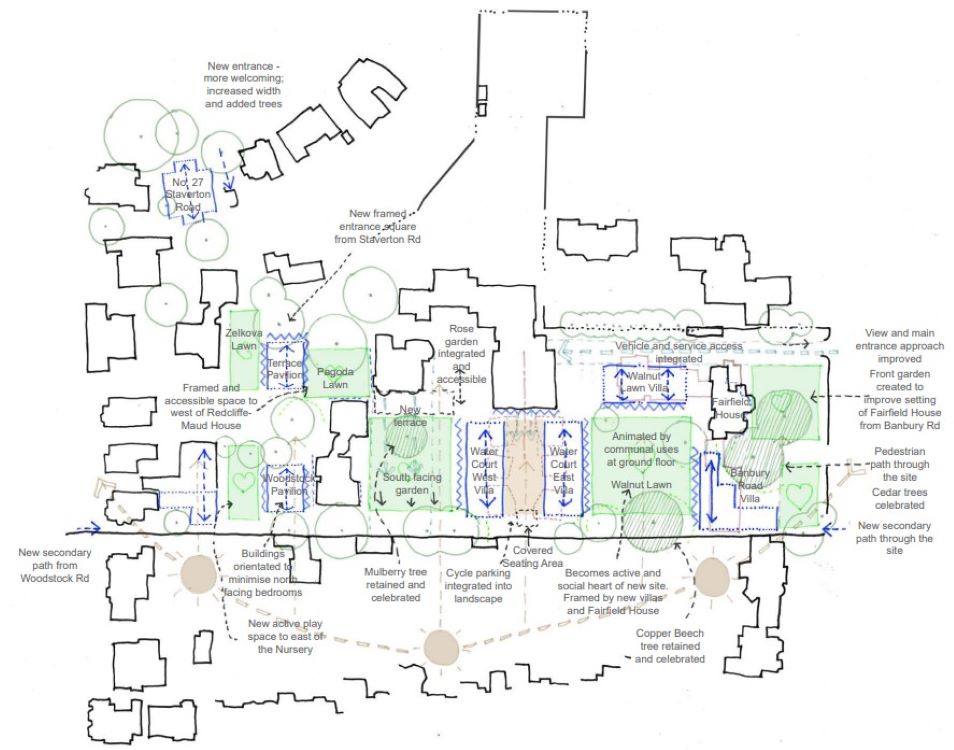 Planning History
The original concept included concurrent applications submitted in 2015 for new graduate student accommodation, referred to as Six Pavilions (OCC reference 15/01108/FUL 16/01650/VAR) and a new care home for Fairfield Residential Home (15/01104/FUL). They were approved on the 8th October, 2015 (Six Pavilions) and 10th November, 2015 (Fairfield Residential Home). The residential home is now fully completed. The student accommodation development has also been commenced and remains extant. The College has adopted an holistic approach to the site which reflects the creation of the consented masterplan (20/00116/FUL) comprising mixed undergraduate and graduate accommodation and a more comprehensive suite of facilities.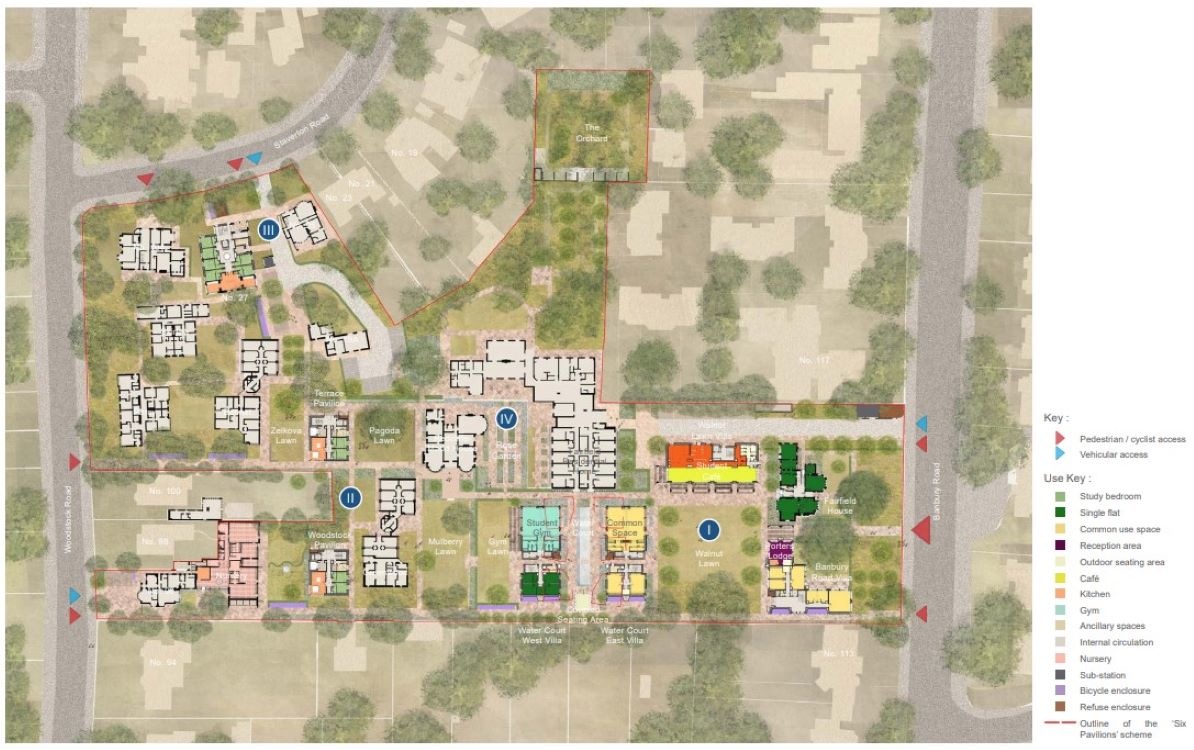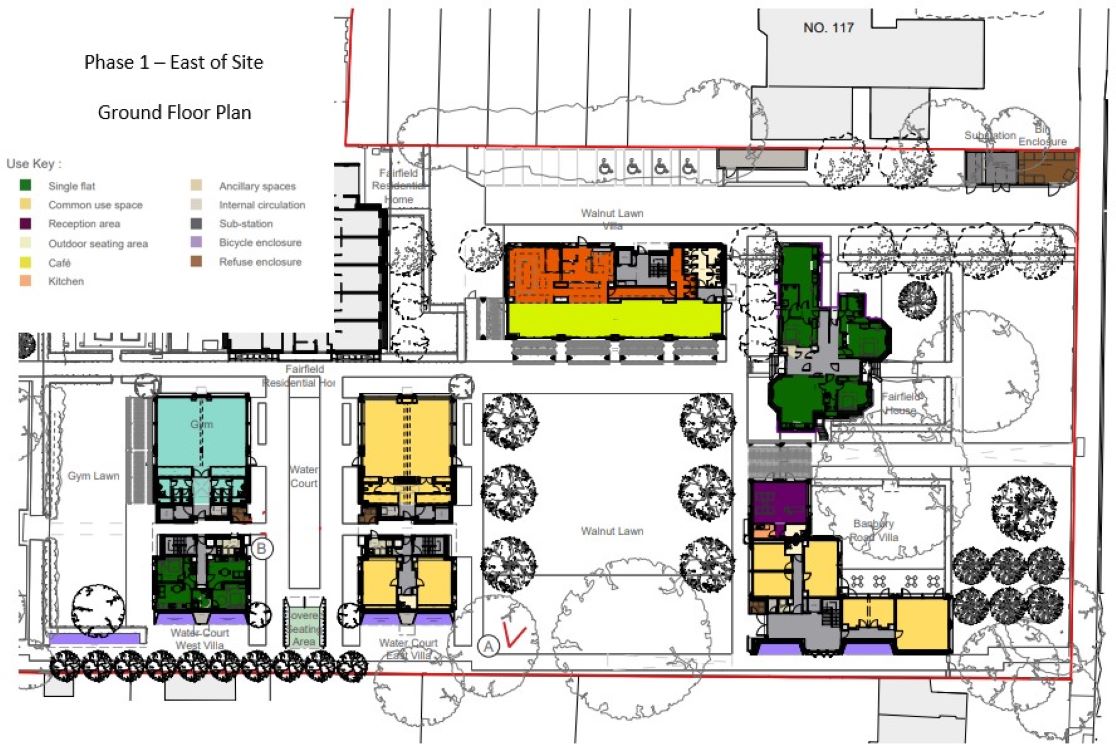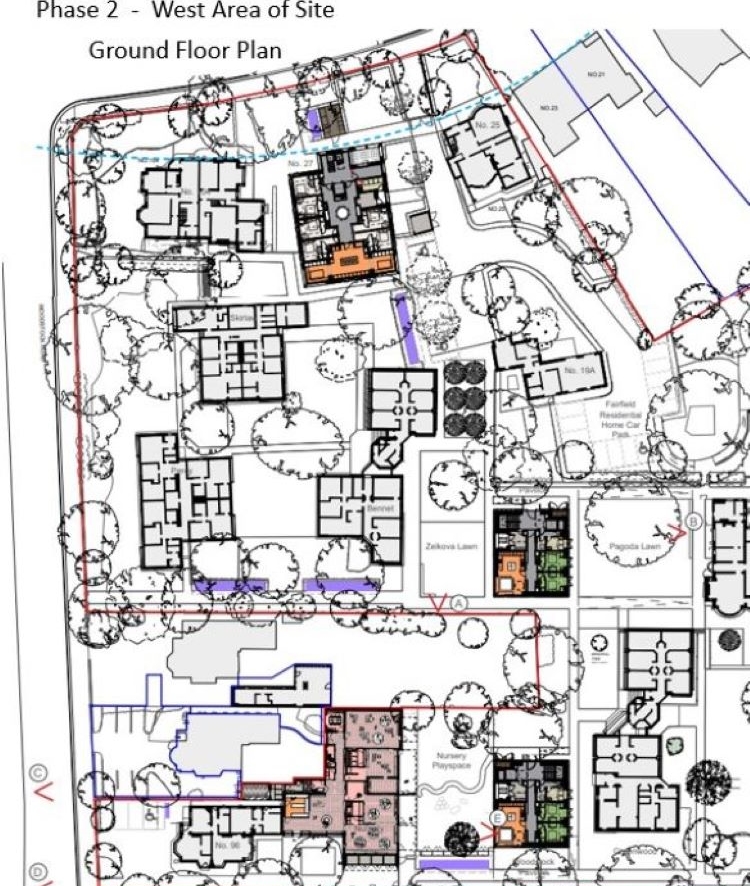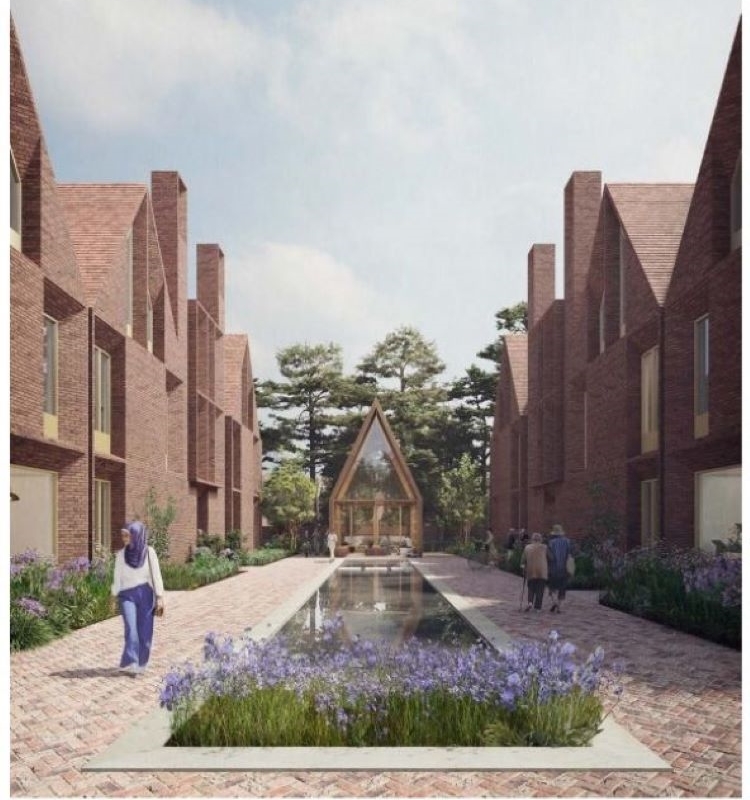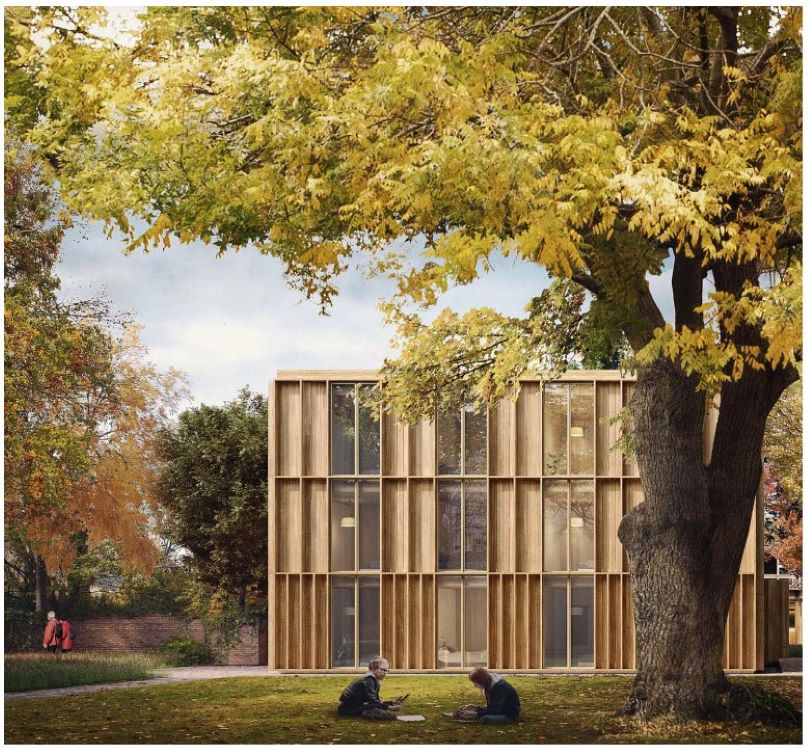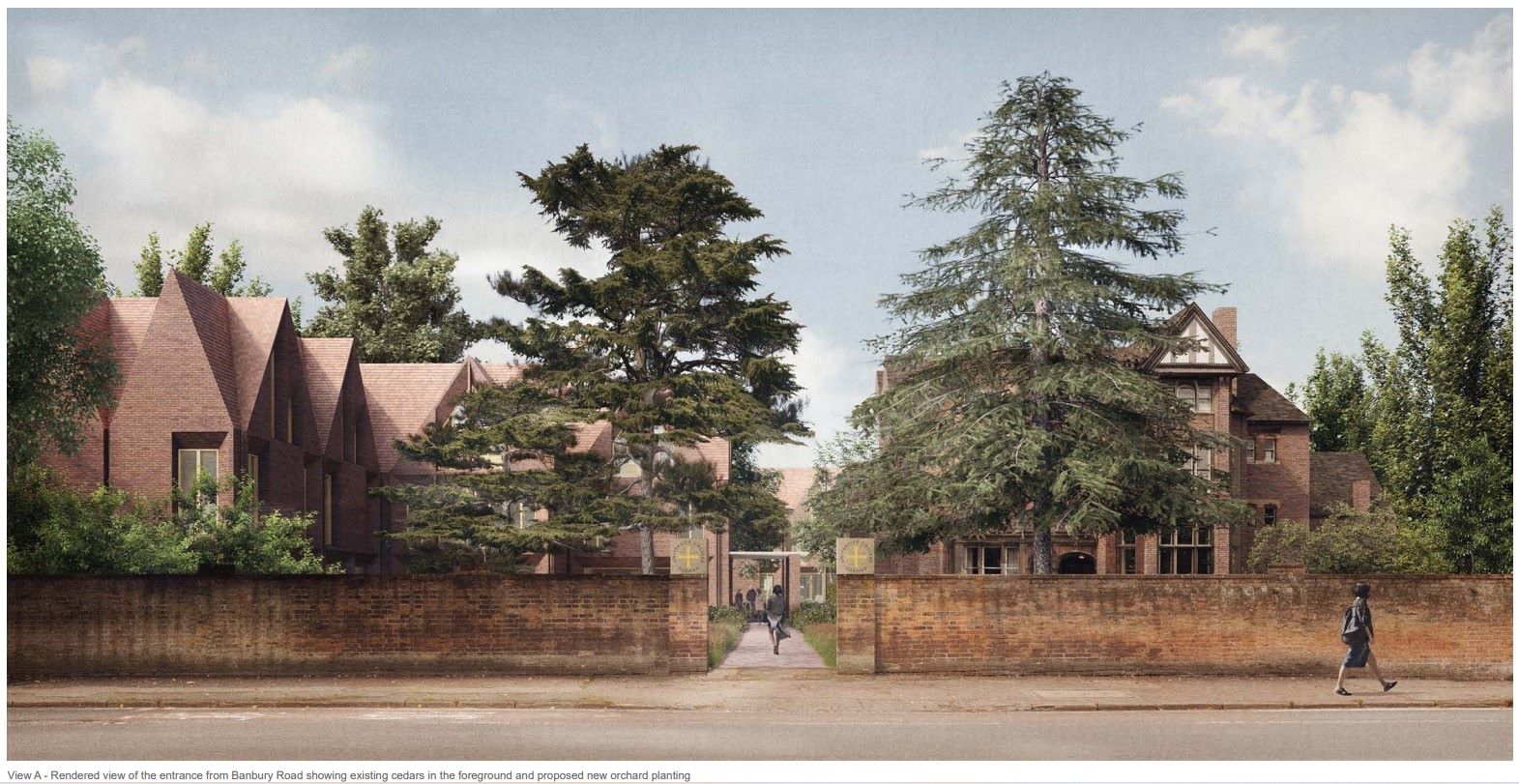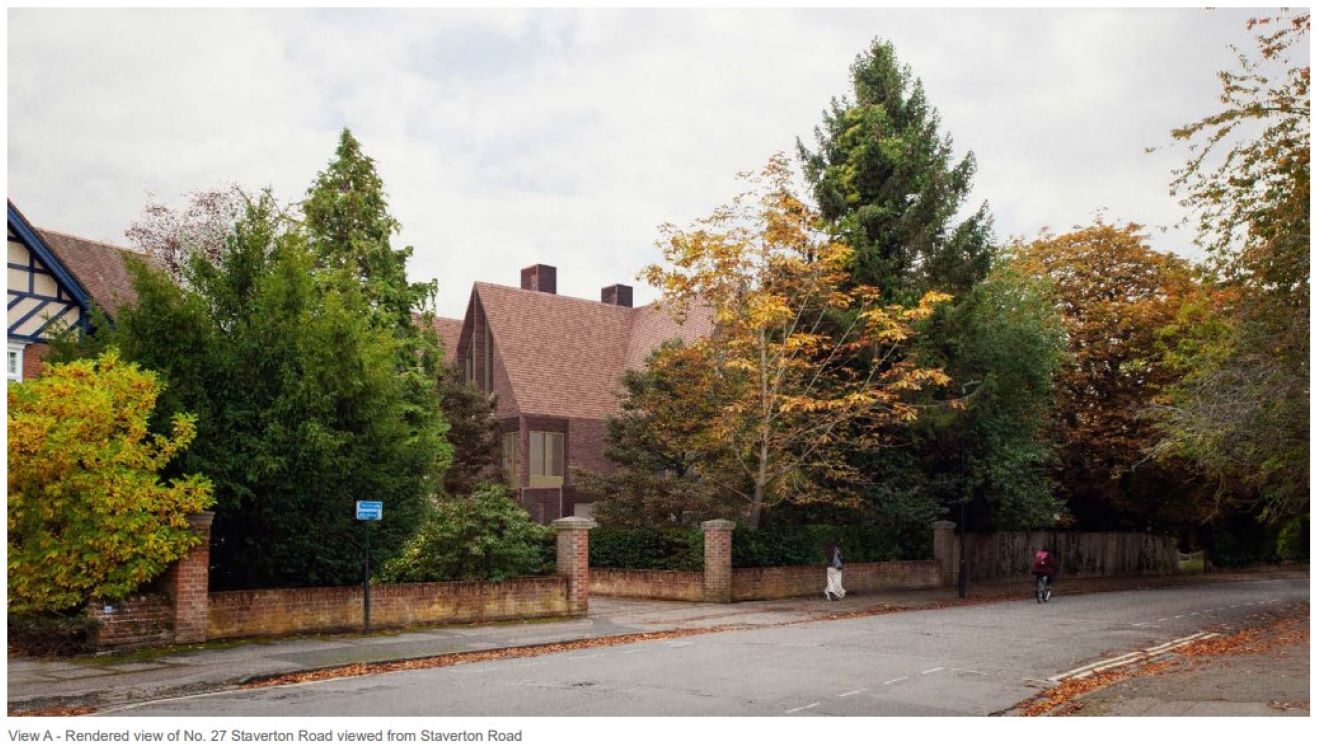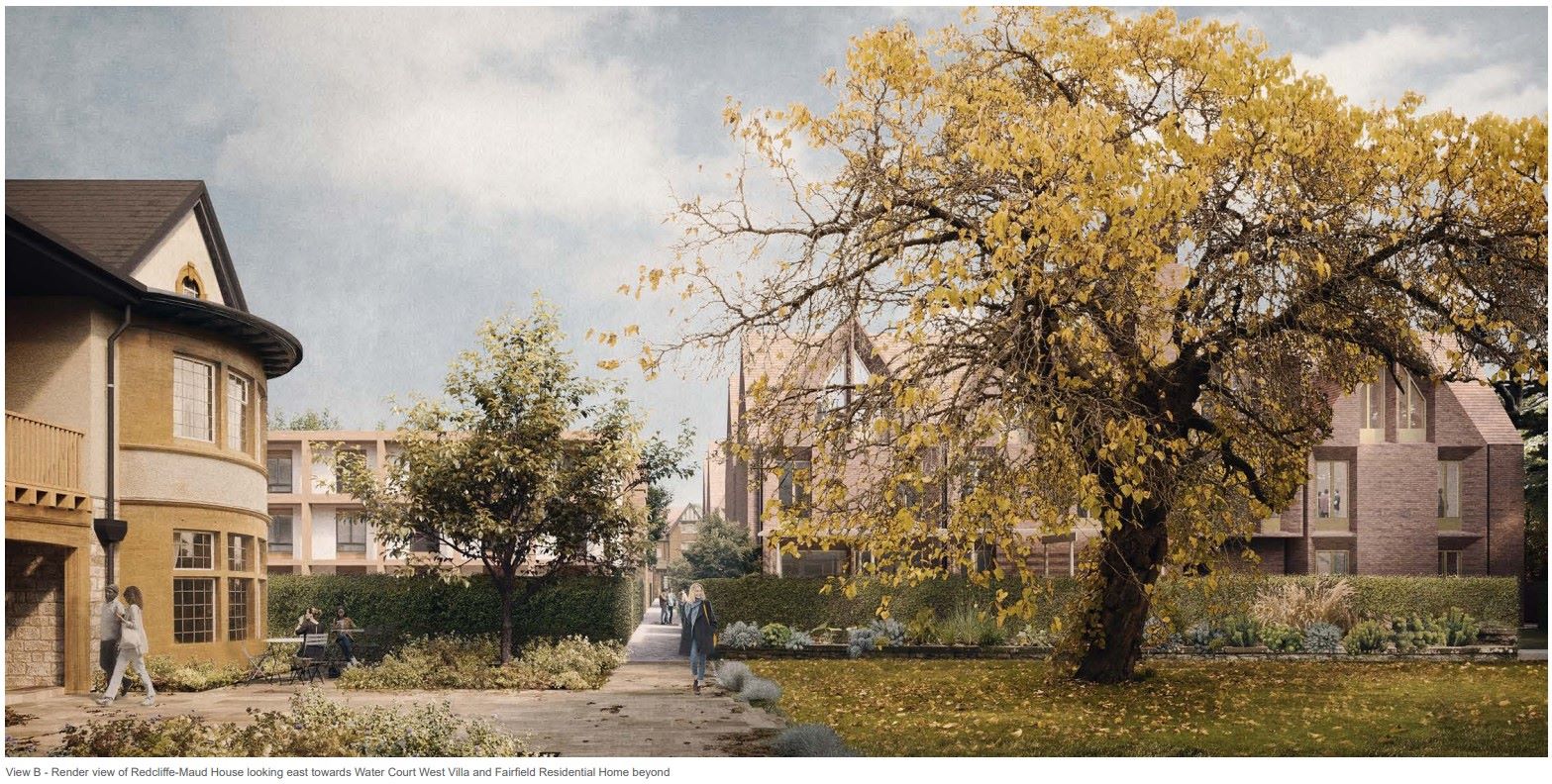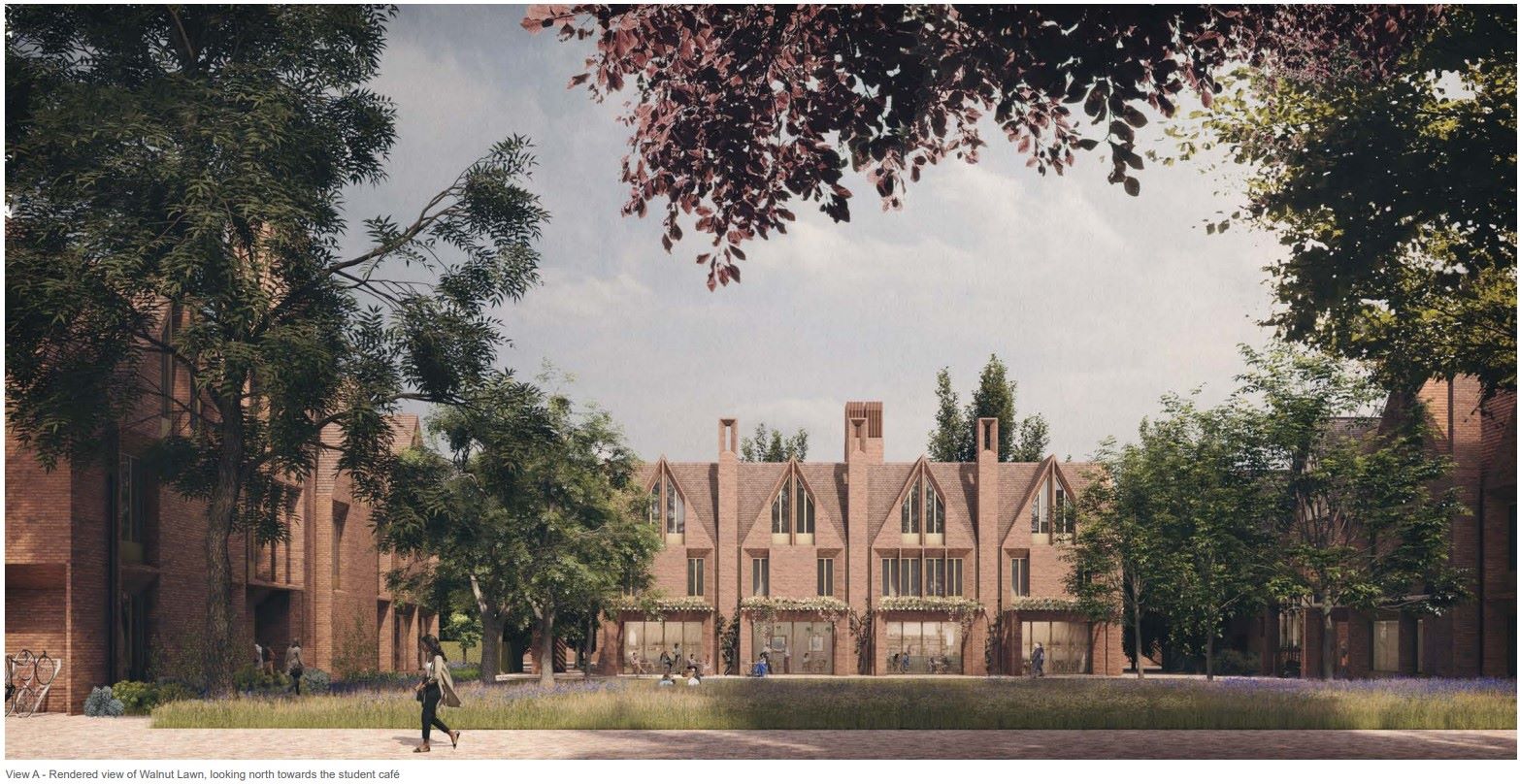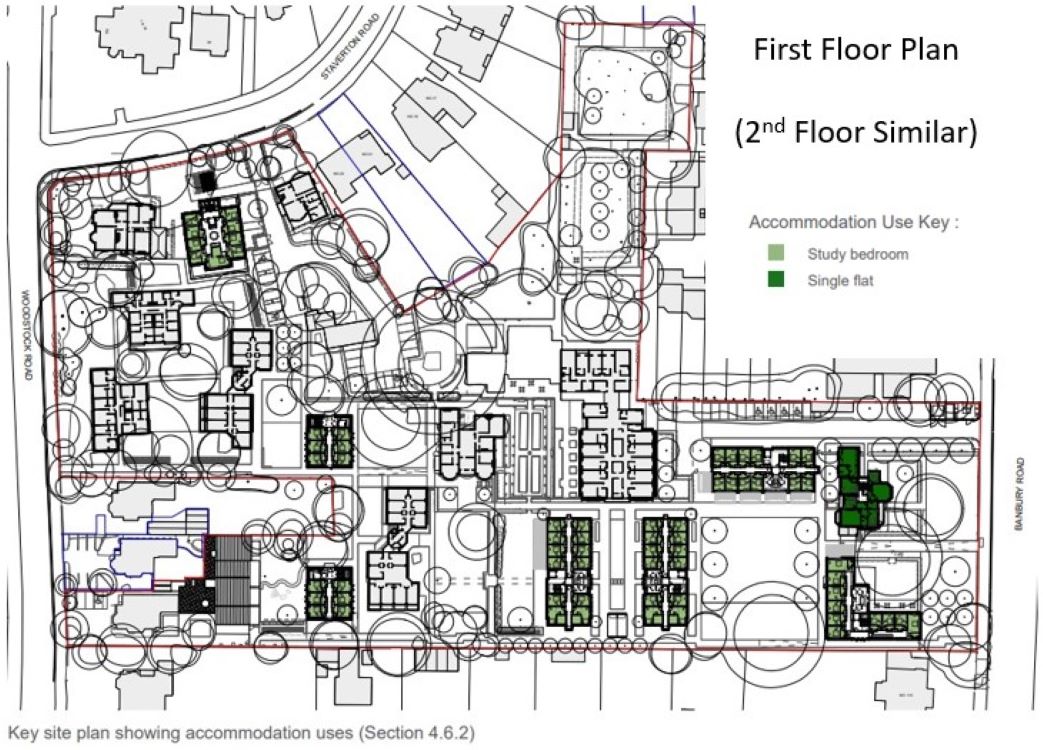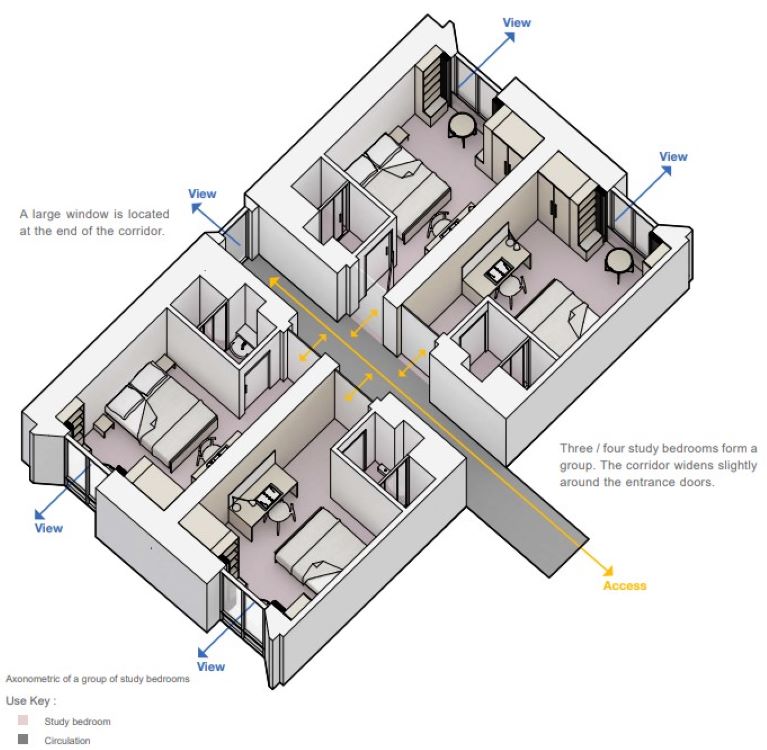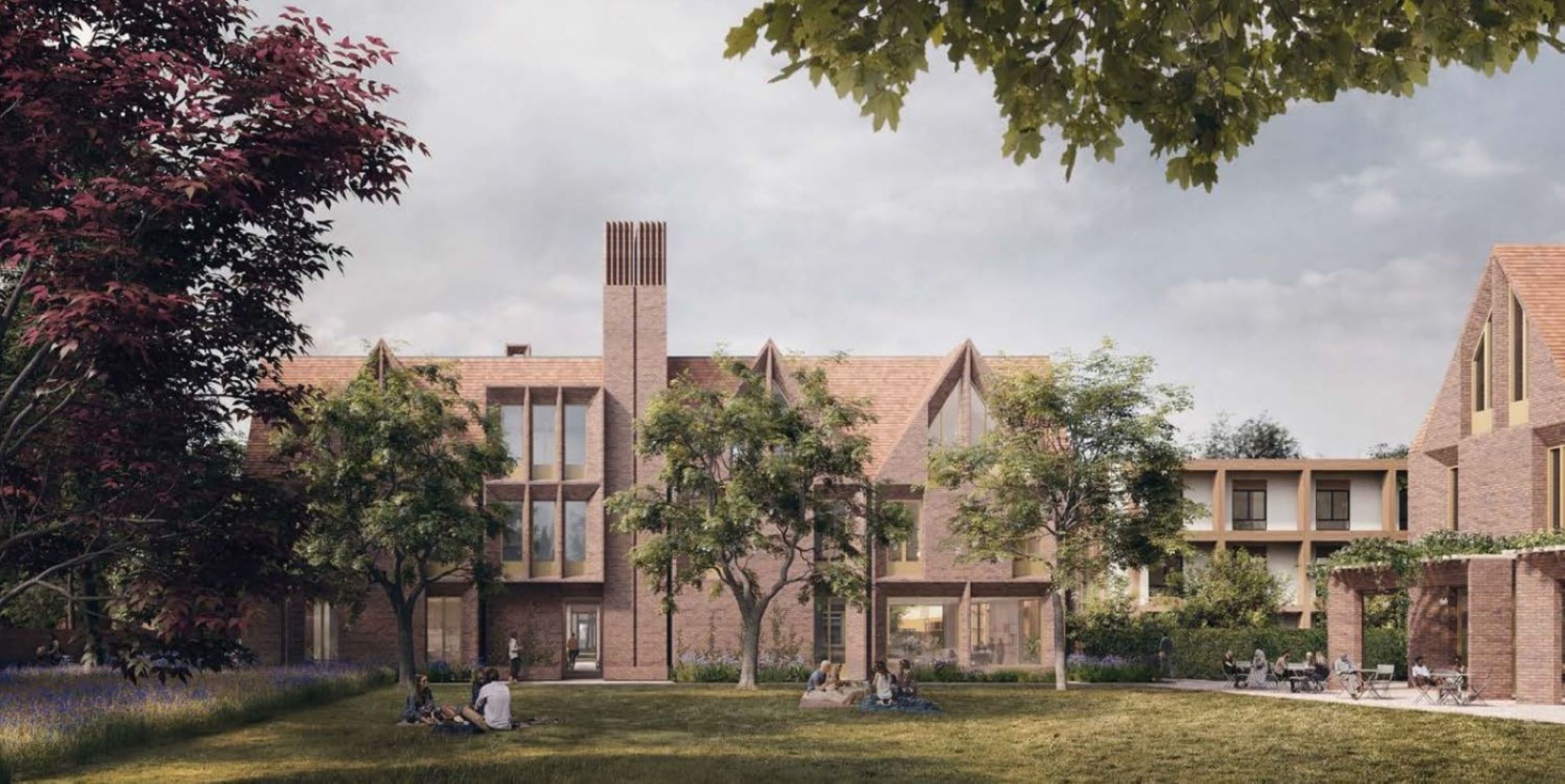 The Design Process
The intention is to expand the satellite annexe for about a net additional 140 bedspaces. The College's primary driving purpose is to craft a site for a high-quality collegiate community. A significant component of this is the creation of new graduate and undergraduate accommodation in close proximity to the High Street site. The project is a rare opportunity to enhance the provision on the site with a scheme that is heavily inspired and enriched by the neighbouring North Oxford Victorian Suburb Conservation Area residential context. The proposed development provides the College with a valuable chance to unify a varied set of buildings and functions through the implementation of a landscape-led scheme. The College understands very well that, while the creation of attractive and engaging buildings set in beautiful landscapes is central to this collegiate purpose, the activities on the site have to fit with the residential neighbourhood and be part of the community. As such, the College has developed an cross-generational strategy setting out the College's ambition to open up the facilities to our neighbours.
The proposals involve a comprehensive development of the site including;
• 150 ensuite study bedrooms, within 7no. new villa and pavilion buildings, incorporating ancillary student facilities including a gym, 'student' café, study spaces and meeting rooms,
• A children's nursery for up to 54 children including an outdoor playspace,
• Refurbishment of existing Fairfield House,
• A series of garden spaces, that are varied and harmonious in character to complement and enhance the existing mature landscape setting,
• Ancillary structures including a Covered Seating Area overlooking Water Court,
• The rearrangement of car parking across the site to restrict car movement to the site edges by Staverton Road and Banbury Road,
• Careful consideration of the impact of vehicular access for deliveries, emergency services and refuse,
• Covered and secure cycle parking.
Choose a few key elements you want to promote
7 new three storey buildings - CLT construction.
Renovation of Fairfield House to provide self-contained student flats.
Reduction in parking spaces from 50 to just 14.
Increase in covered bicycle storage.
Architectural place-making and shared use spaces to encourage multi-generational interaction.
MVHR, reducing fresh air heating load by more than 80%.
Use of ASHP's helping to achieve greater than a 40% reduction in emissions.
Site-wide Lighting Strategy - mindful of biodiversity and reducing night-time light pollution.
Landscape-led scheme. Biodiversity gains and creation of gardens in keeping with NOVSCA guidance. Orchards replanted and specimen trees preserved with buildings designed around them.
Download PDF