Rowcroft Hospice
Number/street name:
Avenue Road
Address line 2:

City:
Torquay
Postcode:
TQ2 5LS
Architect:
PRP
Architect contact number:
020 8339 3600
Developer:
Rowcroft Hospice.
Planning Authority:
Torbay Council
Planning consultant:
Lichfields
Planning Reference:
P/2022/0772
Date of Completion:
04/2028
Schedule of Accommodation:
14-bed hospice, 60-bed specialist dementia care and complex needs nursing home, 40 assisted living apartments and 3 guest lodges
Tenure Mix:
Hospice: Rowcroft Charity, free to the local community across 300 sq miles of South Devon. Nursing Home: NHS, Torbay Council and possibly private. Assisted Living: Private sale and rental model – removing all barriers for the local community to become a resident.
Total number of homes:
100
Site size (hectares):
8.9 ha
Net Density (homes per hectare):
11.2
Size of principal unit (sq m):
82.0
Smallest Unit (sq m):
62 sqm
Largest unit (sq m):
119 sqm
No of parking spaces:
182
Scheme PDF Download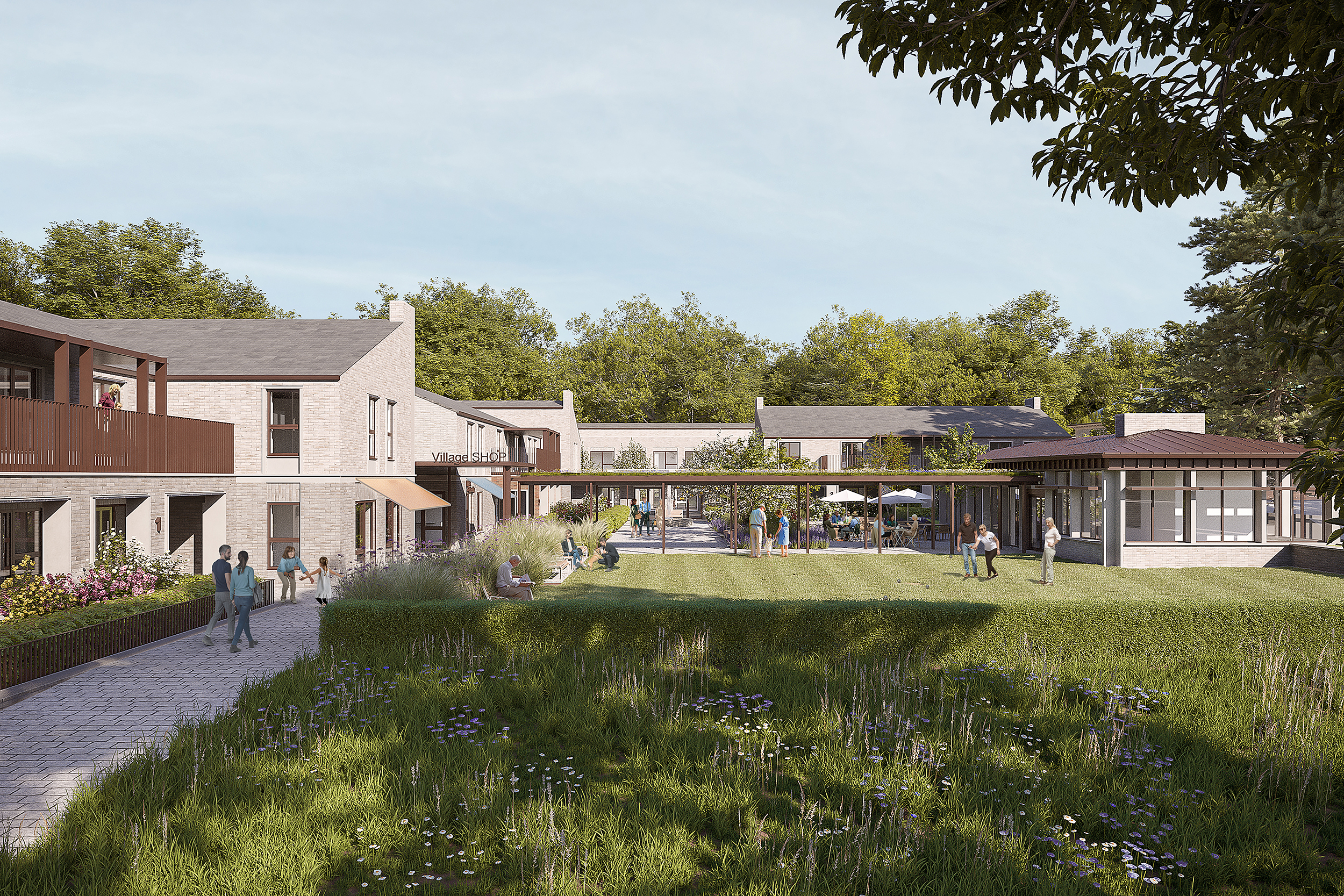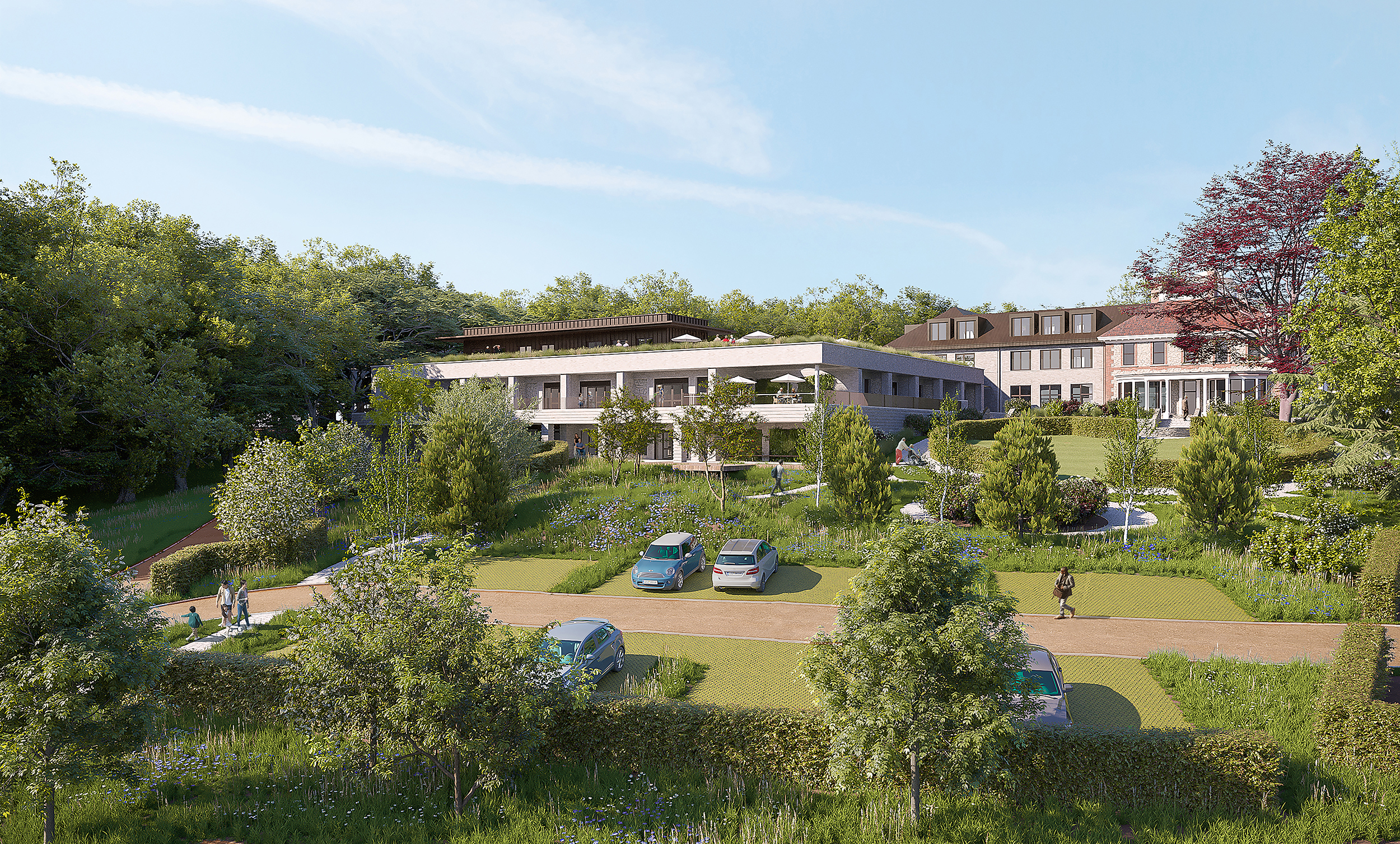 Planning History
The design for Rowcroft Hospice will deliver an exemplar, sustainable Integrated Retirement Community (IRC) for Torquay; it is the culmination of a rigorous period of research, design and community engagement. Planning permission was granted in December 2022.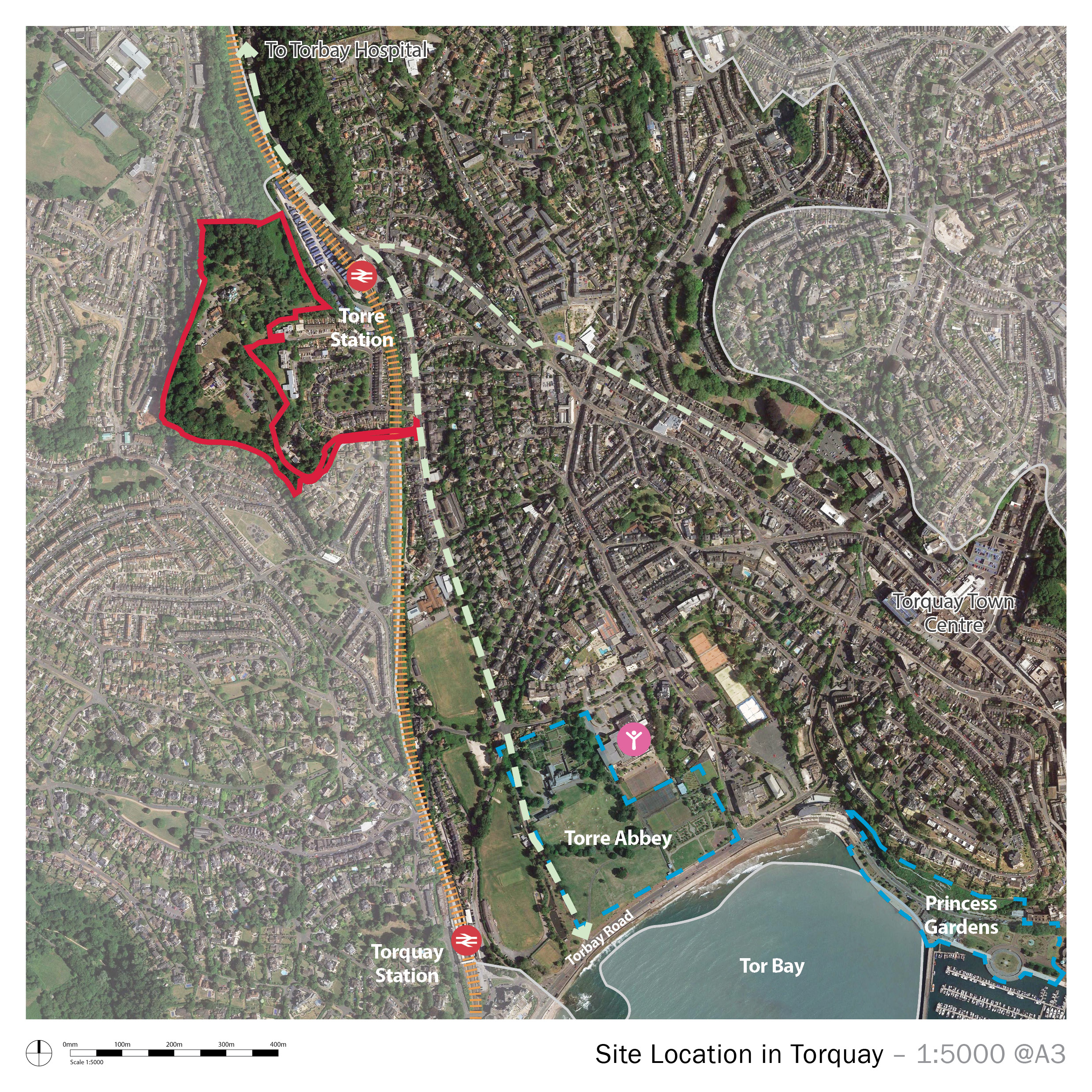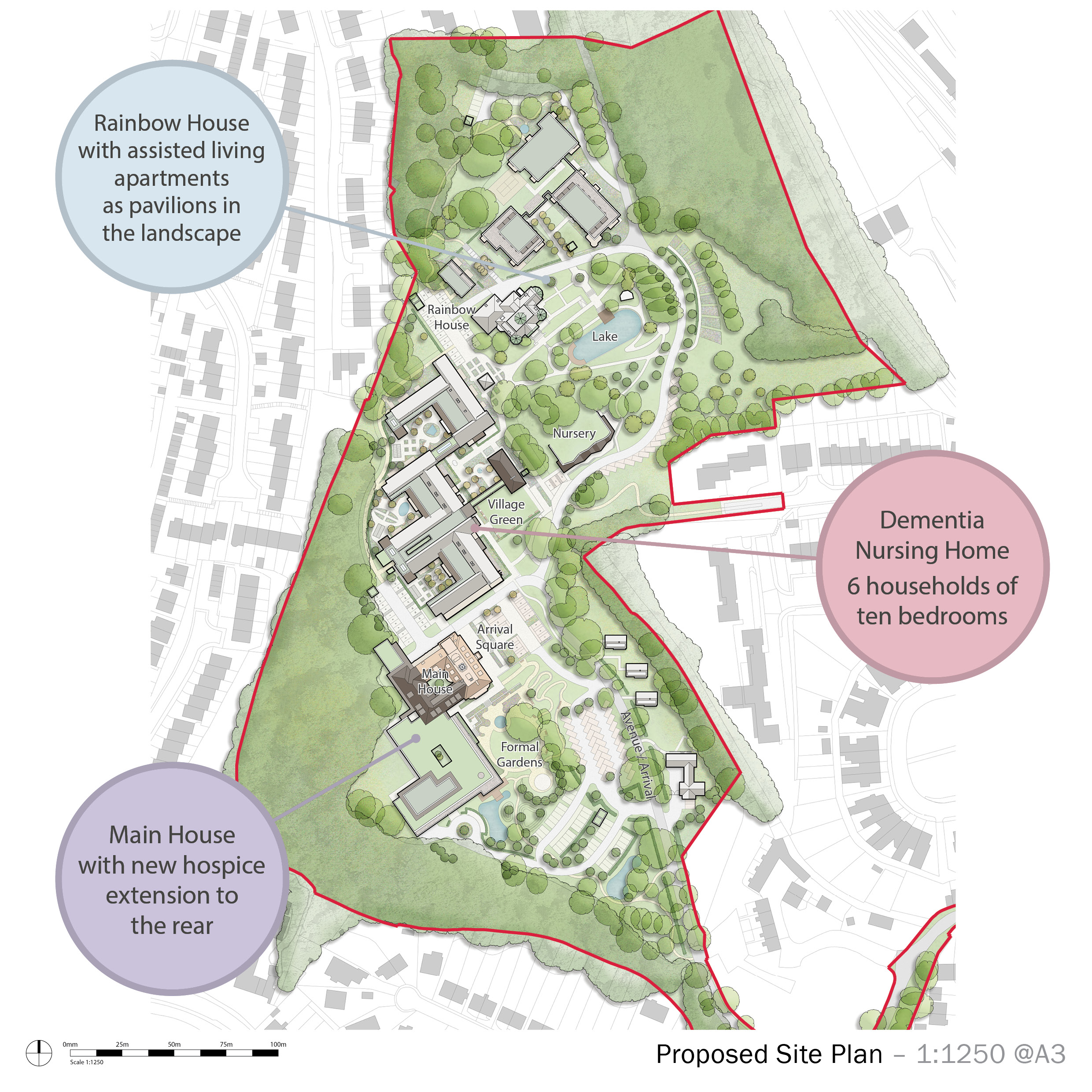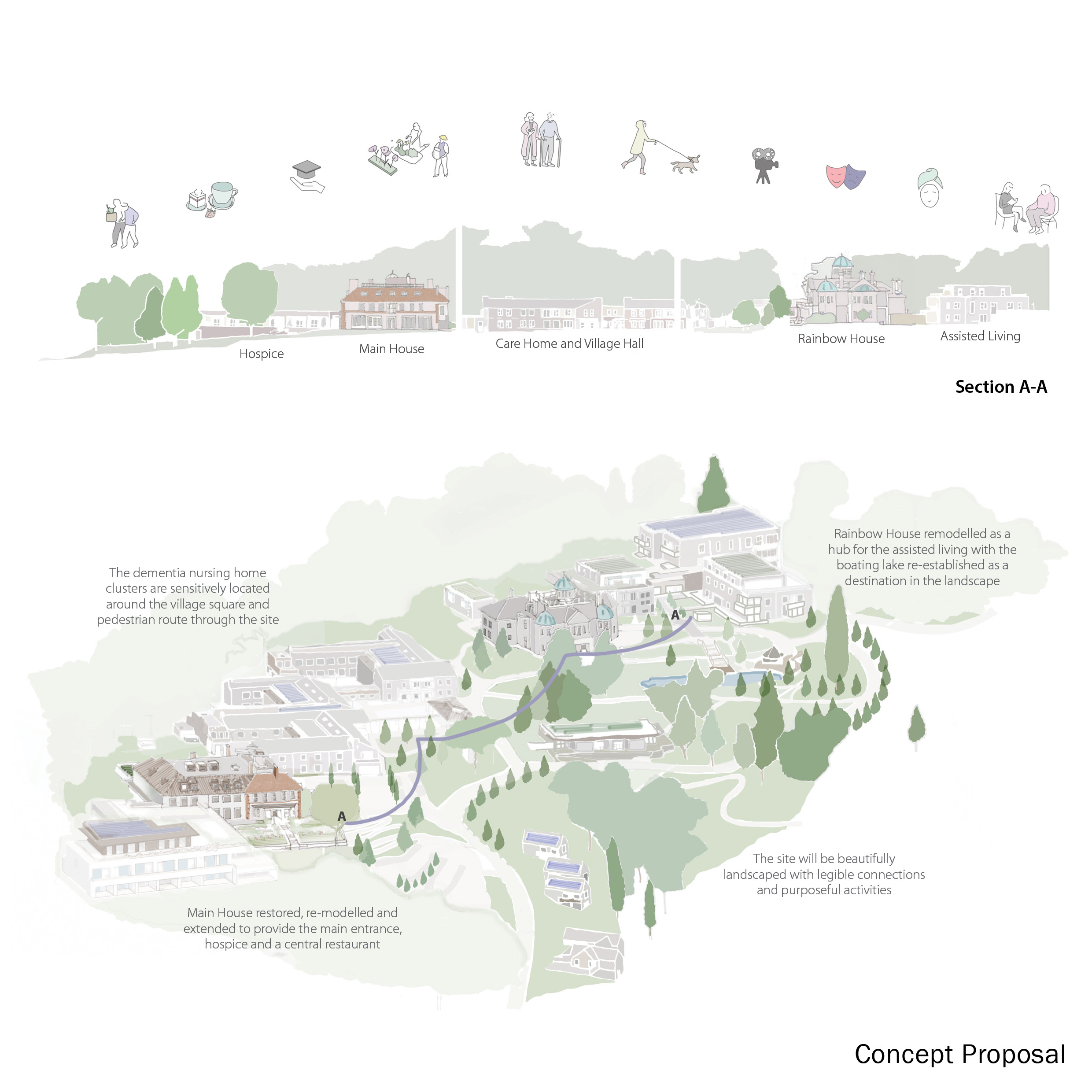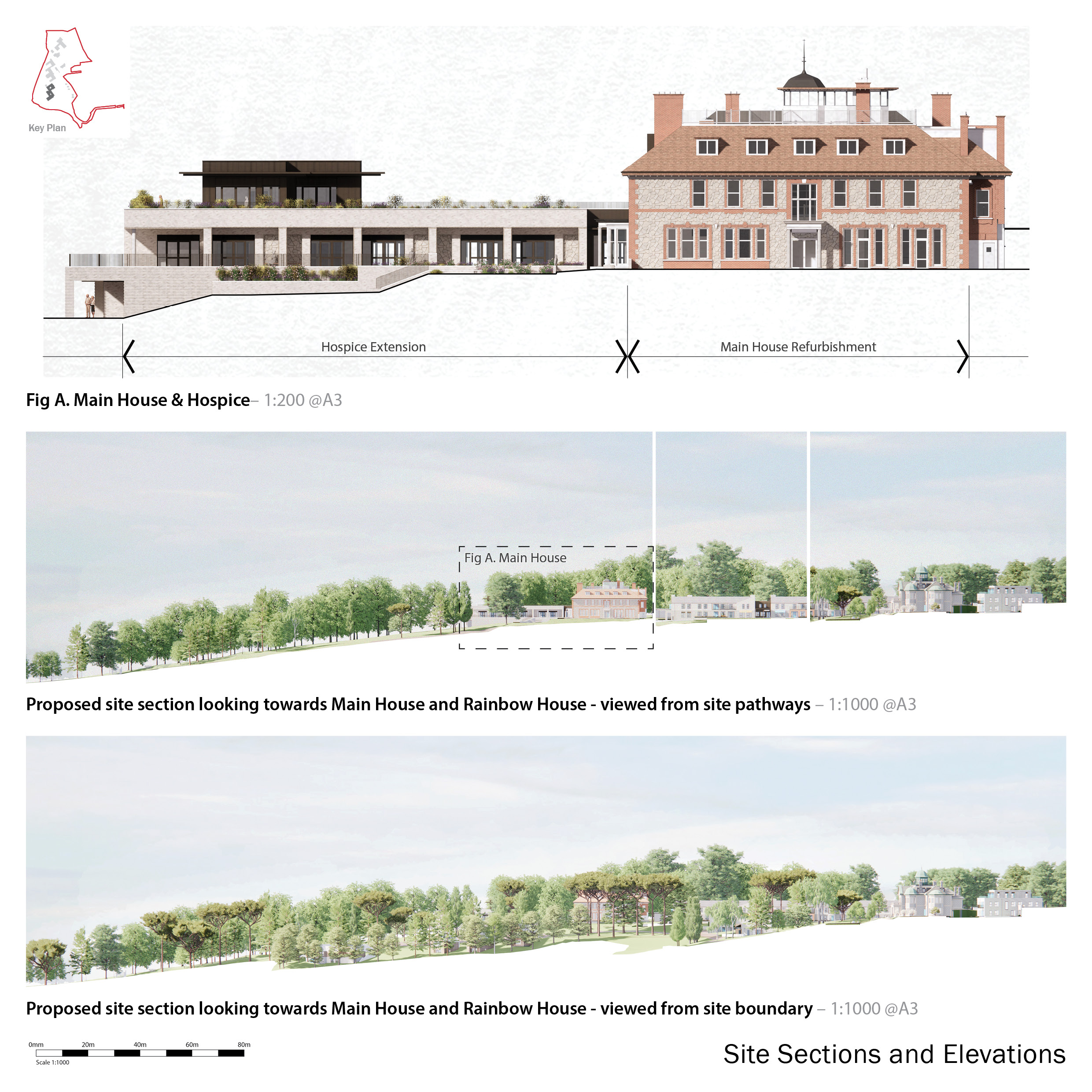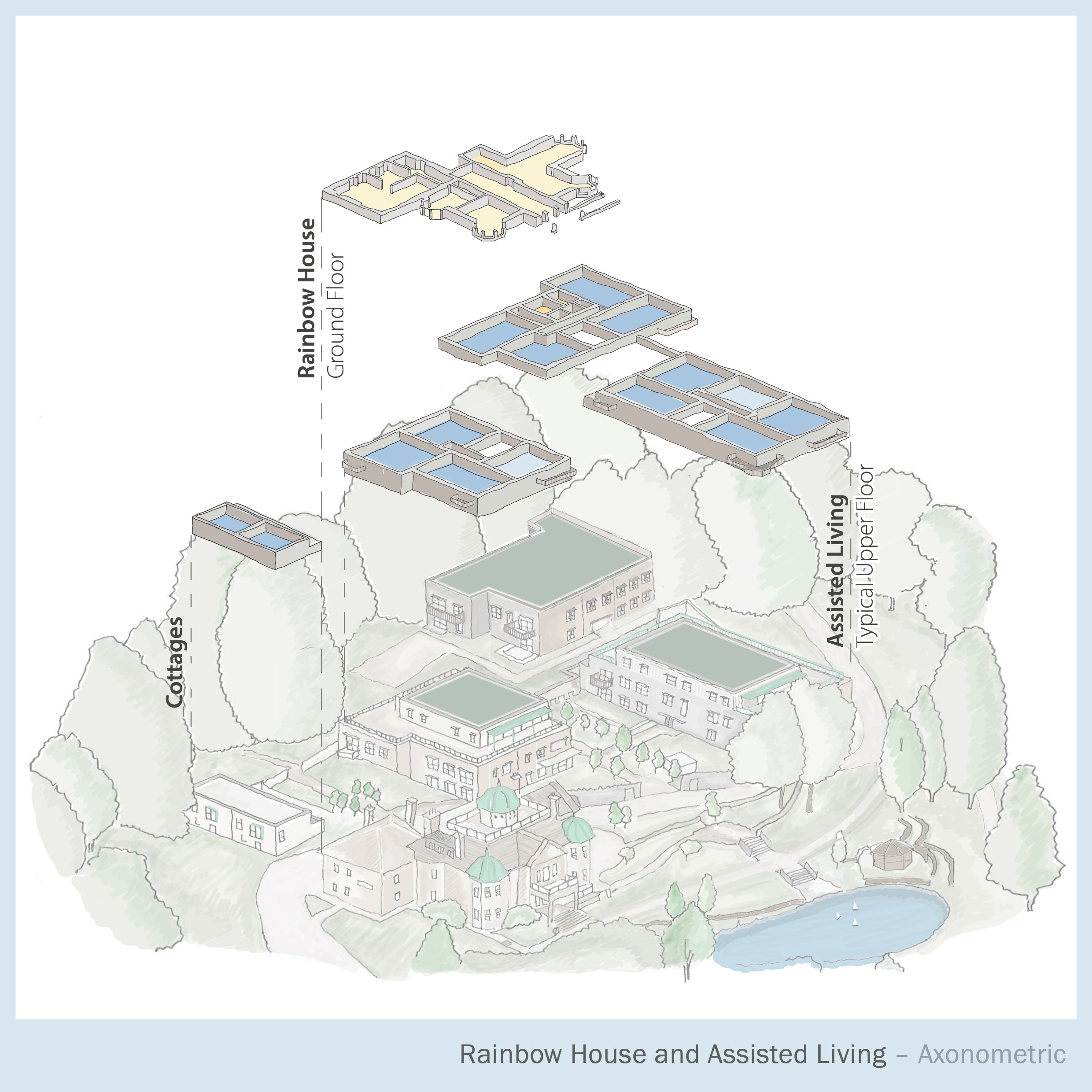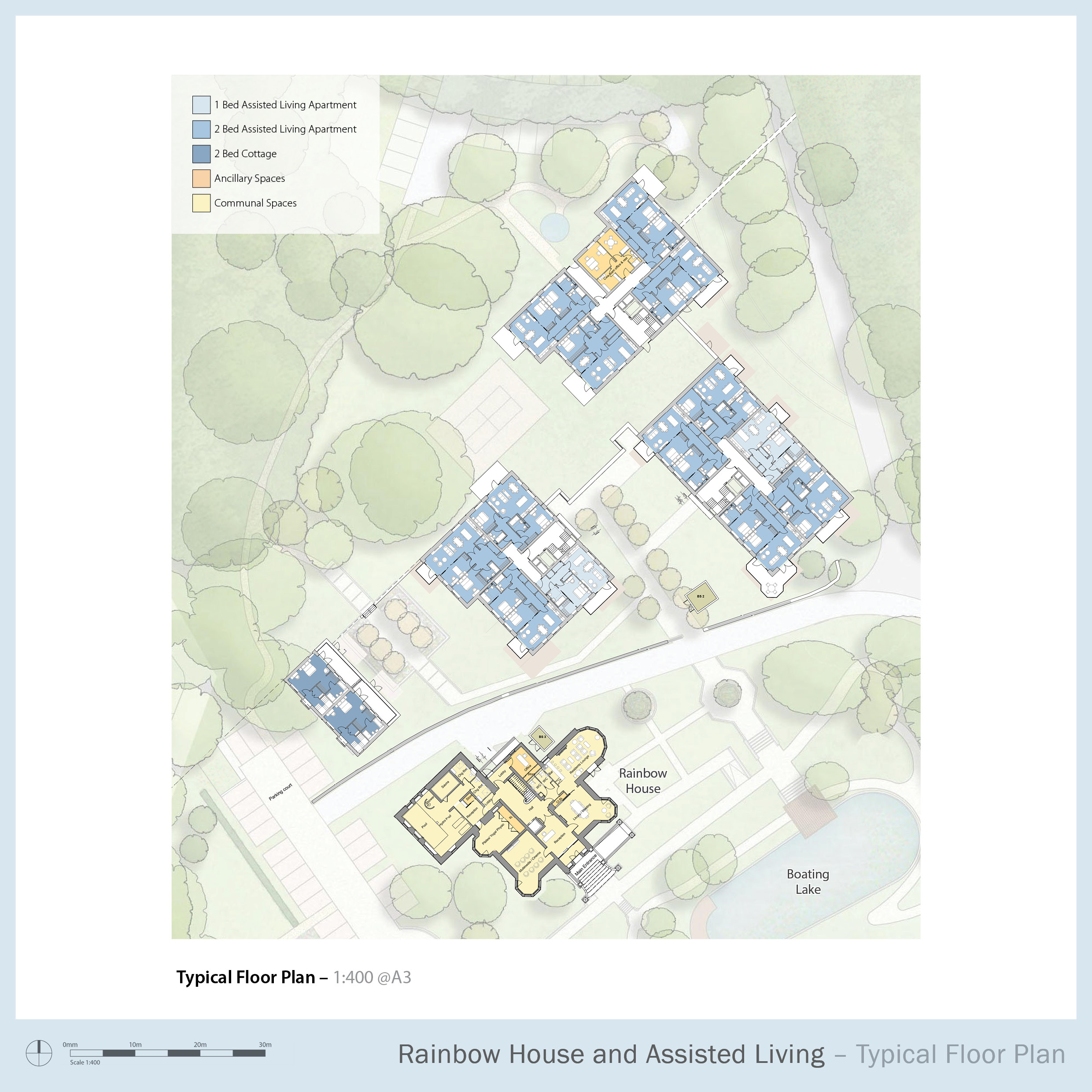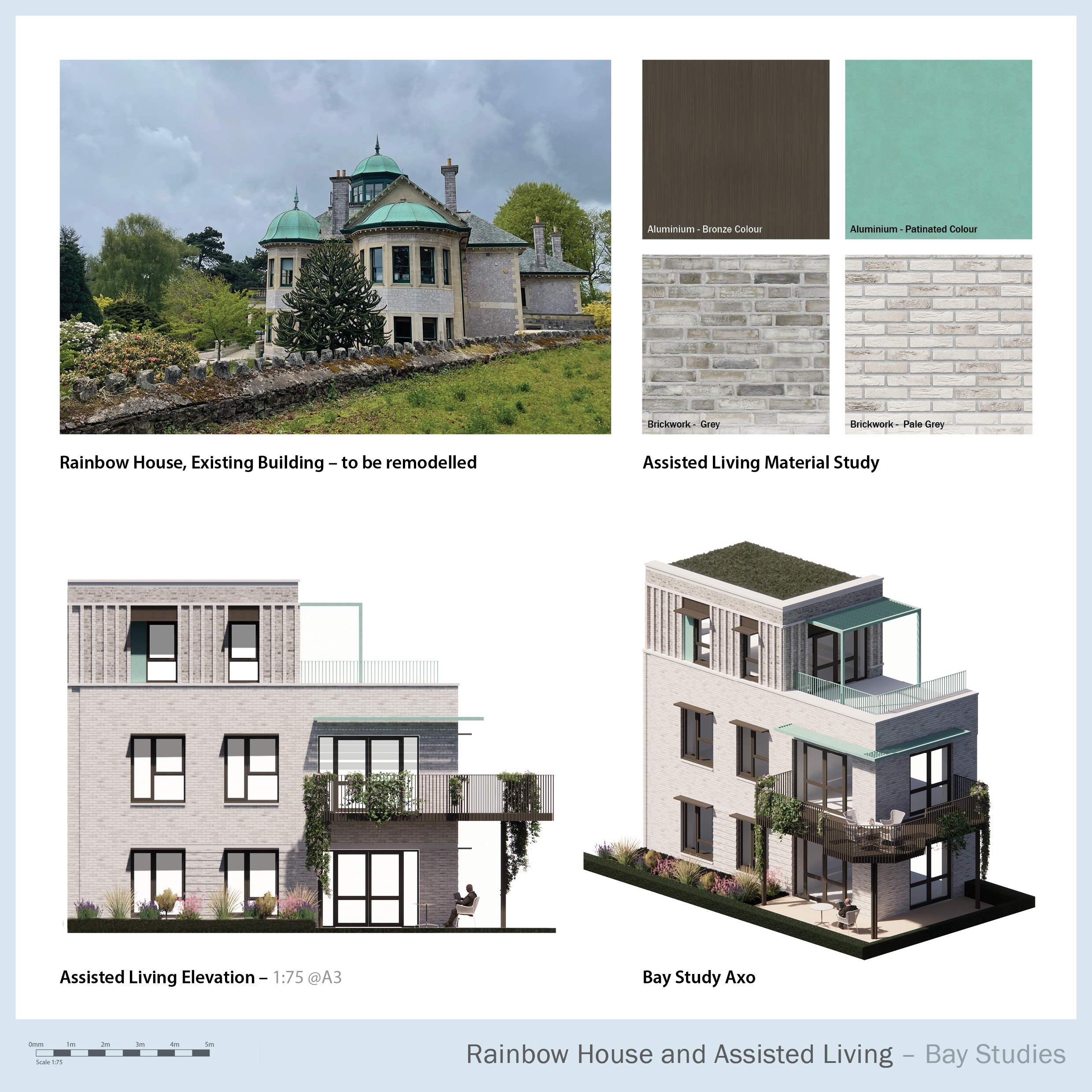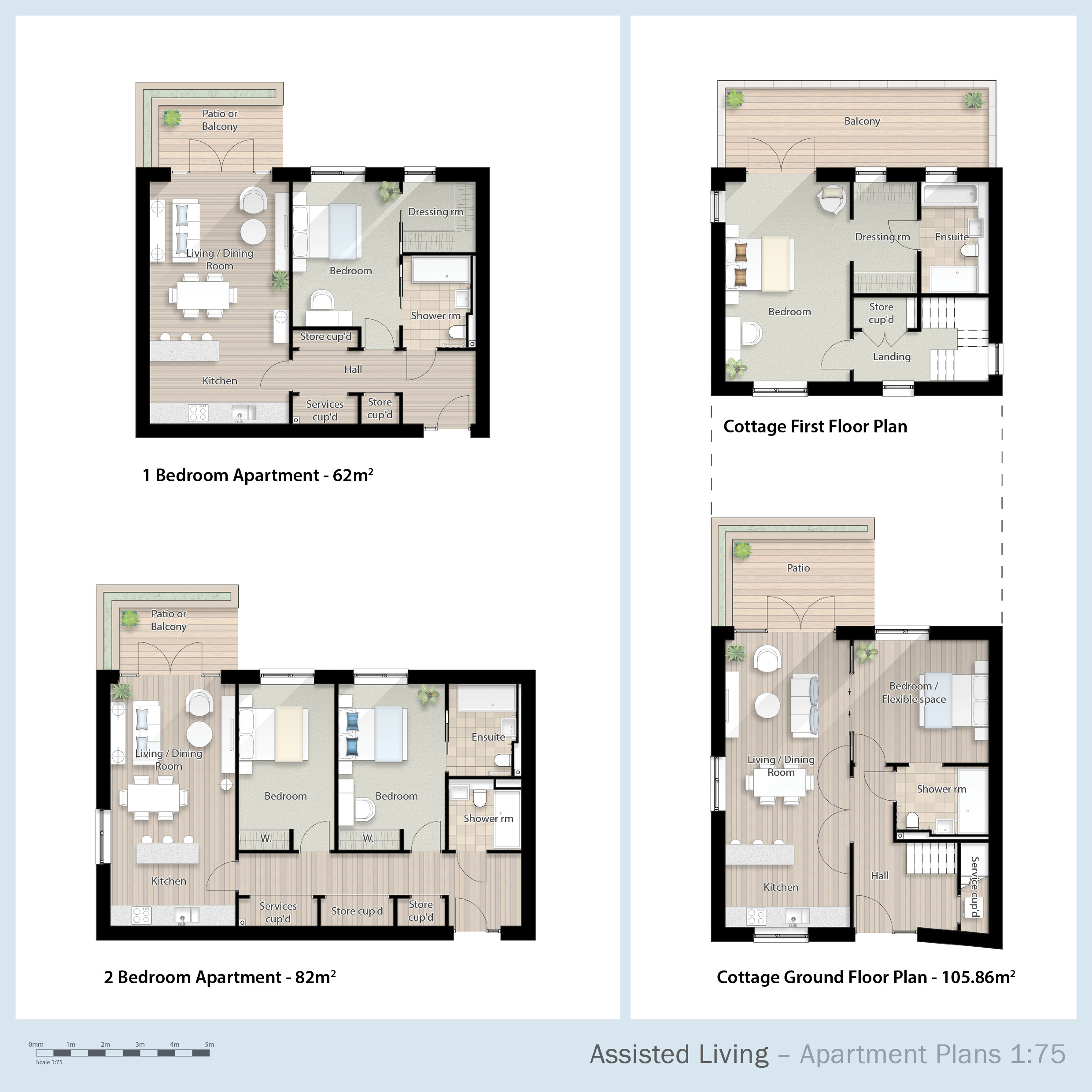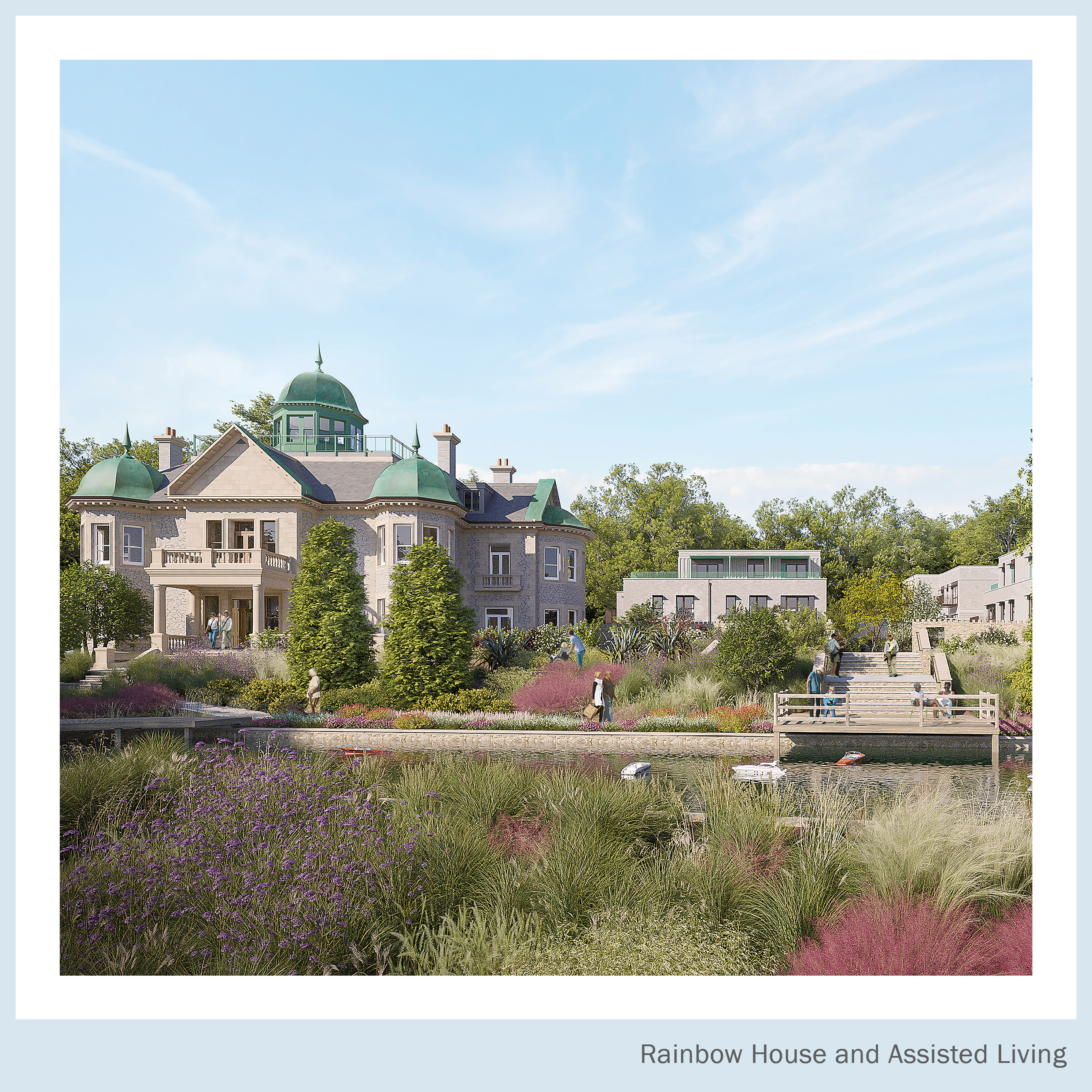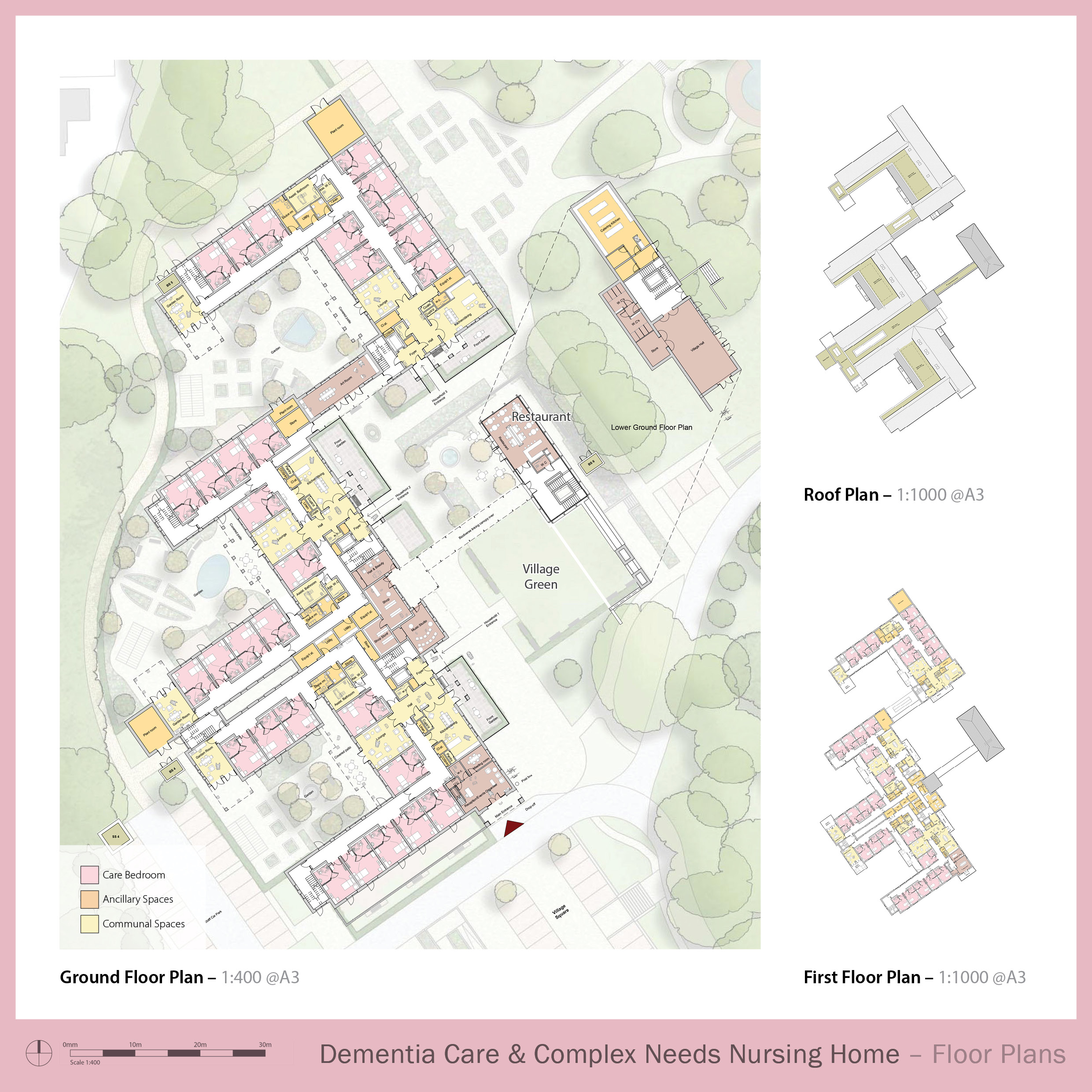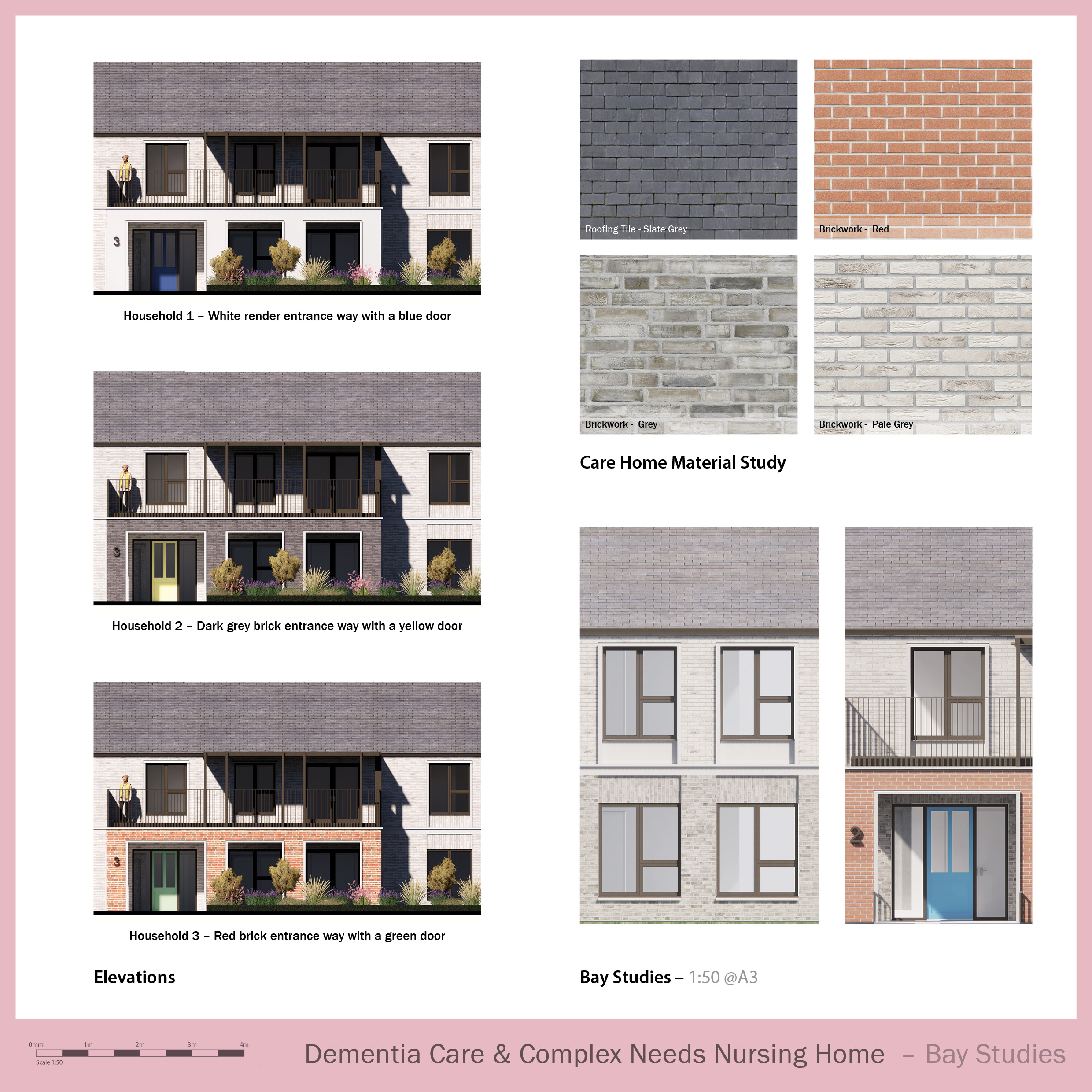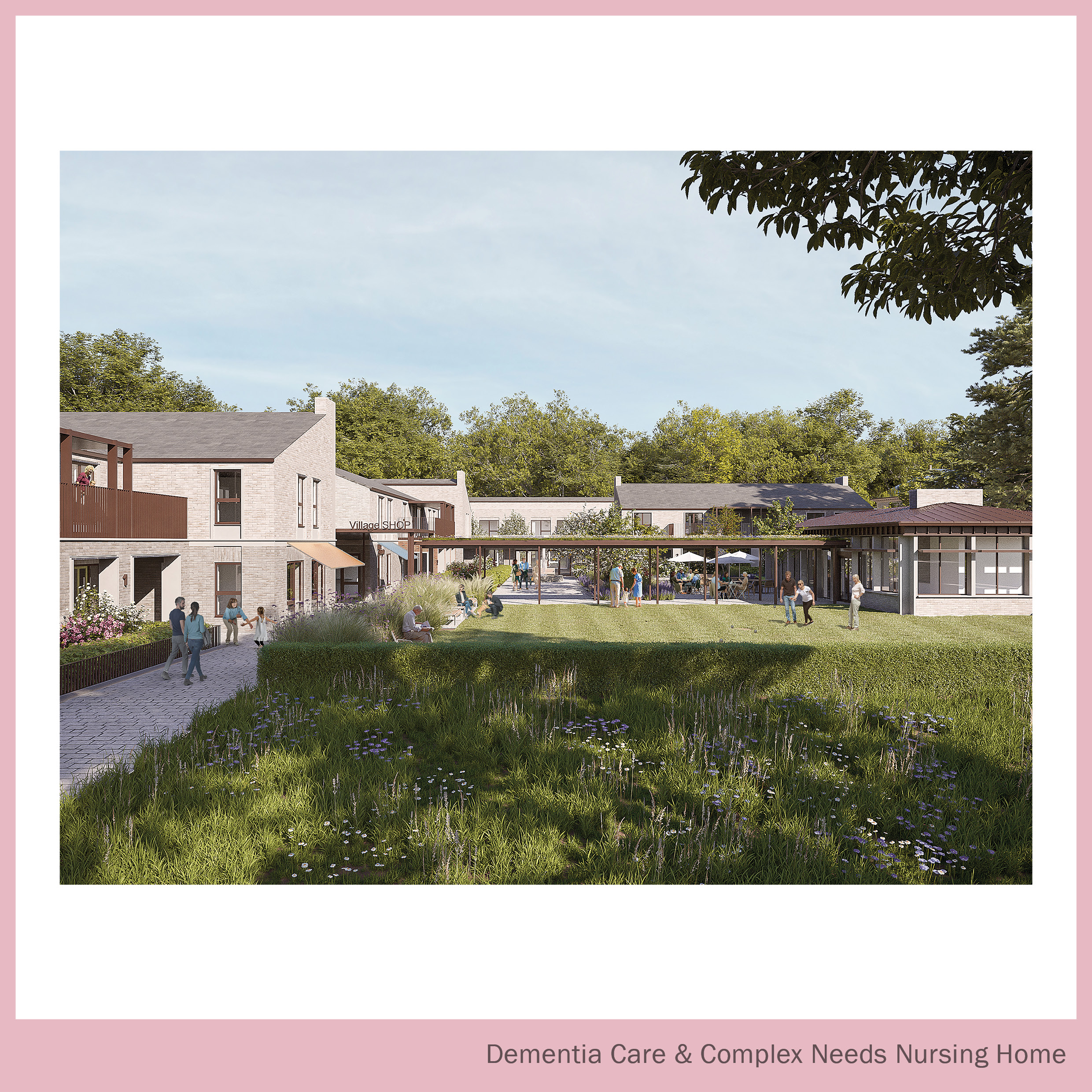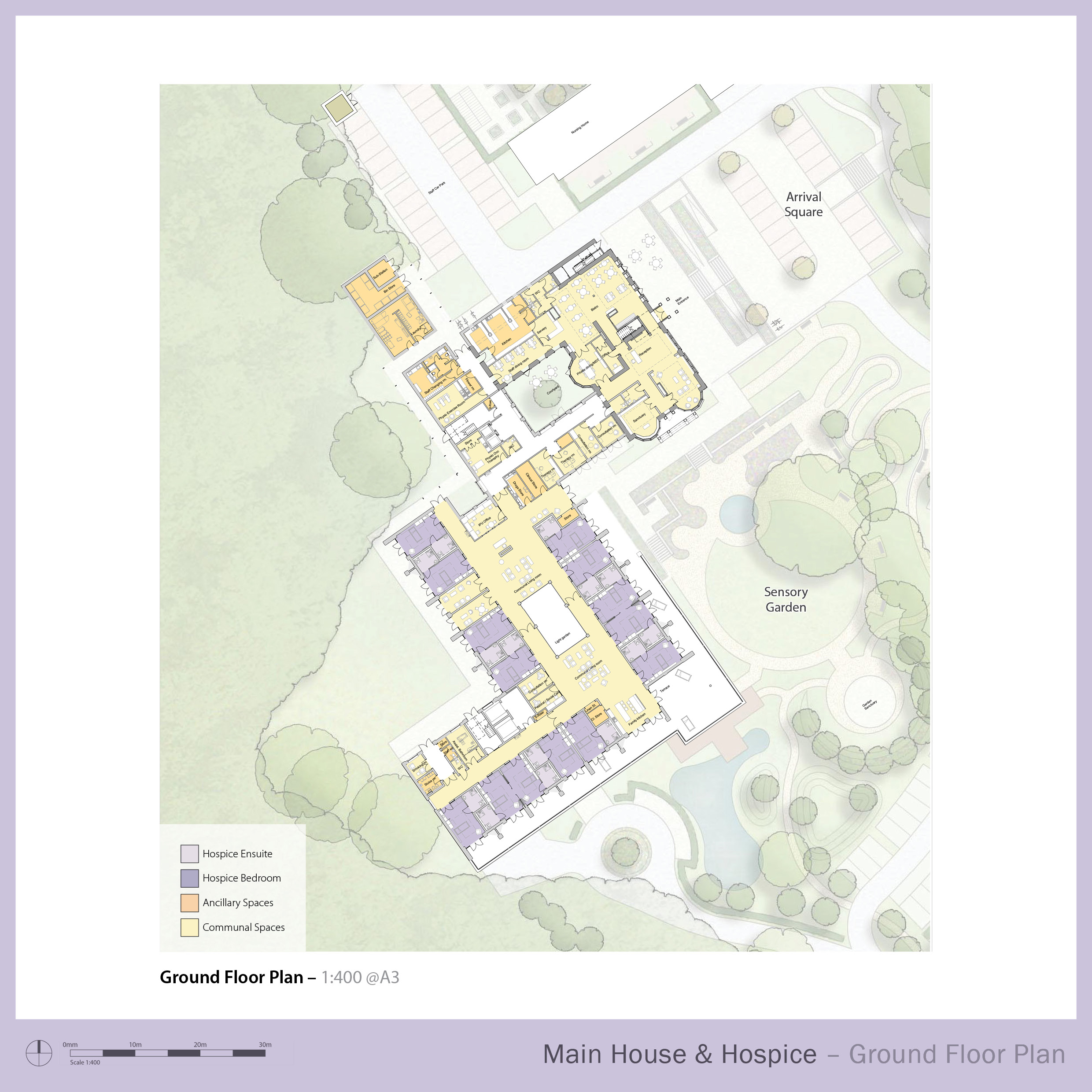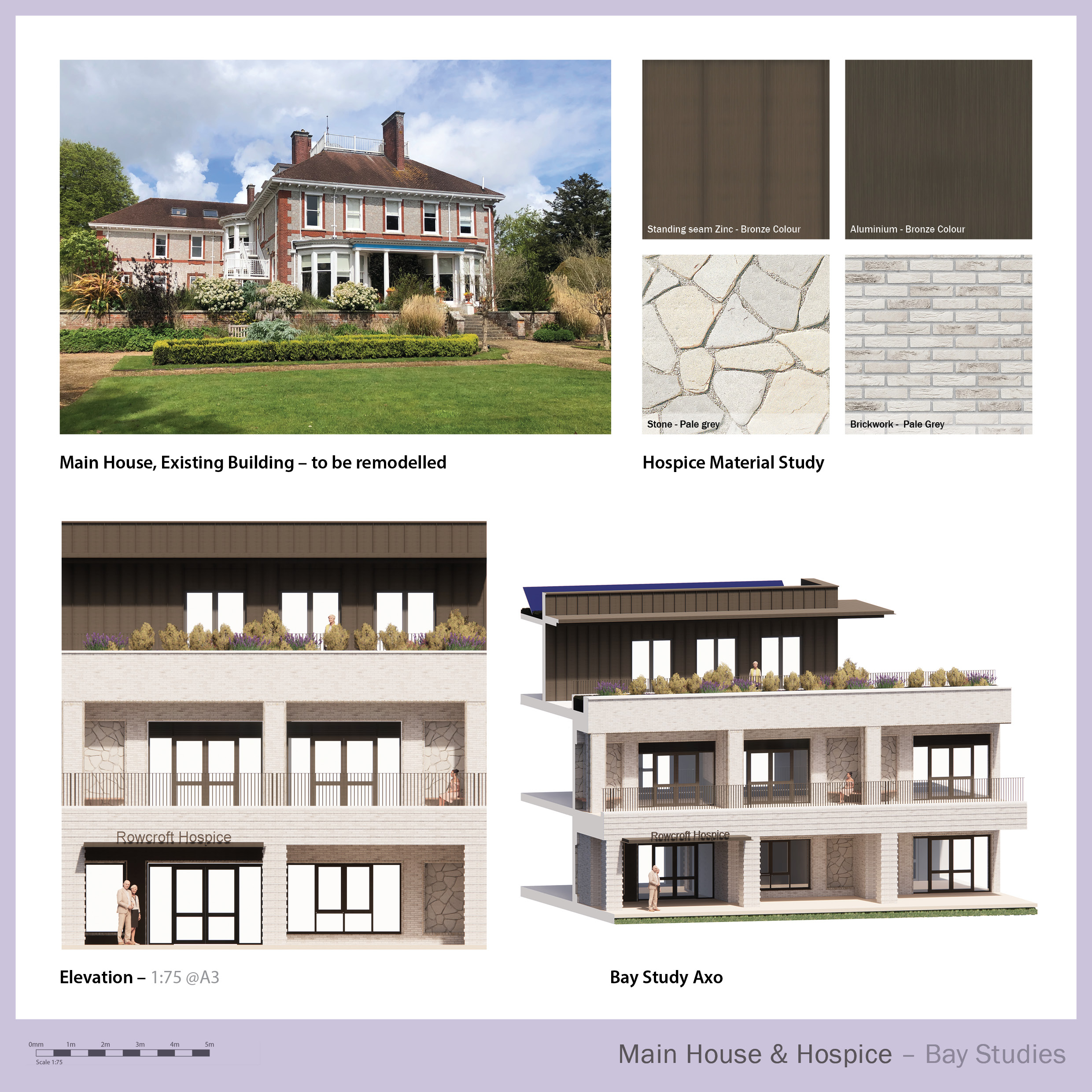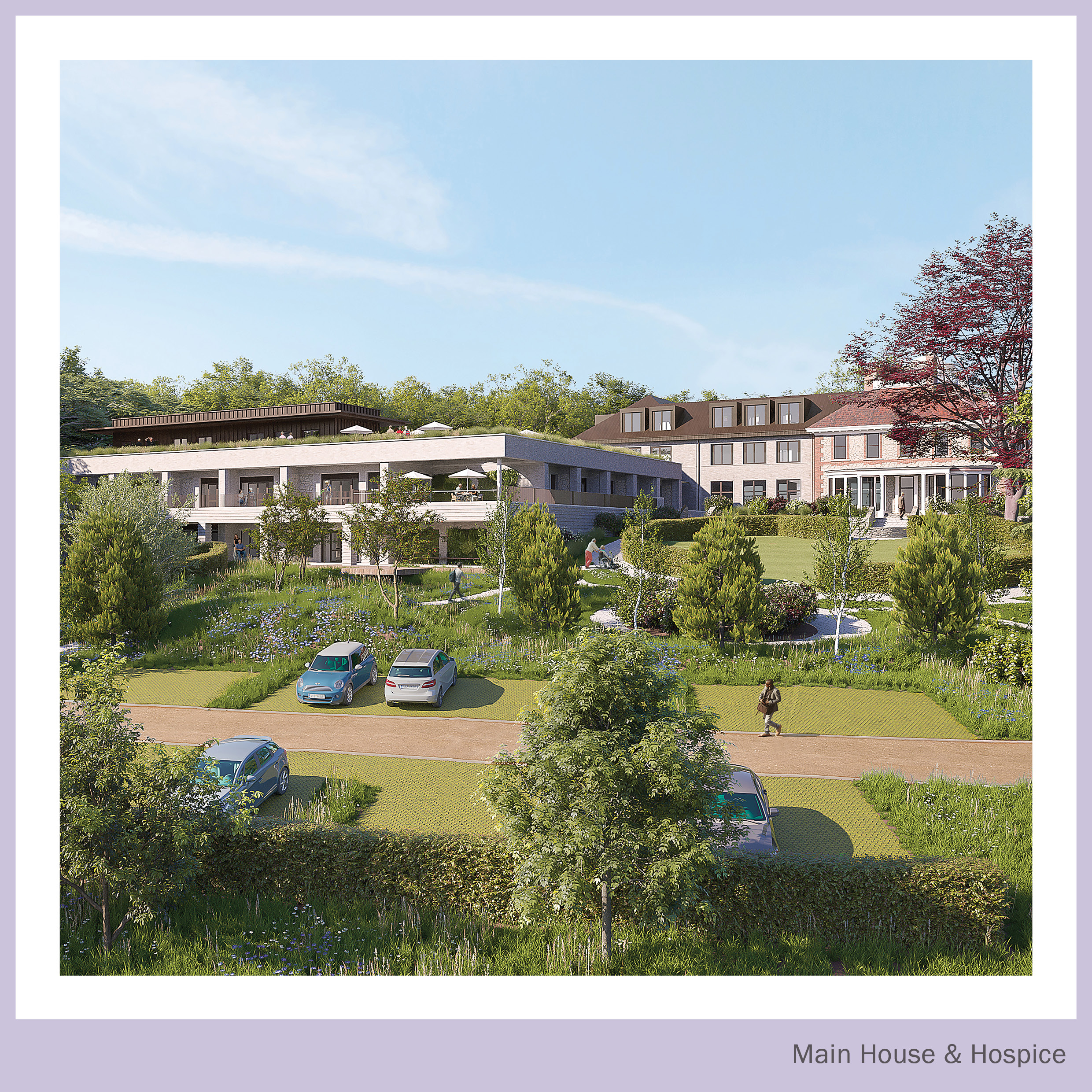 The Design Process
Located on a challenging hilltop site, the redevelopment of Rowcroft's site in Torquay will provide an exemplary Integrated Retirement Community (IRC). The proposal will enhance and extend an existing hospice, to deliver a world class community with hospice care, a dementia and complex needs nursing home, nursery, assisted living, beautiful landscape and horticulture.
These include a village green, restaurant, village hall, music and art room, children's nursery, growing gardens with bee keeping and more. The two former grand houses (Main House and Rainbow House) will be retained and repurposed, supporting the sustainable approach. Routes created through the landscape seek to provide clear visual connections, celebrating the retained properties and extending their setting into the landscape to enjoy the beautiful trees and amenity spaces.
At the heart of the scheme is the remodel of the hospice and its Inpatient Unit. Concept designs propose an environment that reflects a family home, giving patients and their families greater independence, privacy and choice during precious moments together. Single rooms have en-suite facilities and incorporate the very latest specialist equipment.
A 60-bed, purpose-built specialist dementia and complex nursing home provides a valuable income stream to support the hospice's future. The designs are based on collaboration with international dementia experts to provide world class best practice. Households of 10 will allow residents to live in a caring, nurturing and vibrant home that supports independence, mobility and inclusion.
The final part of the project is the development of assisted living accommodation as a further income stream. Rainbow House will be remodelled and refurbished as a community hub to provide the residents lounge, cinema and wellbeing spaces.
The new contemporary building designs respond to the character of the retained properties, Main House and Rainbow House; reflecting their different architectural qualities while respecting their scale and setting.
Choose a few key elements you want to promote
• An exemplar intergenerational development to enhance and support the care provided by the Nursing Home.
• Sustainable remodelling and refurbishment of existing buildings of architectural merit.
• A sustainable network of buildings providing a living and working environment while being net-zero carbon in operation.
• A vibrant and inclusive community that celebrates ageing in place, nursery and hospice care.
• Focus on health and well-being throughout design and operation.
• Creation of new buildings of architectural distinction.
• Delivery of outward facing facilities open to the public.
Download PDF