Riverside Road
Number/street name:
Riverside Rd,
Address line 2:
Watford
City:
Greater London
Postcode:
WD19 4HX
Architect:
Bell Phillips Architects
Architect contact number:
02072349330
Developer:
Watford Borough Council.
Planning Authority:
Watford Borough Council
Planning Reference:
20/00413/FUL
Date of Completion:
01/2022
Schedule of Accommodation:
5x 3 bed homes (6Person)
Tenure Mix:
100% Affordable Social Rent
Total number of homes:
5
Site size (hectares):
0.1
Net Density (homes per hectare):
50
Size of principal unit (sq m):
113.0
Smallest Unit (sq m):
113
Largest unit (sq m):
113
No of parking spaces:
5
Scheme PDF Download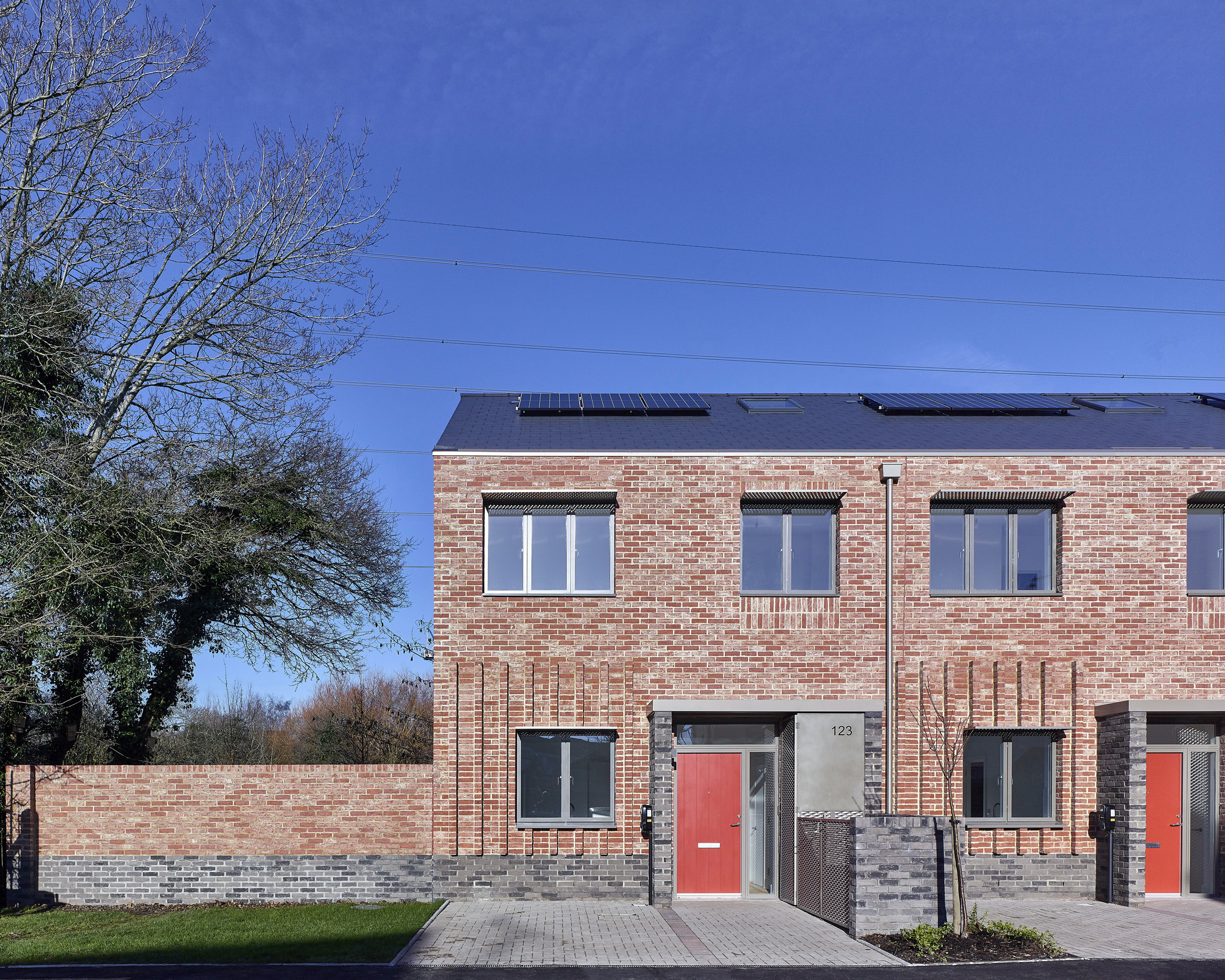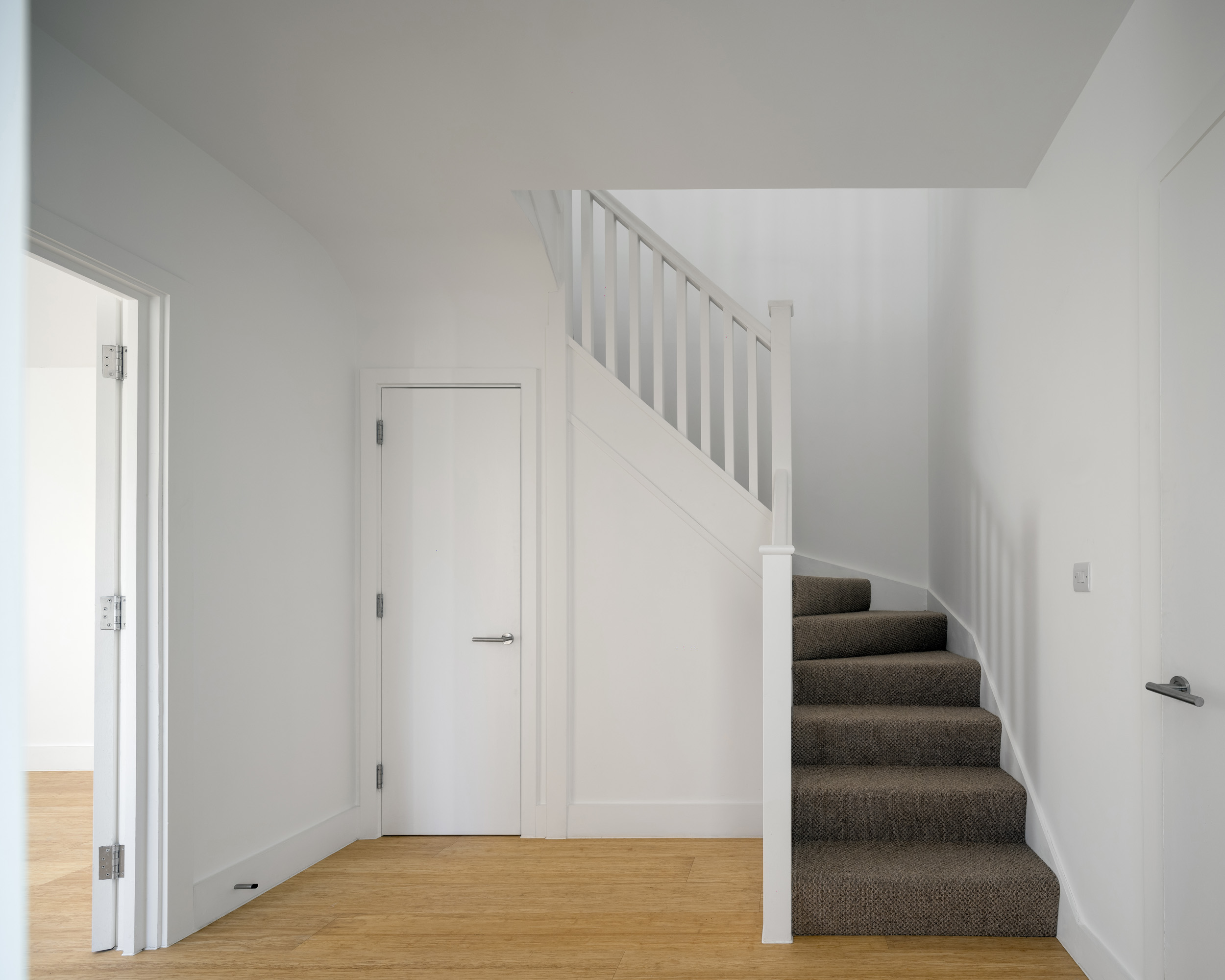 Planning History
Bell Phillips Architects had two pre-app meetings with Watford Borough Council: Fiona Dunning (Interim Head of Development Management) and Paul Baxter (Development Management Officer). During these sessions in October 2019 and February 2020, BPA first presented a six-house scheme, but with comments from the council regarding the risks presented by the culvert and the embankment, resulted in a successful application of a five-house scheme. Bell Phillips also sought strategies to mitigate the potential lack of amenity space caused by the constrained site. In January 2020, BPA and the Borough Council held a consultation with members of the general public.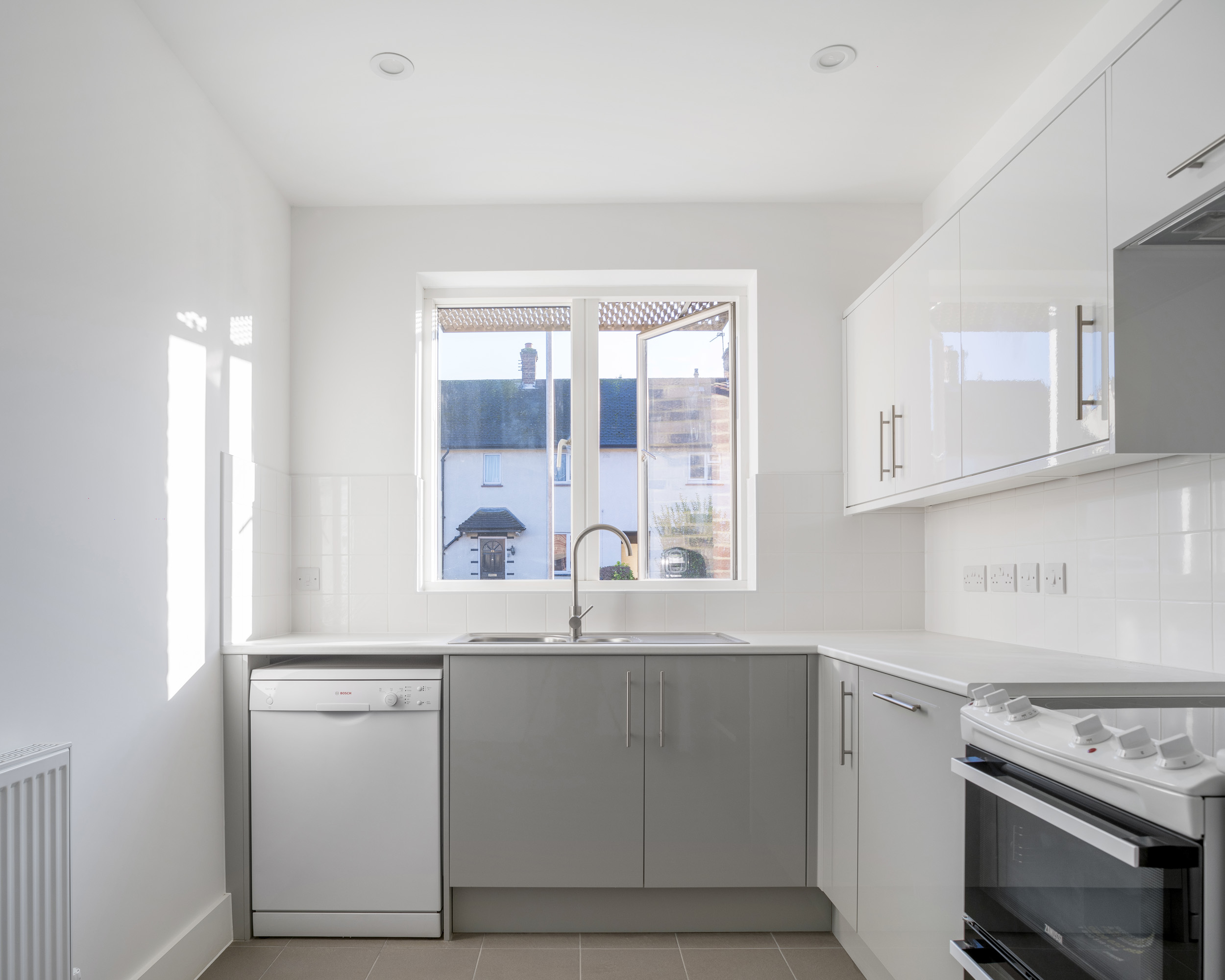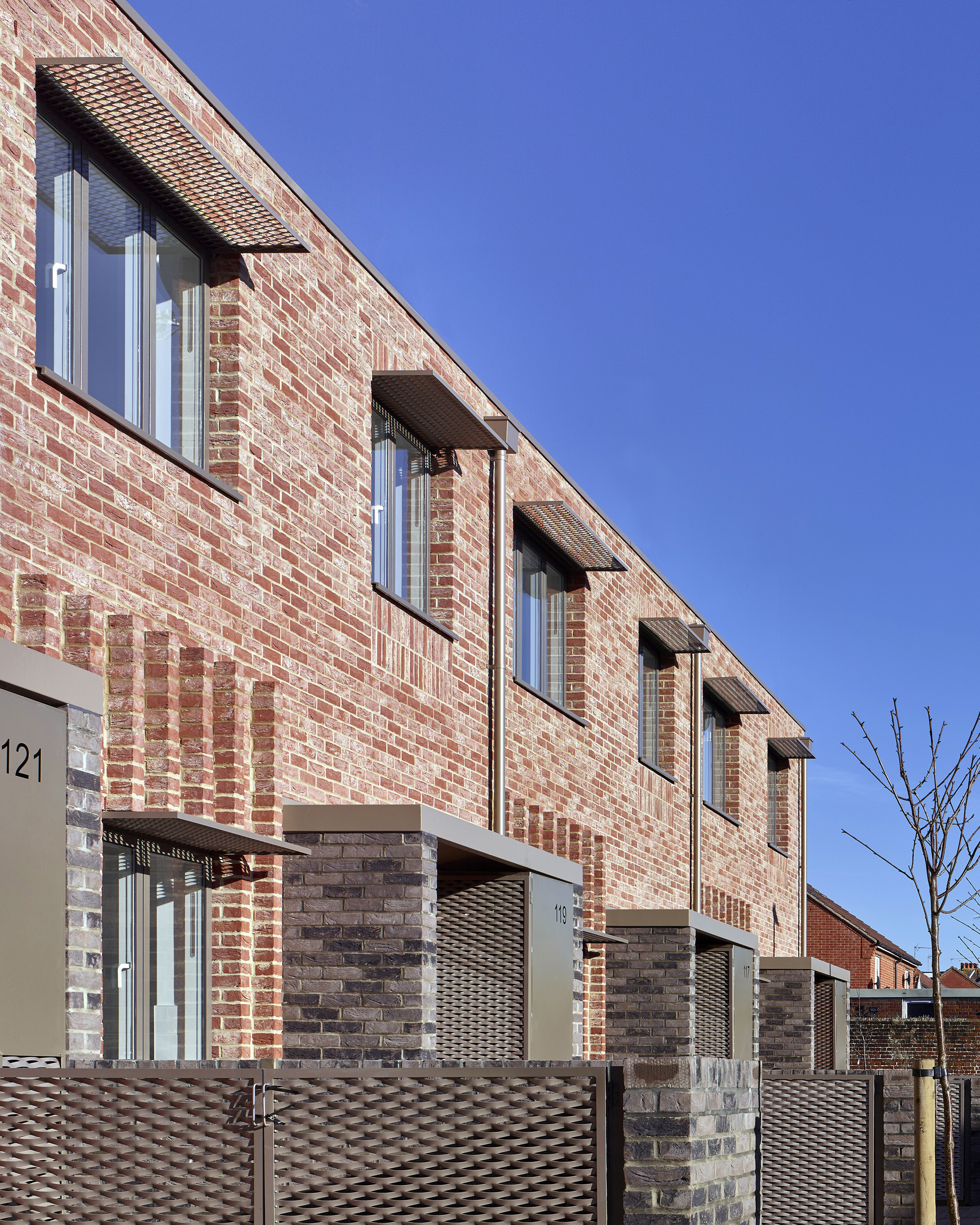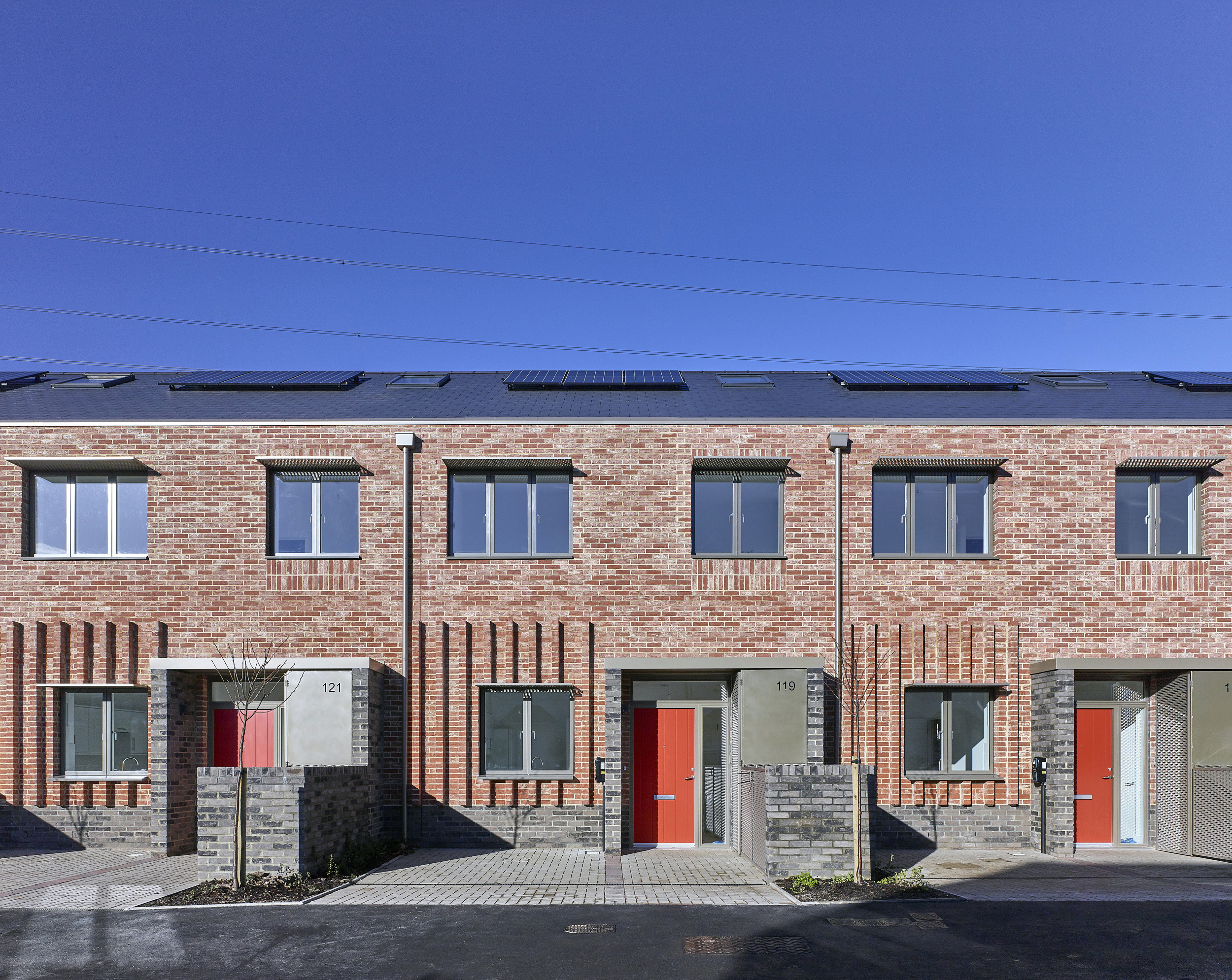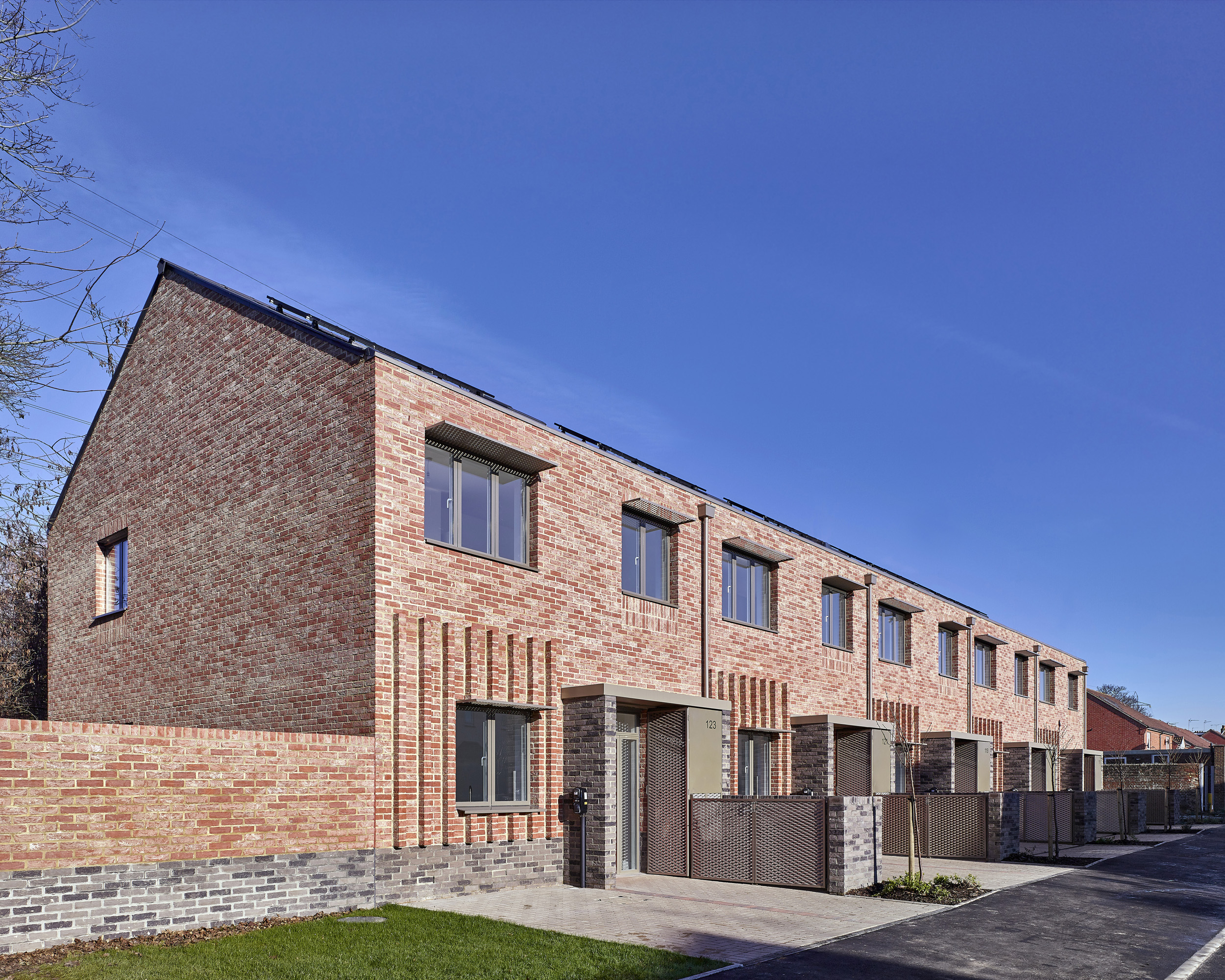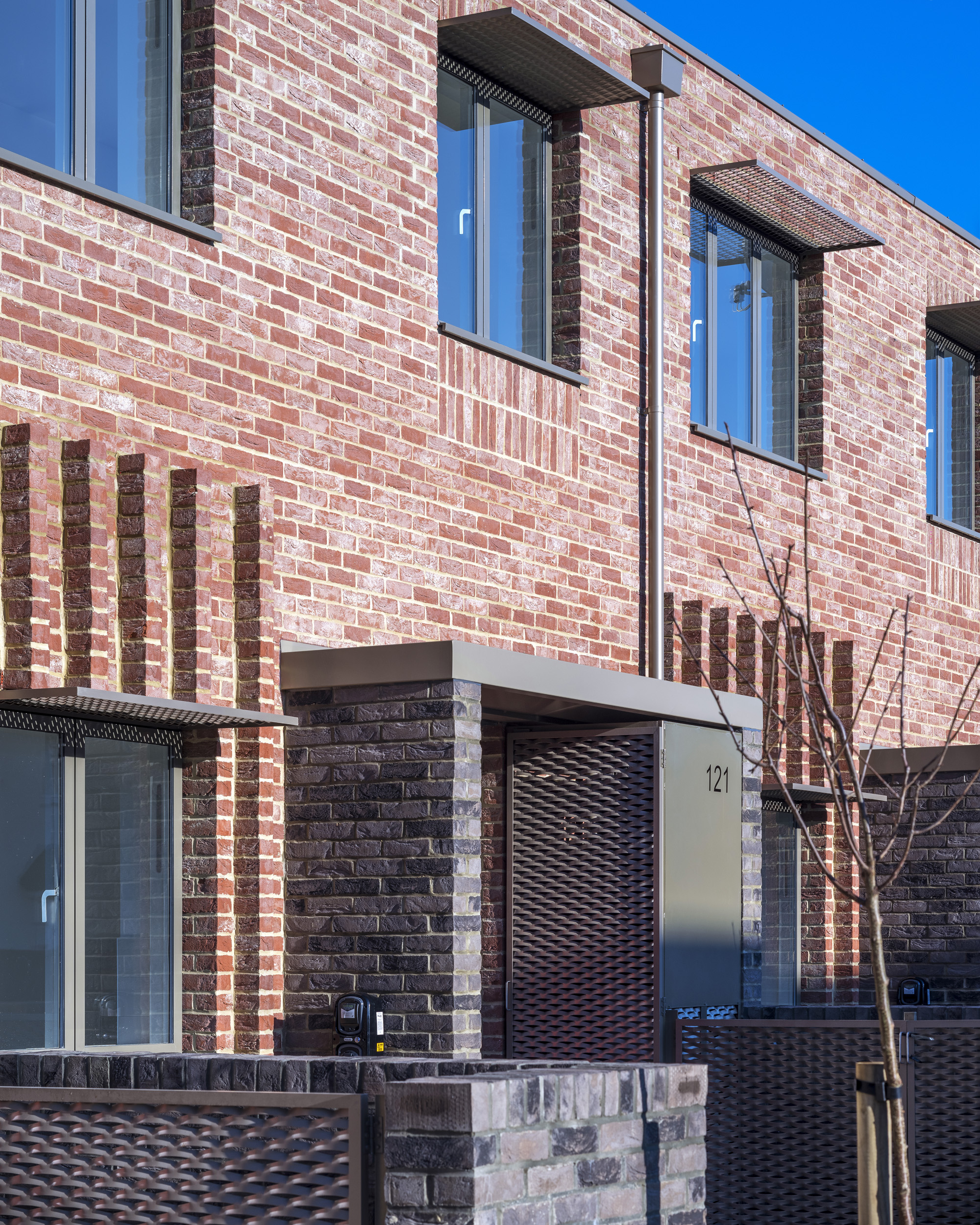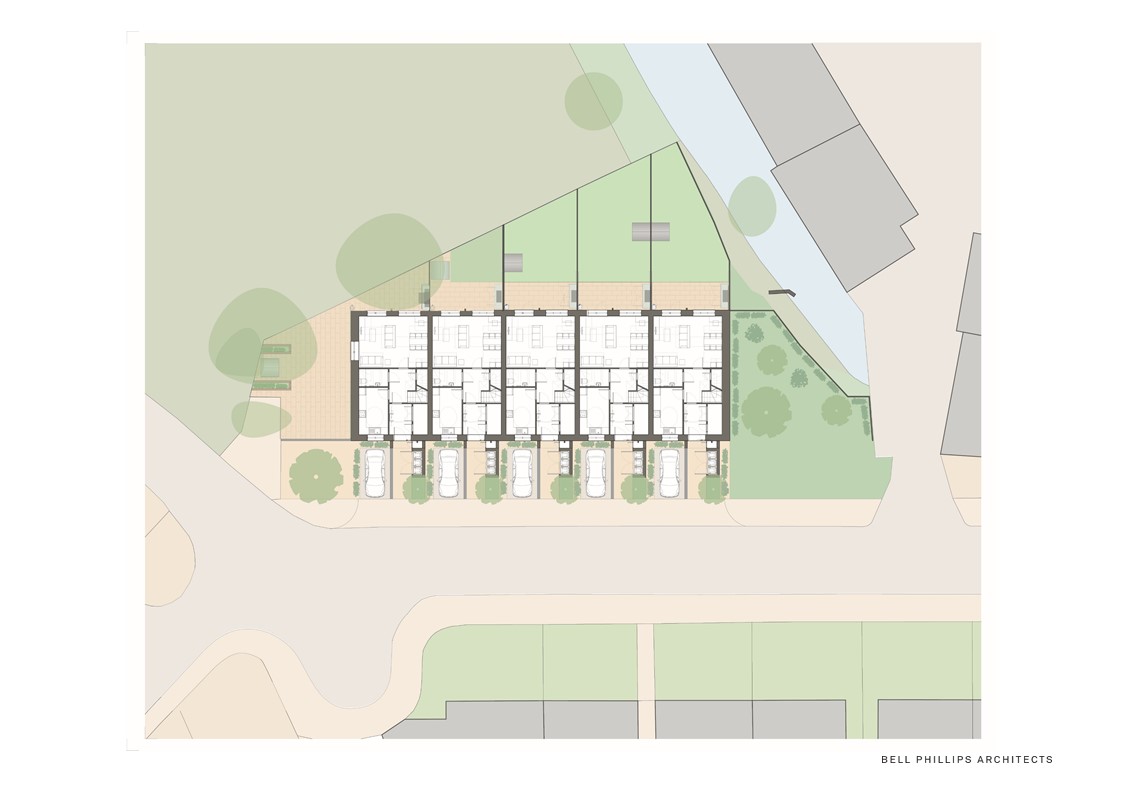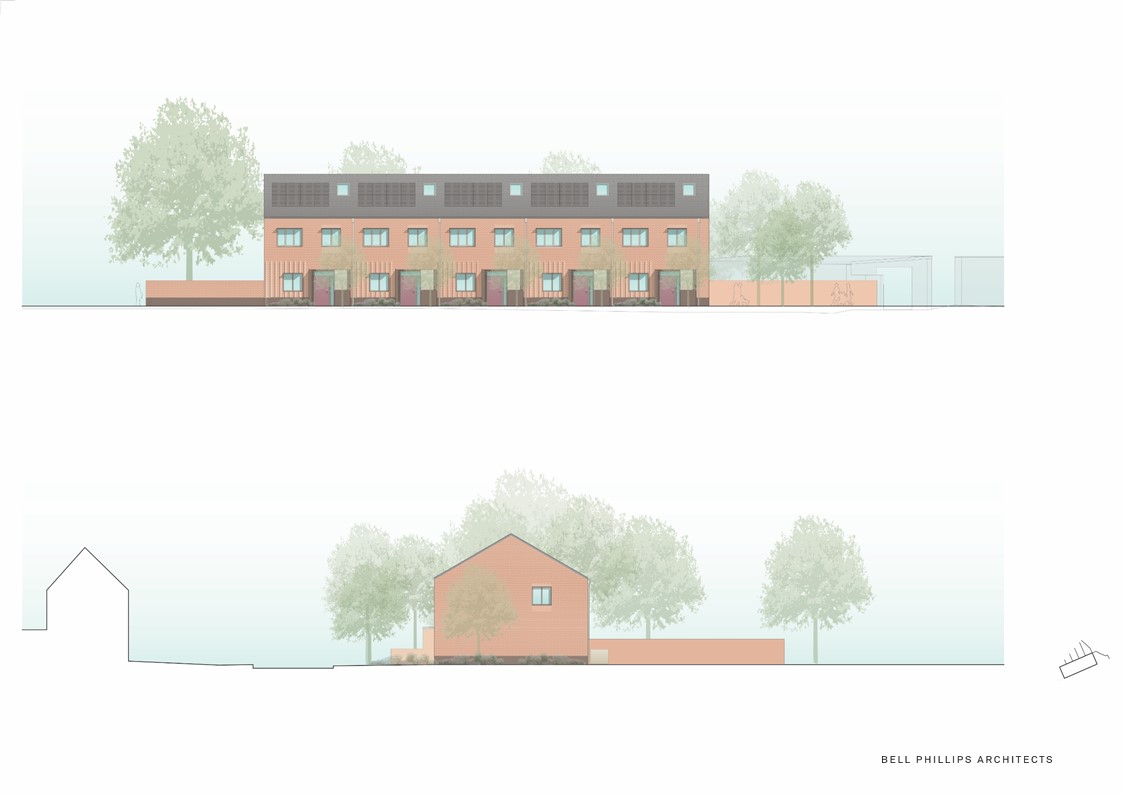 The Design Process
The five new terraces sit on the edge of an existing residential estate situated 1.2km from Bushey Station providing train services into London. Well-developed pedestrian amenities and public transportation routes also provide easy access to Watford Town Centre.
The triangular site was formerly occupied by garages near a river. Orienting the homes around both constraints with careful planning, the plot is now able to deliver public or private value. BPA specified permeable surfaces for driveways to slow runoff in response to the riverside context. Wildflower planting will cover a portion of unused land to the east of the site, enhancing biodiversity and improving surface absorption.
The homes are connected to walking routes, have secure cycle storage and off-street parking fitted with an electric charging point to encourage the use of electric vehicles and sustainable transport.
The homes provide much-needed temporary housing for Watford's residents, helping to relieve the housing shortage. The context varies with low-rise housing nearby and a small industrial estate to the North. The forms and motifs respond to existing interwar housing estates. BPA has avoided visual monotony by adopting the features common to the area, like tiled roofs but finishing them with contemporary touches like a hidden gutter. The rich material palette includes two multi-tonal brick types that add warmth and visual interest; grey brick provides a solid base to the scheme, while stepped red brickwork helps accentuate the fenestration along Riverside Road.
The scheme contributes to healthy streets with grass verges that help to add layering to the transition from the road and sensory richness. The trees planted between each driveway also aid this effect; as they mature over time, they will contribute to a strong sense of place.
Choose a few key elements you want to promote
Maintenance and functionality have been considered by selecting robust materials that will age well. Discrete refuse and storage sit adjacent to the driveway, with additional storage and utilities internally. The kitchen and living room are separated, allowing the living room to benefit from the full width of the property. Two double bedrooms and one twin bedroom provide the flexibility for home working or accommodating children. The houses are future-proof, with widened door openings and partitions designed to accommodate grab rails. Further, the loft space can easily be converted into an additional bedroom without significant structural work.
Download PDF
Scheme Information
Planning
Estate Regeneration
Infill
Urban Regeneration
Construction/Design
Contemporary Design
Modern methods
Sustainability
Low Carbon
Low Energy
Sustainable
Surrounding Area
Healthy Streets
Landscape
Community Buildings
Play Spaces
POS
Public open space
Sustainability
As part of Watford's proactive approach to tackling climate change, a significant step has been to undertake the Home Quality Mark (HQM) assessment, guaranteeing the building performs above and beyond the standard building control regulations. Working with an assessor throughout all design and construction stages, the homes achieve four stars, comparable to BREEAM Excellent. This also includes a 68% improvement over Part L. To meet this high standard, the design, material specification and construction method were meticulously considered. Bell Phillips specified a raft of passive measures to ensure that the in-use energy demand was minimised; excellent u-values and airtightness, high performing aluminium composite windows and a whole-house MVHR system. While the dual-aspect homes are generously proportioned and designed for purge ventilation when necessary, the MVHR systems work to provide clean, fresh air to spaces such as the living rooms and bedrooms and extract stale air from the kitchen and bathrooms with minimal energy input. The windows have been sized to carefully balance natural light with the risk of solar gain. A lightweight brise soleil has been installed on south-facing windows to further reduce any overheating risk. Completely omitting gas from the development, each house also benefits from an ASHP and PV array, providing a renewable source of energy and space heating for the homes. Tenants also have direct access to individual off-street parking, fitted with an electric charging point to encourage electric vehicles. The homes are constructed from a repeated lightweight timber frame, which is sustainable, easy to build and has good thermal properties. The lightweight structure also reduced the concrete used in the foundations compared to brick and block structures, further lowering embodied carbon. The timber frame was fabricated off-site and delivered ready for installation, minimising construction time and disruption to neighbouring properties.