Neptune Wharf at Fish Island Village
Entry type:

Number/street name:
Wyke Road
Address line 2:
Bow
City:
London
Postcode:
E3 2PL
Architect:
Haworth Tompkins
Architect contact number:
02072503225
Developer:
Peabody, Hill.
Contractor:
Hill
Planning Authority:
London Borough of Tower Hamlets
Planning consultant:
CMA Planning
Planning Reference:
12/00210/OUT, Section 73 Minor Material Amendment: 15/00337/VAR, Phase 3 Reserved Matters Application: 19/00030/REM
Date of Completion:
08/2021
Schedule of Accommodation:
229 x 1 bed flats, 211 x 2 bed flats, 58 x 3 bed flats, 11 x 4 bed flats
Tenure Mix:
75% Private, 12% Affordable and 13% shared ownership
Total number of homes:
509 total
Site size (hectares):
1.99 hectares
Net Density (homes per hectare):
255
Size of principal unit (sq m):
50.0
Smallest Unit (sq m):
Studio flat - 37sqm
Largest unit (sq m):
4b6p maisonette - 130sqm
No of parking spaces:
83 spaces including 13 wheelchair accessible spaces (basement level car-park) 6 wheelchair accessible spaces (at ground level)
Scheme PDF Download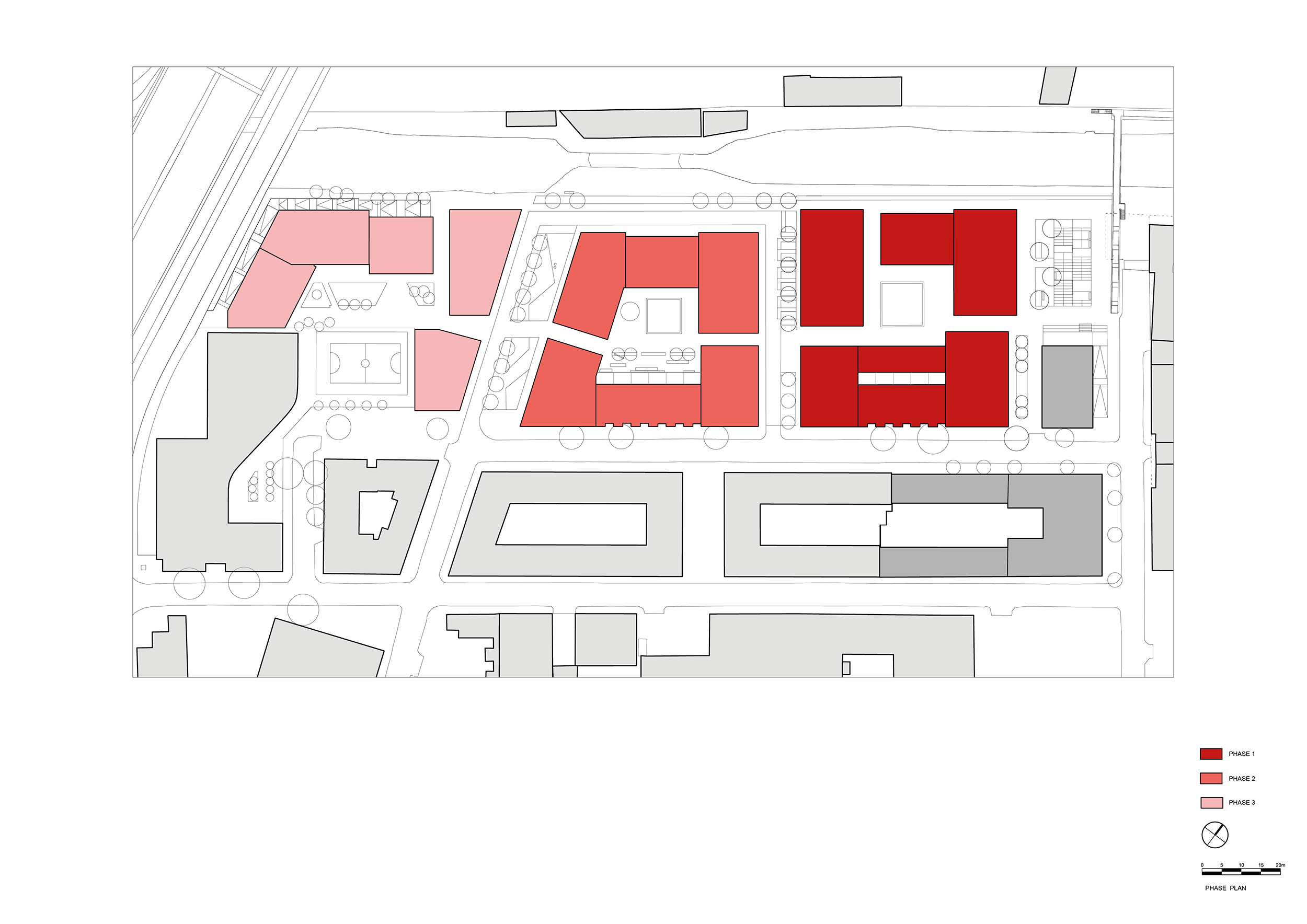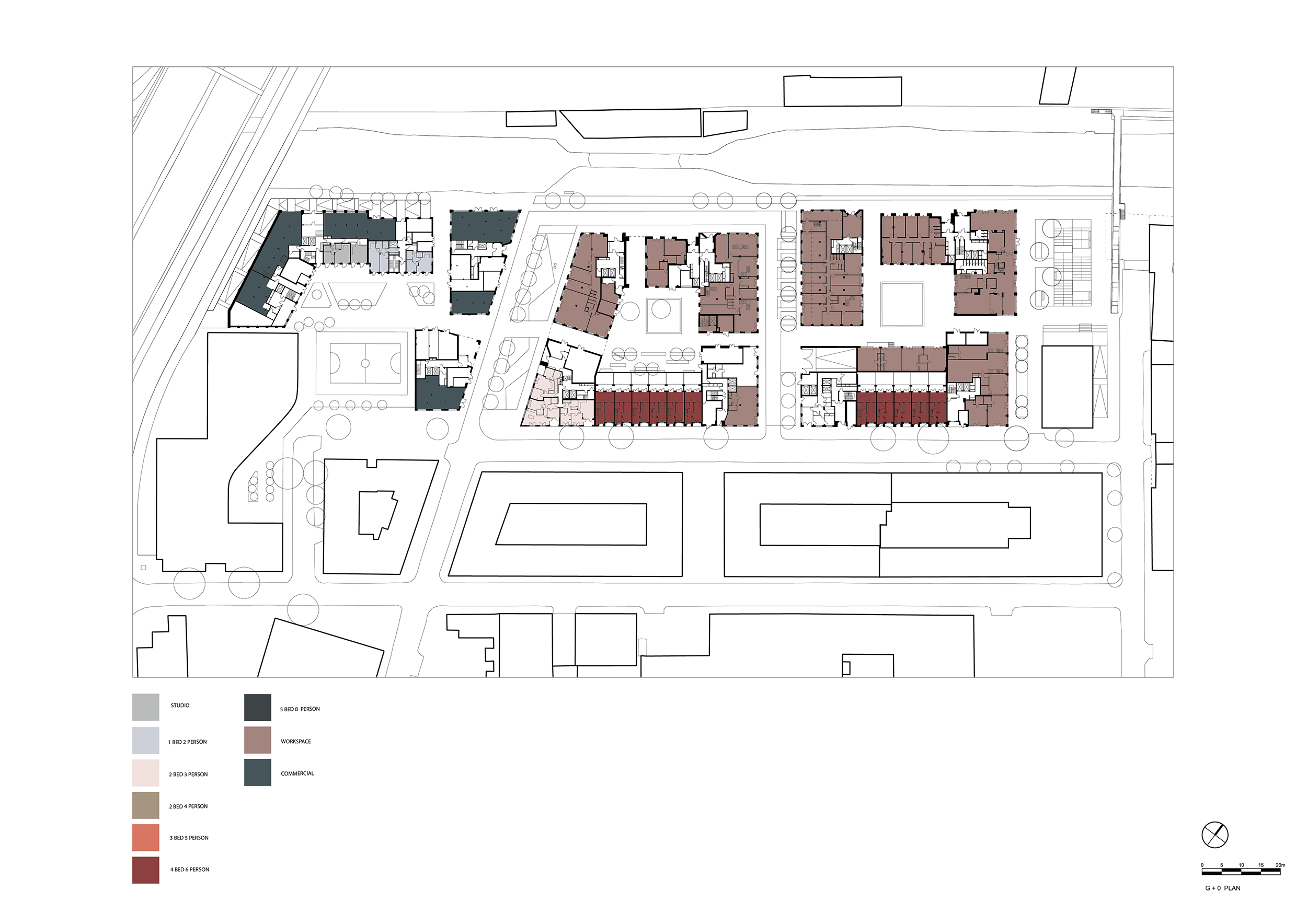 Planning History
The site consisted of a disused single-storey warehouse, an overhead gantry crane and auxiliary plant/storage buildings. The original "Neptune Wharf" consent was a hybrid application in four phases; 1-3 was residential-led with 4% affordable housing, and 4 was a school. Phases 1-2 had detailed consent and phases 3-4 had outline consent. Following Peabody's acquisition, changes to Phases 1-2 were made under a S73 application and Phase 3 via reserved matters application. Changes to the original application included changes to massing and alignment, block and dwelling layout, elevational treatment and landscaping and a significant increase in affordable housing provision.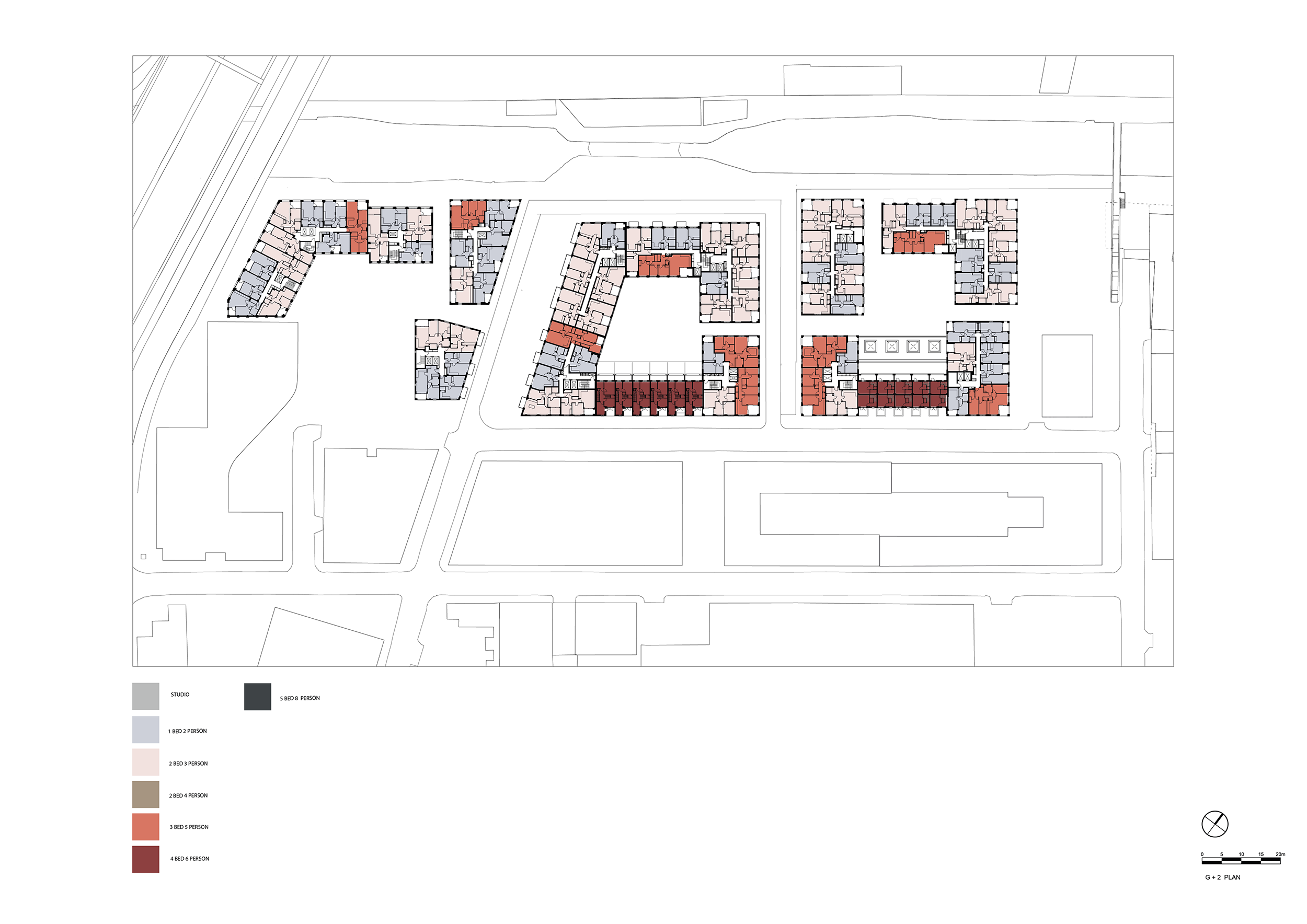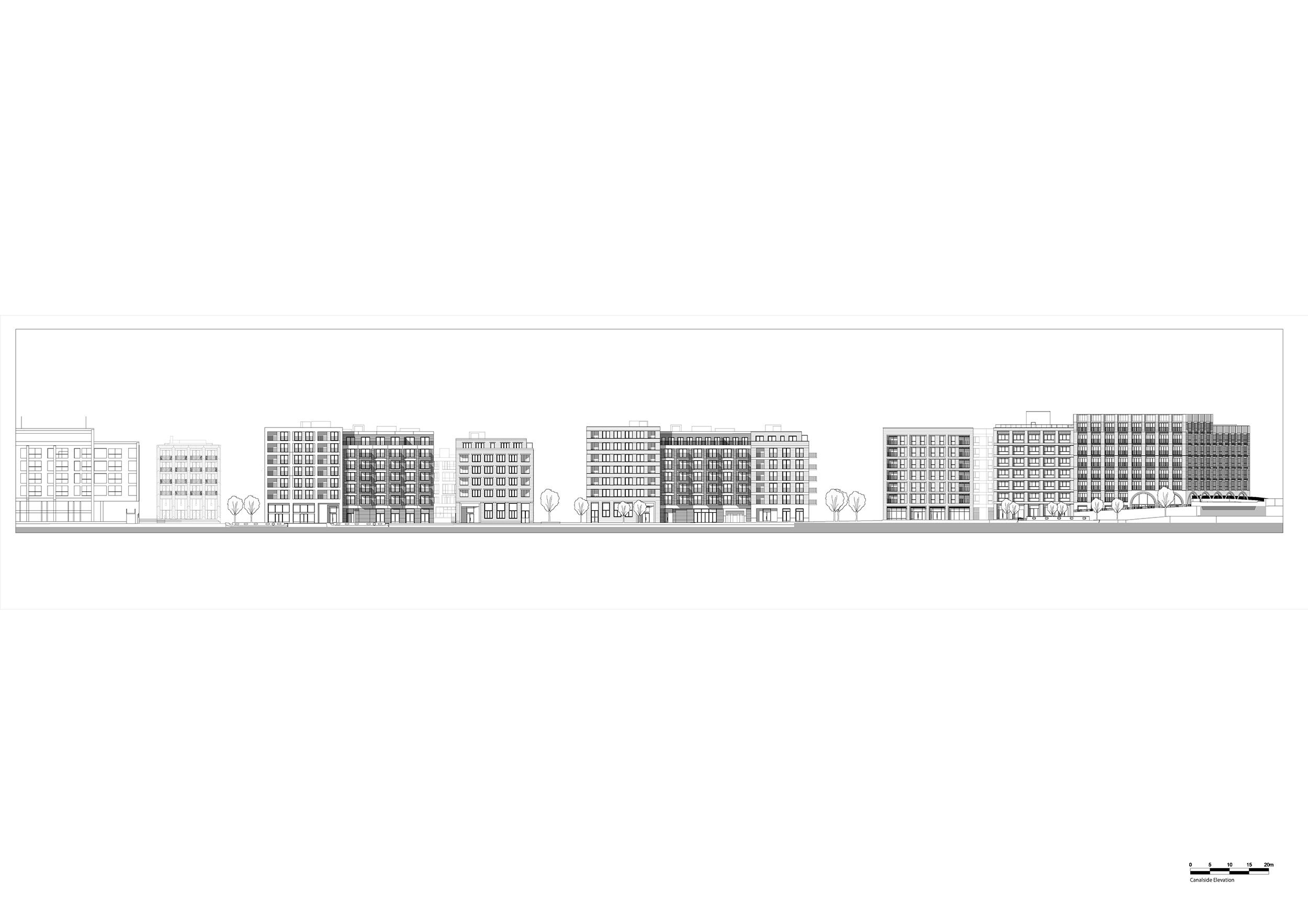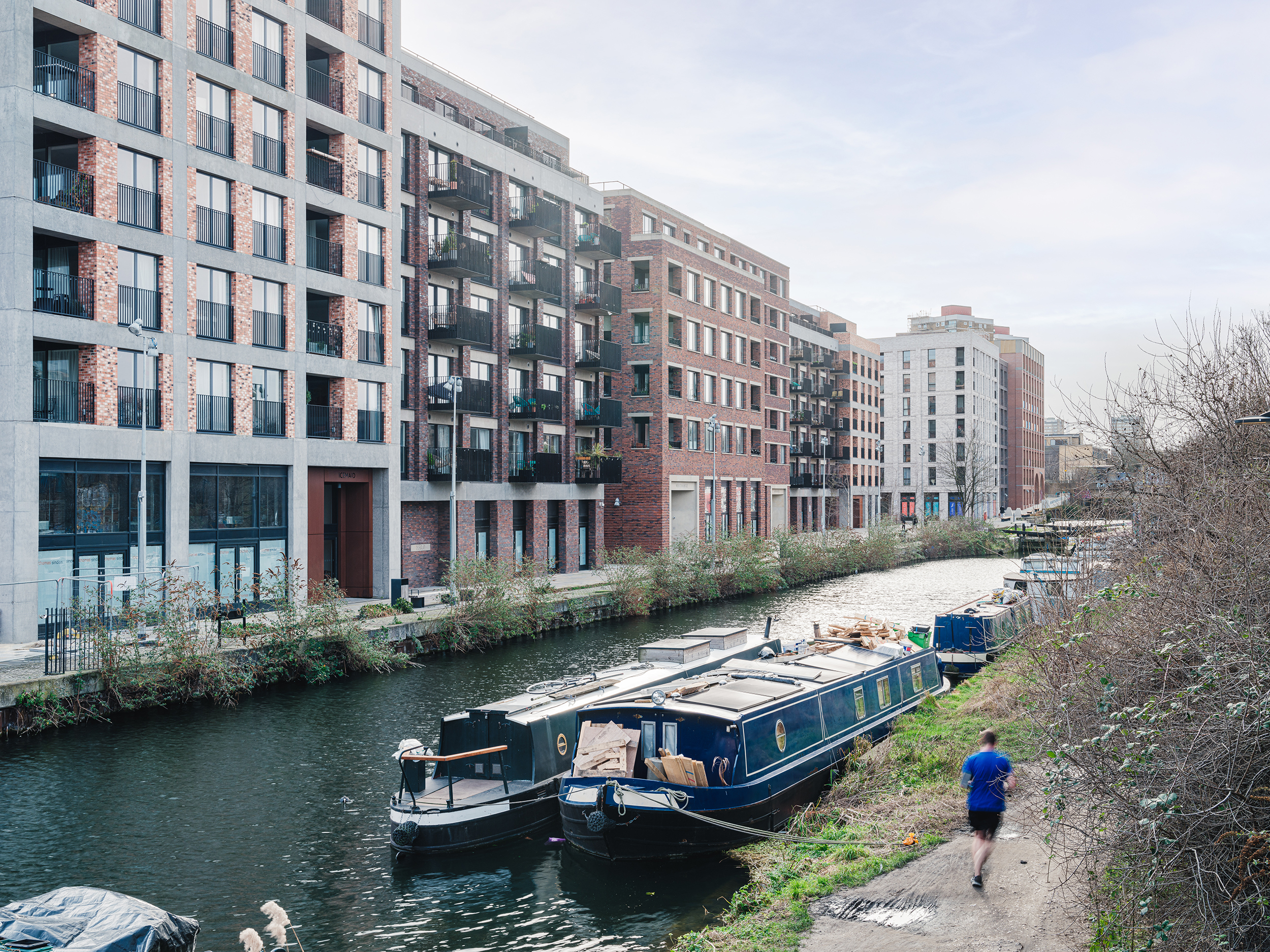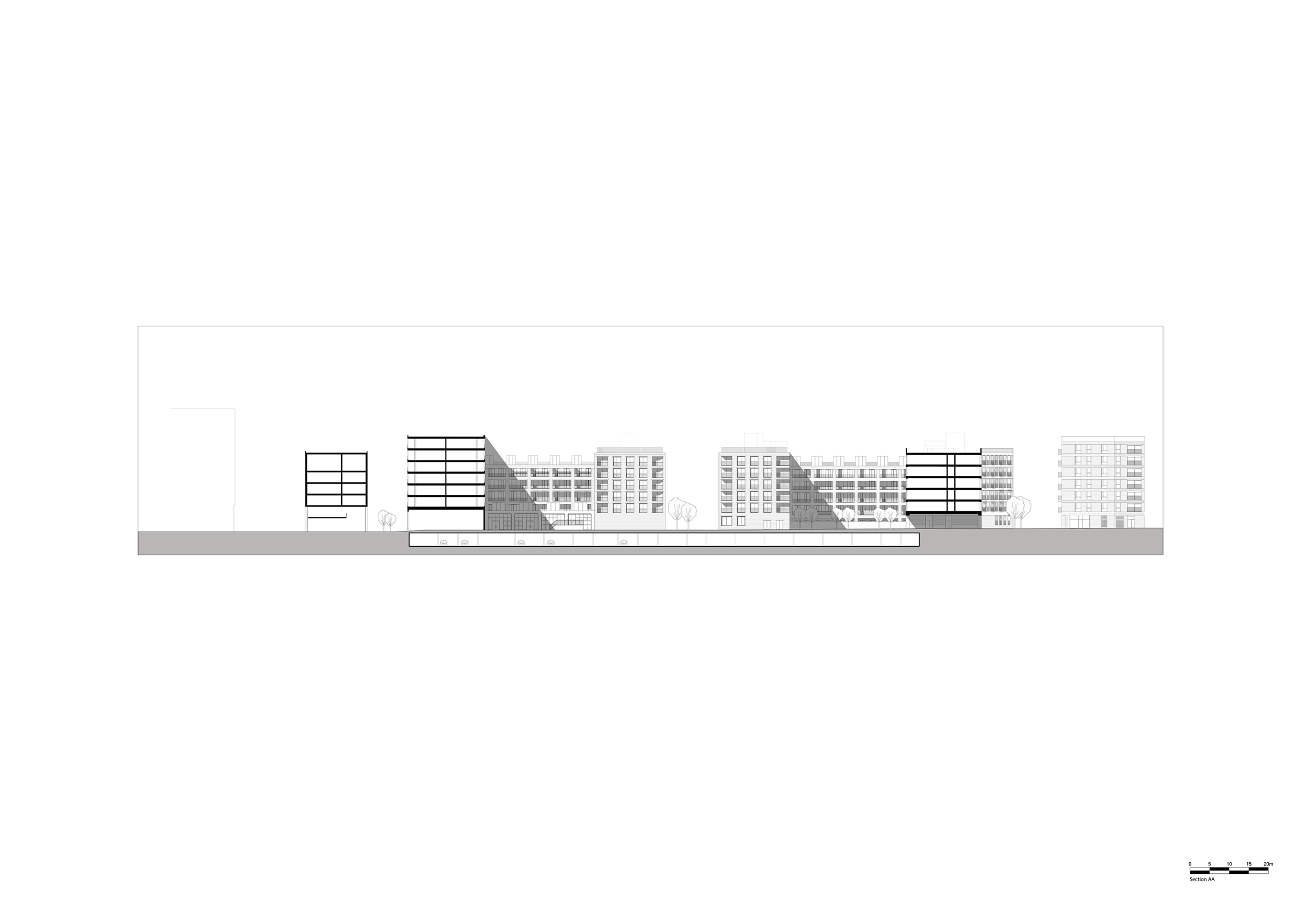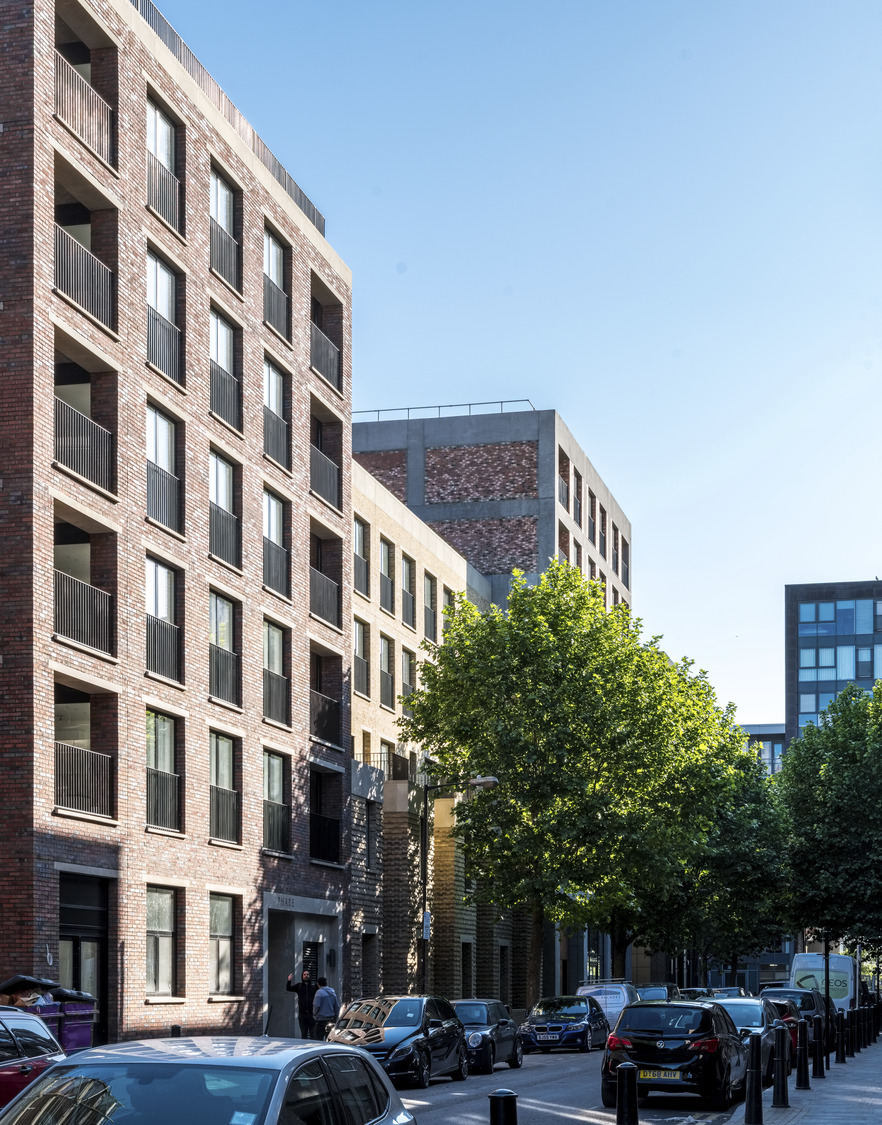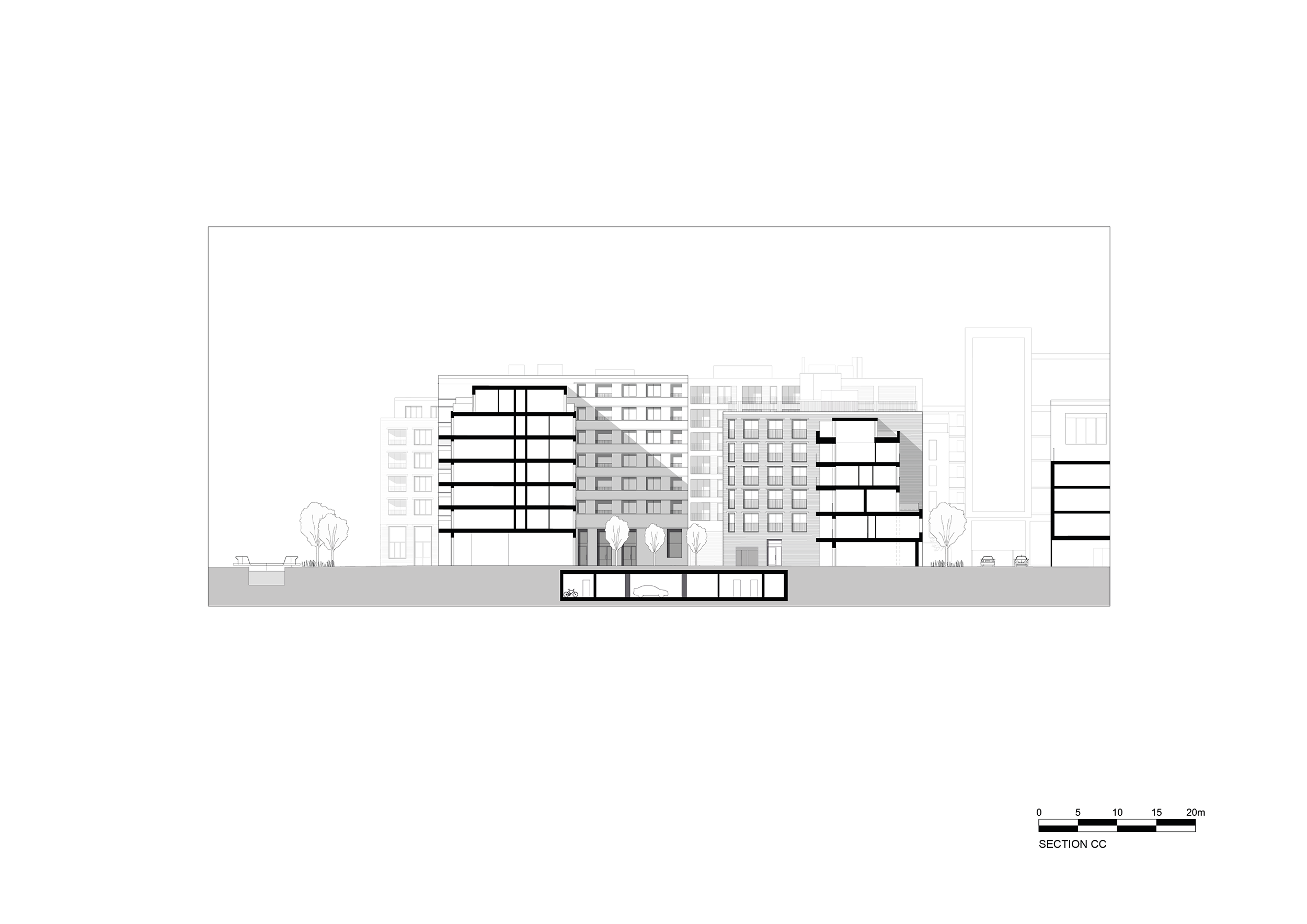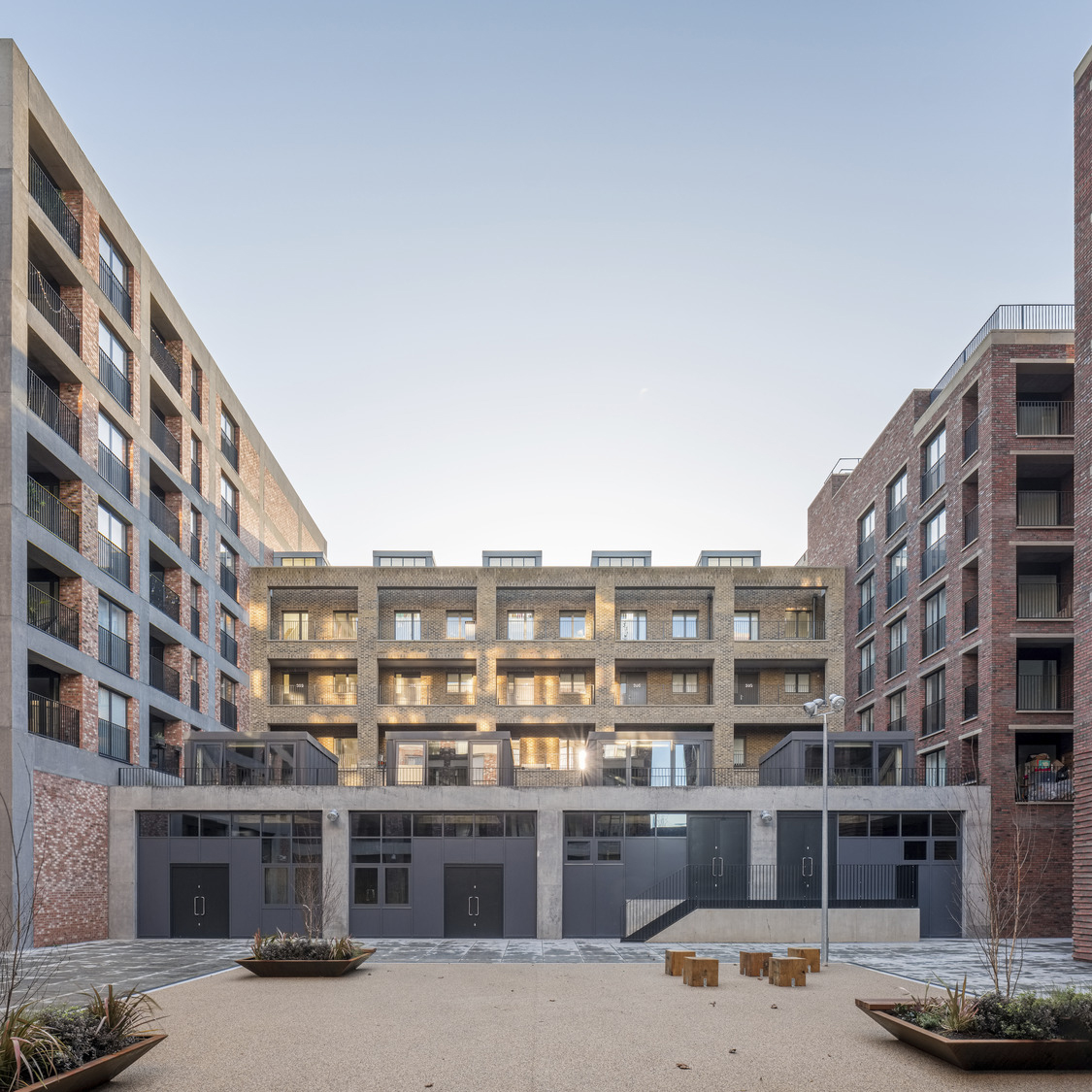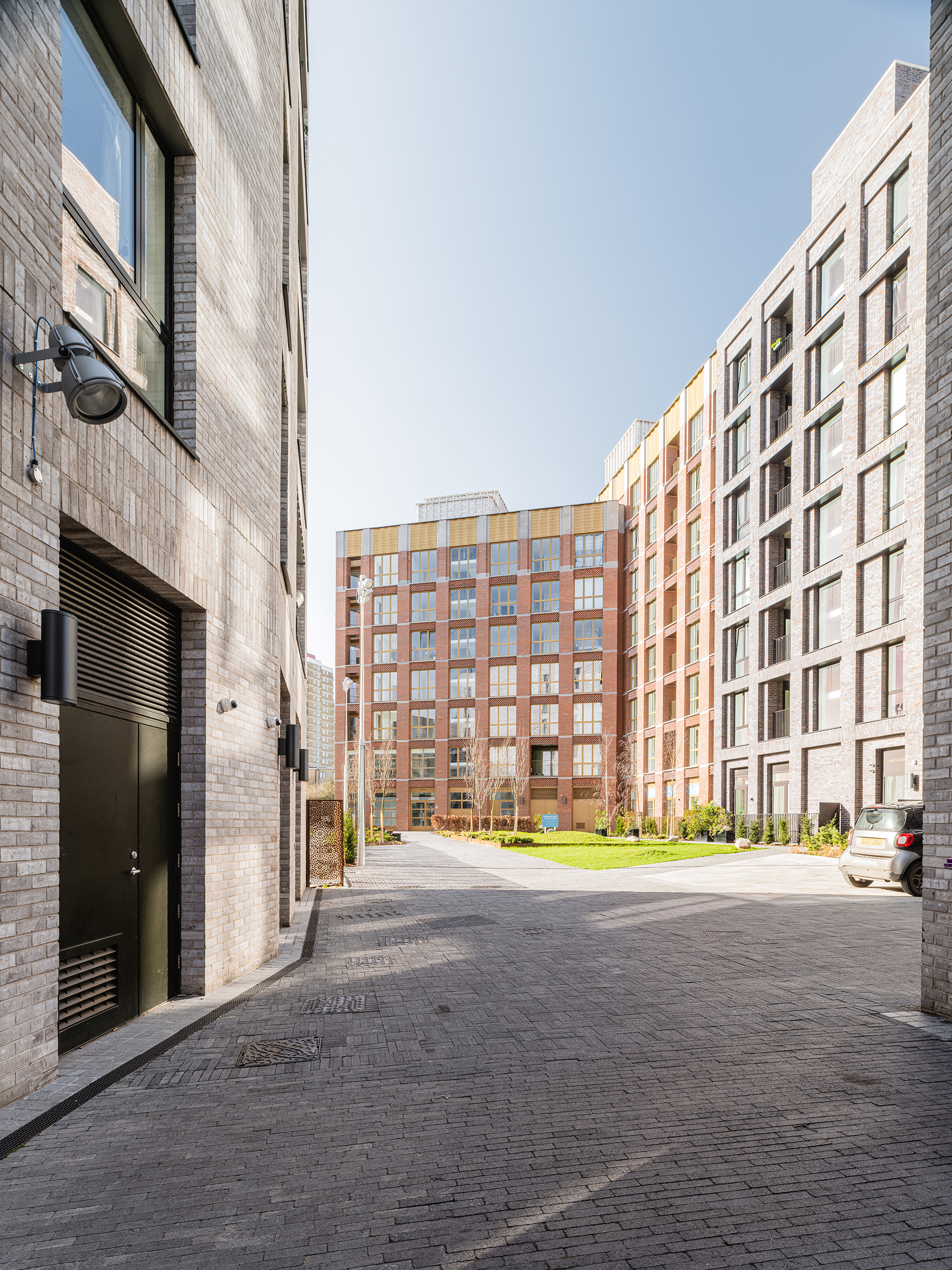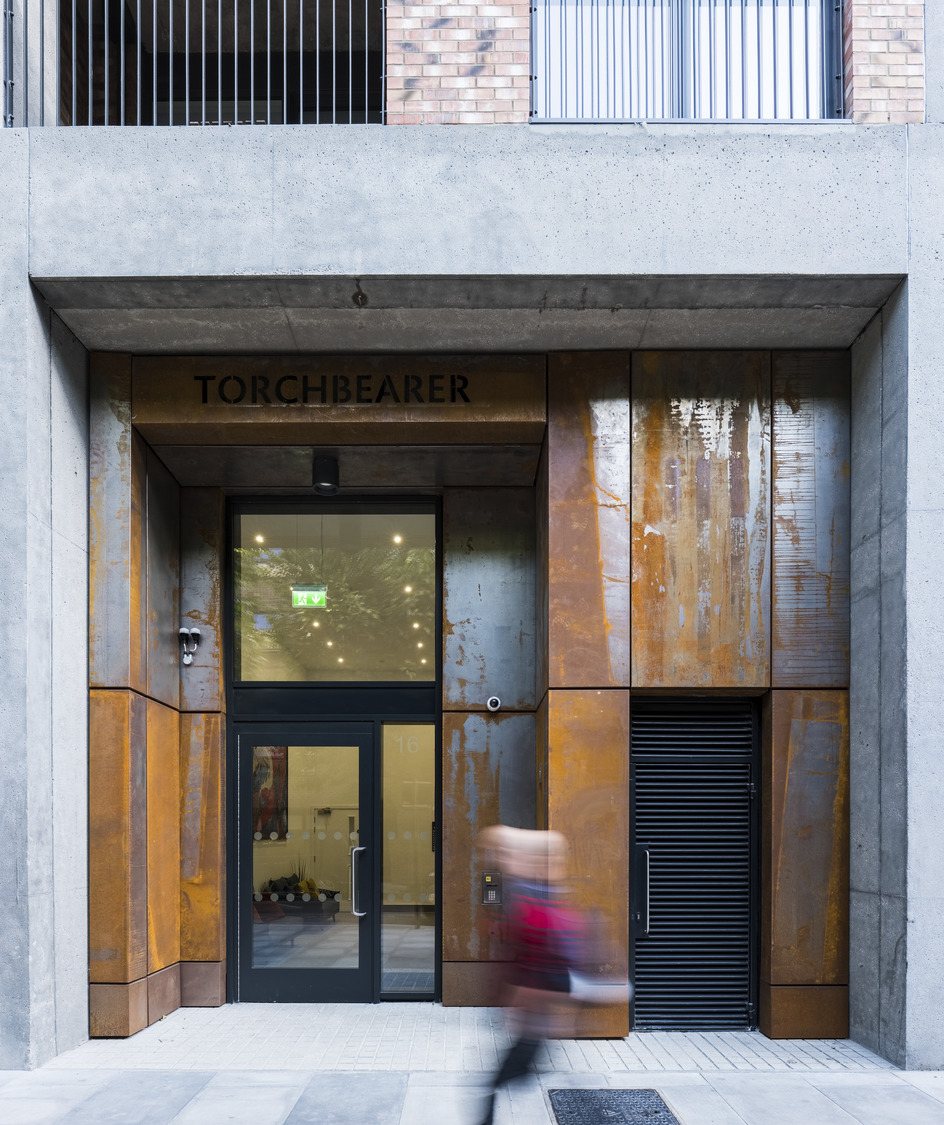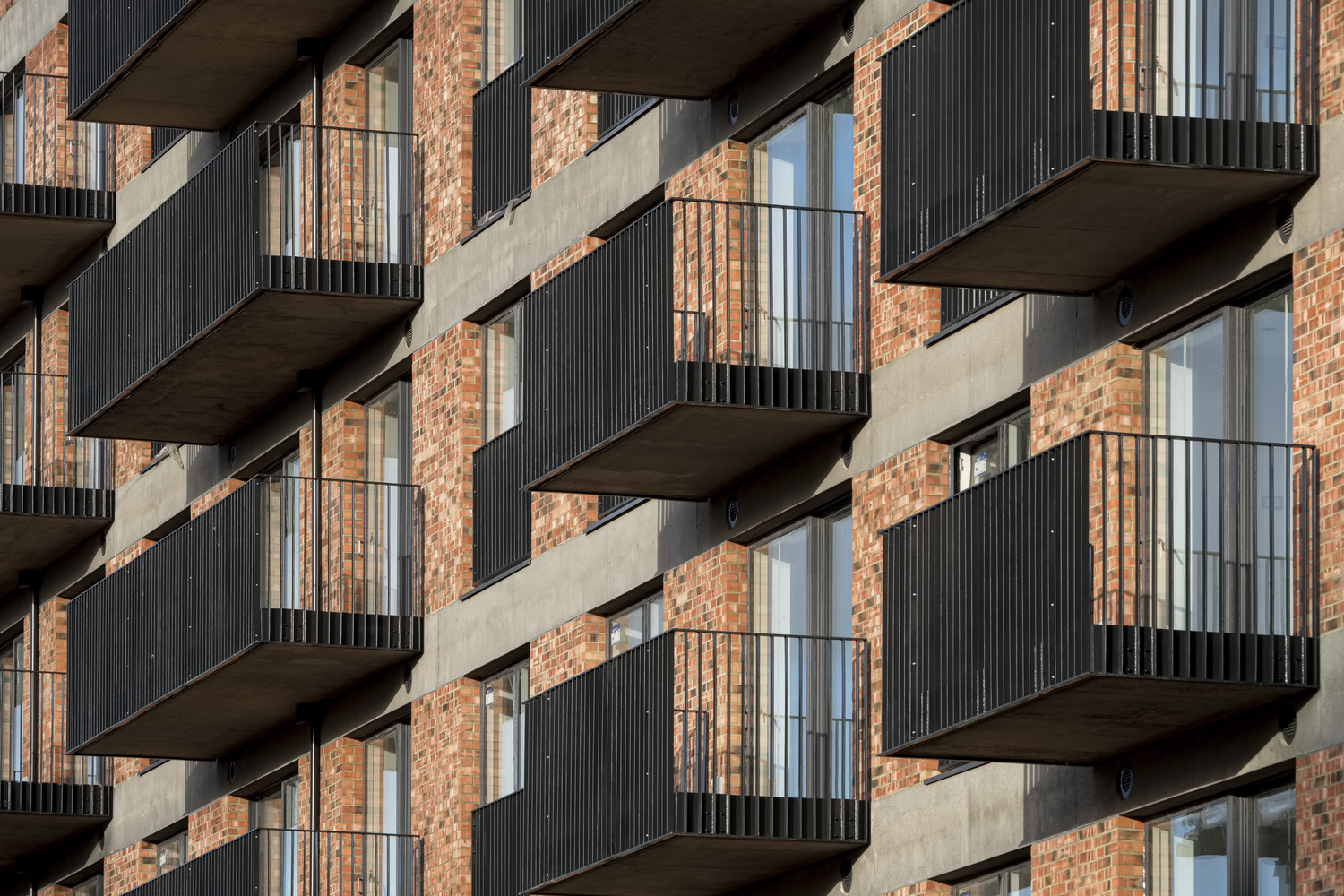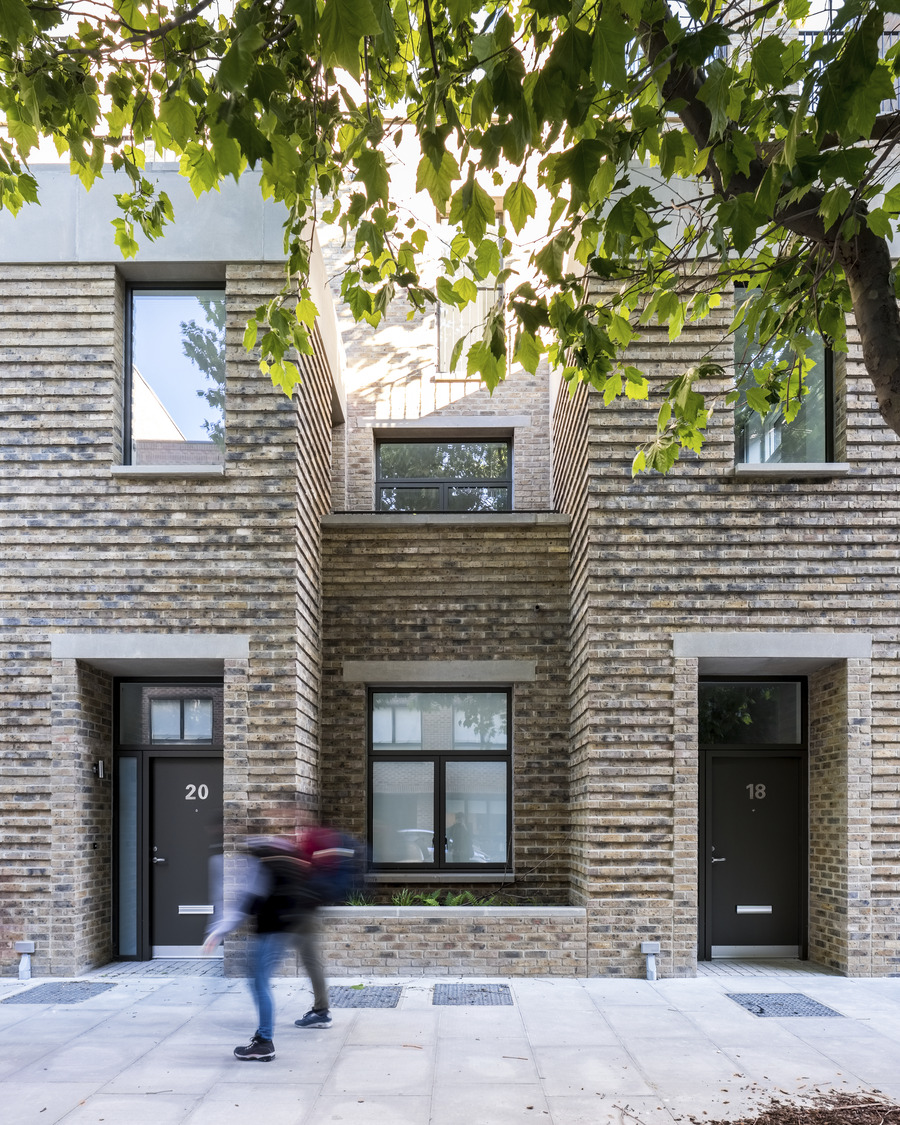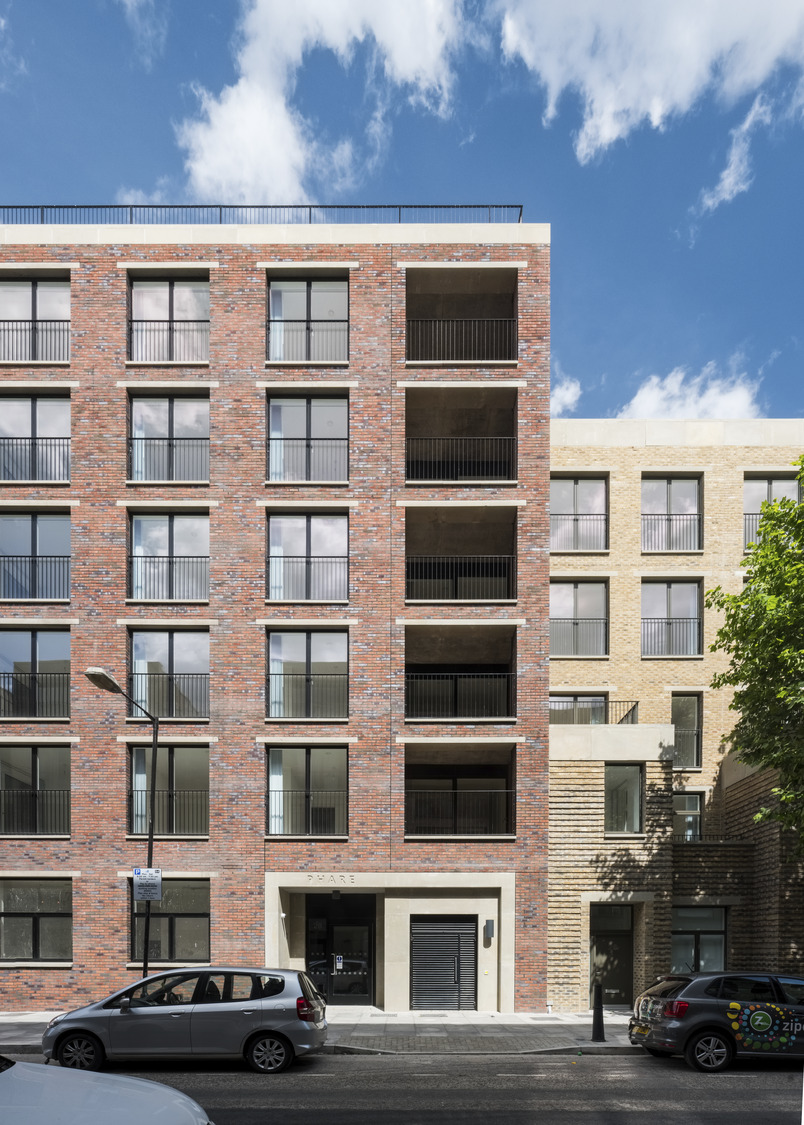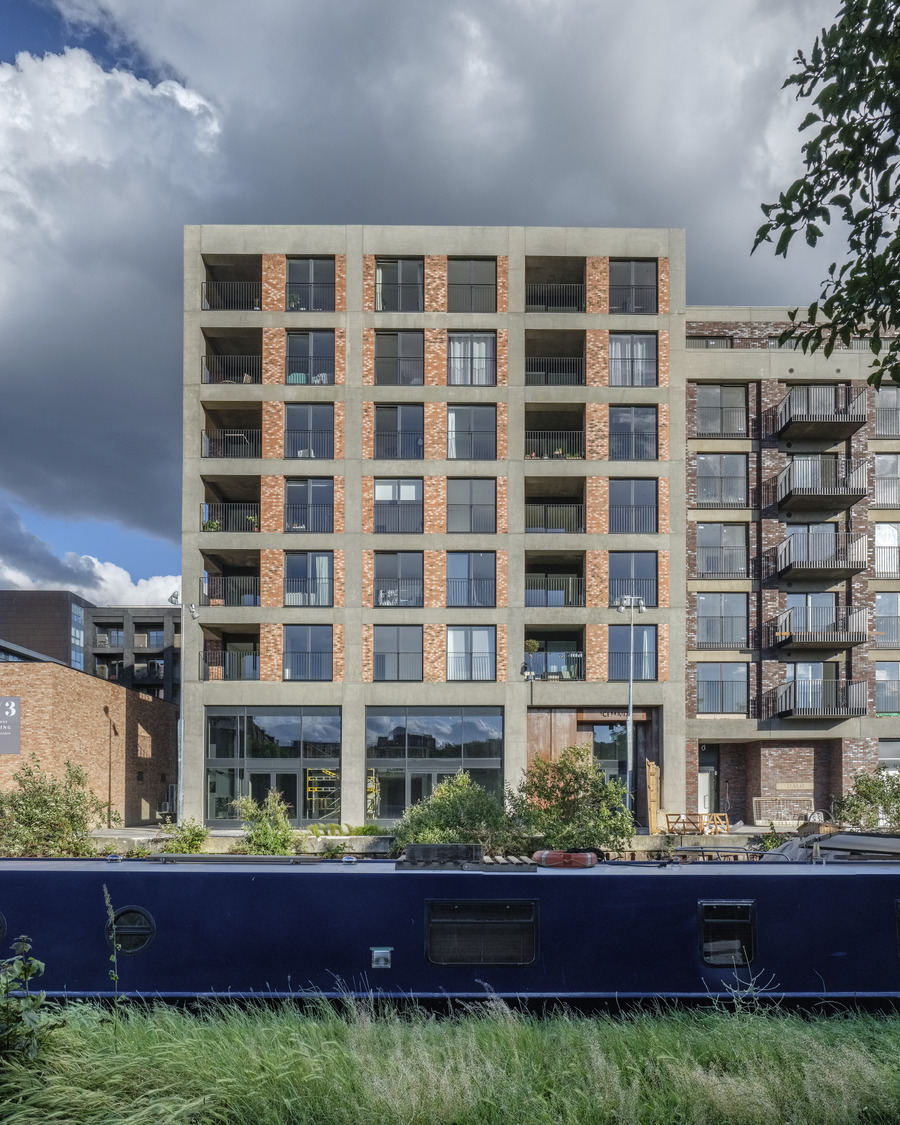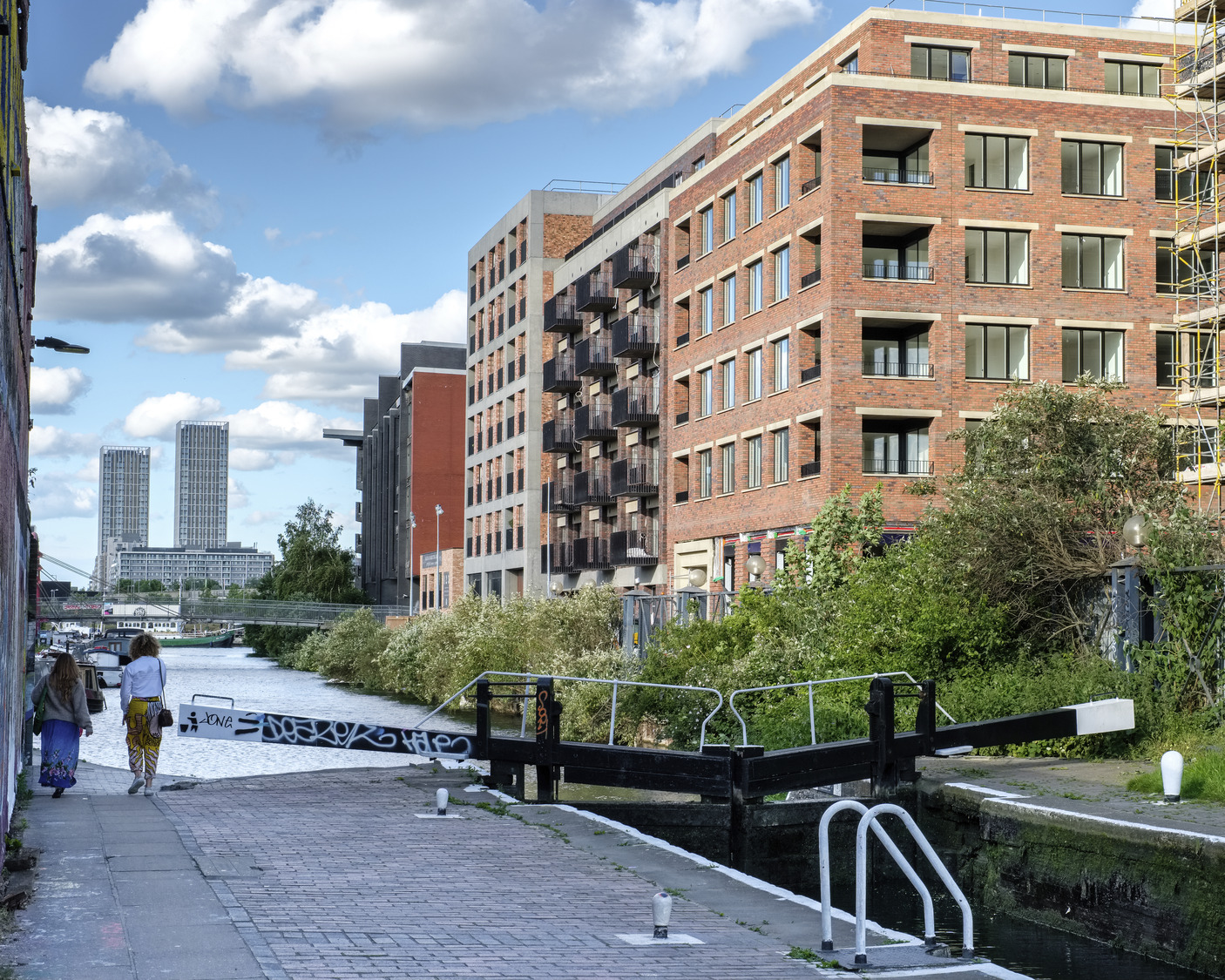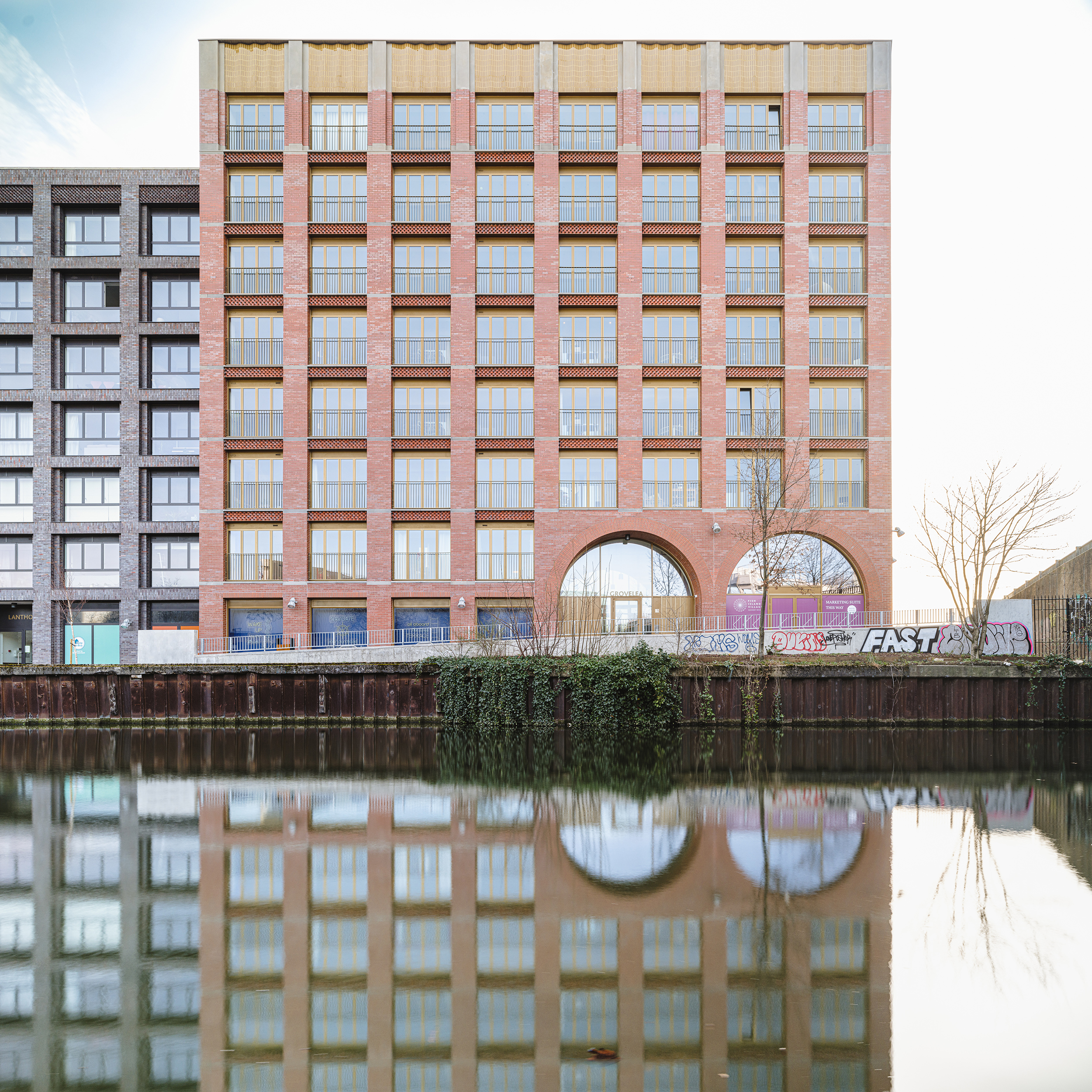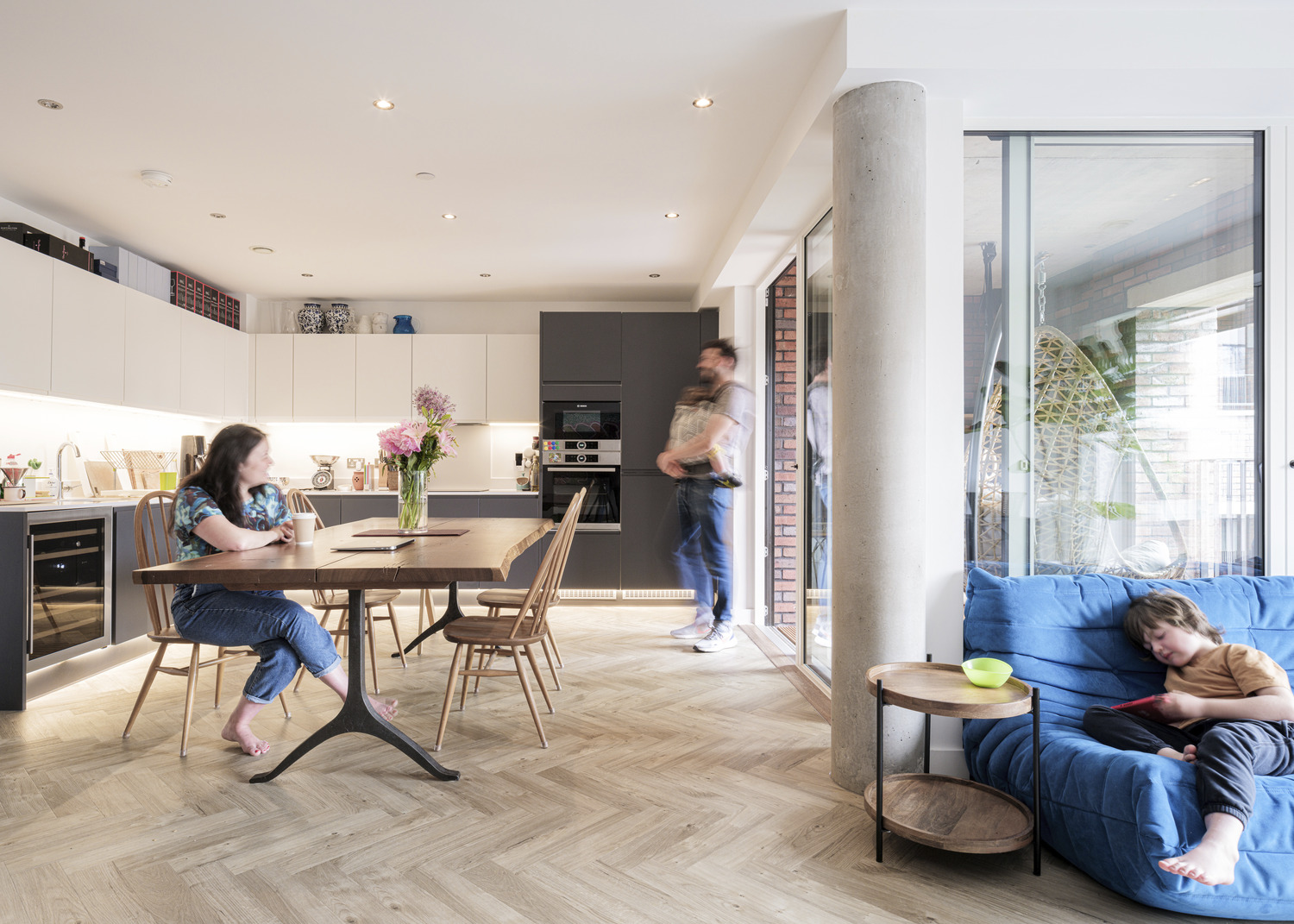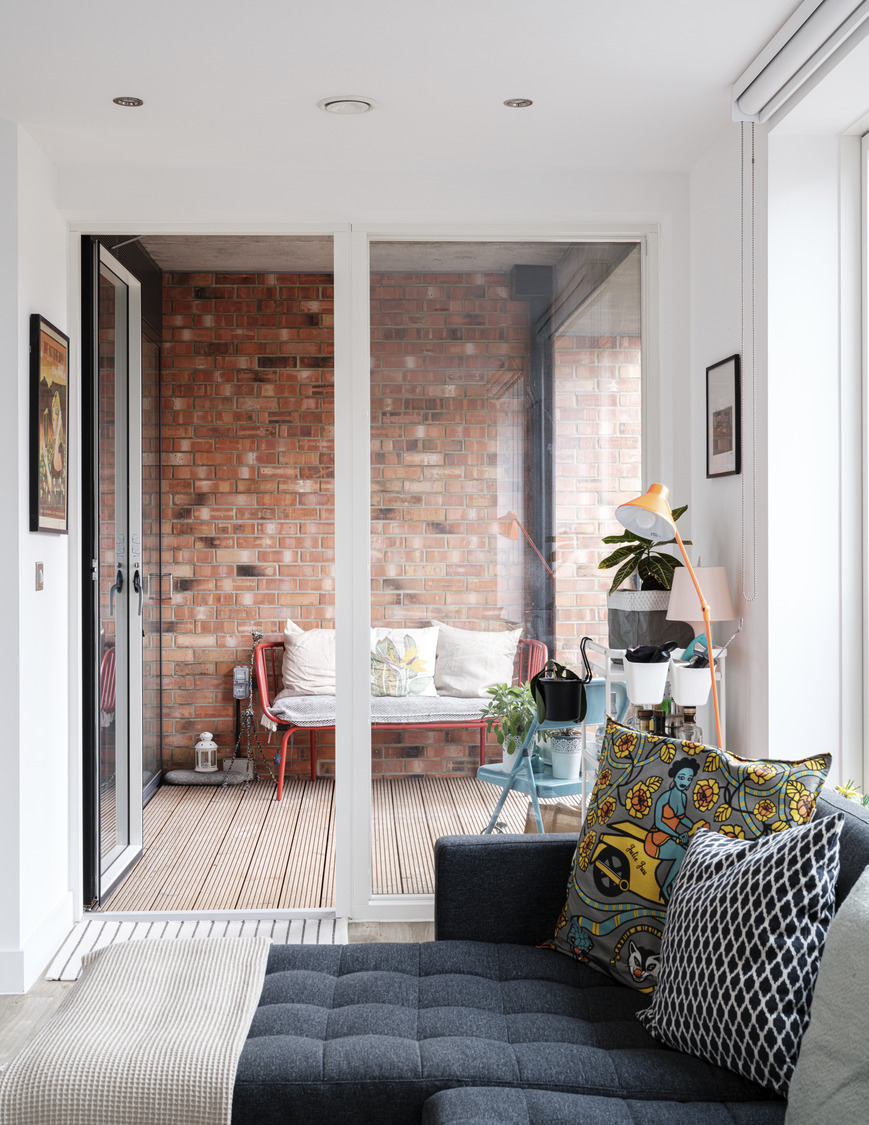 The Design Process
A major brownfield regeneration project to the west of Hackney Wick, in a part of the city undergoing neighbourhood-wide densification, Fish Island Village has transformed an inaccessible site of disused single-storey distribution warehouses with a collection of midrise buildings interspersed with new public spaces fronting the canal. Designed to reflect Hackney Wick's industrial heritage while heralding the area's urban transformation, the development aims to achieve the robustness and permanence of the area's historical warehouses, while creating a legible public realm composed of public squares, yards and tree-lined streets.
As masterplanner for the development, Haworth Tompkins worked with Clients Peabody and Hill Residential to design 501 homes centred around 3 large mixed use courtyard blocks comprising 17 linked blocks in all. These include a mix of private, affordable rent and shared ownership one, two, and three-bedroom apartments and maisonettes. The elevational treatment is ordered and rational taking its cue from its existing heritage and context; tough and robust but timeless. The choice of four brick types and use of grit blasted, acid etched and fairfaced concrete emphasise the solidity and permanence of the buildings. Building on the creativity of the area, The Trampery occupies the commercial space and delivers a new campus of studios, facilities and social spaces for creative industry, bringing together talented fashion designers and entrepreneurs as part of the new London Fashion District.
A generous, gently sloping accessible route reconciles the storey-height level change between road and canal, providing a new connection to open up 200m of publicly accessible canal-side frontage. The ensemble of buildings increases in height towards the A12 to form a distinct landmark corner which announces the character of the whole development and its presence in Hackney Wick
Choose a few key elements you want to promote
Fish Island Village seeks to nurture and grow the existing creative community in Hackney Wick by providing high-quality affordable homes with private amenity alongside flexible workspace. Mixed tenure residential space overlooks an active base housing the Trampery's Fashion Campus with its studios, production facilities and social spaces, connecting to a new vibrant canal-side public realm. Designed to reflect the neighbourhood's industrial heritage while heralding the area's urban transformation, the development aims to build on the positive qualities and distinctiveness of the area's flourishing arts and culture scene and its robust and adaptable historical buildings.
Download PDF
Scheme Information
Type
Multi-Aspect Apartments
Innovative House Types
Maisonettes
Mansion Block
Cost/ownership
Affordable
Private Ownership
Shared Ownership
Mixed Tenure
Mixed Use
Planning
Large New Settlements
Community Consultation
Urban Regeneration
Construction/Design
Brickwork
Contemporary Design
Local Vernacular
New London Vernacular
Modern methods
Off-site
Outdoor areas
Private Terraces
Roof Gardens
Roof Terrace
Outside Terrace
Biodiversity
Garden
Surrounding Area
Healthy Streets
Landscape
Communal Spaces
Community Buildings
Play Spaces
POS
Public open space
Sustainability
Fish Island Village was designed to achieve Code for Sustainable Homes Level 4 for the residential side, while the commercial shell and core targeted BREEAM Very Good. It also boasts good transport links and cycle storage provisions, green roof and rooftop photovoltaic panels – the LA requirement for the development was to offset 20% energy via renewables and 50% reduction in C02 over the building regulation. The scale of the development called for specific planning requirements for family and affordable housing and had a significant impact on local infrastructure and environment. The development replaced a warehouse, forecourt and loading bay, and coupled with local demand, resulted in a requirement to incorporate affordable workspace. The development showcases the use of natural lighting and good ventilation through openable windows, coupled with heat recovery ventilation, in a bid to reduce energy use and promote a healthy, low carbon lifestyle for the residents. All homes have private amenity in the form of terraces, balconies and, where affected by the A12, winter gardens which provide usable, flexible amenity and protection from noise and low air quality. In addition to a new courtyard garden, sheltered communal rooftop gardens to two of the blocks afford views over the canal and to Victoria Park, with the potential for food growing allotments. Phase 3 of the development has been designed to achieve the BREEAM (LE03,04,05) / Code for Sustainable Homes (Eco 1,Eco 4) credits for Biodiversity conservation and enhancements. Phase 3 is also supplied with district heating from Phase 1 & 2.