Kerswell Close
Number/street name:
Land to rear of 2-14 Kerswell Close
Address line 2:

City:
London
Postcode:
N15 5RP
Architect:
Newground Architects
Architect contact number:
+442074904950
Developer:
Haringey Council.
Contractor:
Selsdon Building Contractors Limited
Planning Authority:
London Borough of Haringey
Planning Reference:
HGY/2022/2250
Date of Completion:
10/2024
Schedule of Accommodation:
1 x 4-bed flats; 3 x 3-bed flats; 12 x 2-bed flats; 9 x 1-bed flats
Tenure Mix:
100% affordable
Total number of homes:
25
Site size (hectares):
0.2878
Net Density (homes per hectare):
86.9
Size of principal unit (sq m):
69.0
Smallest Unit (sq m):
53.8
Largest unit (sq m):
138.8
No of parking spaces:
2 blue-badge parking spaces
Scheme PDF Download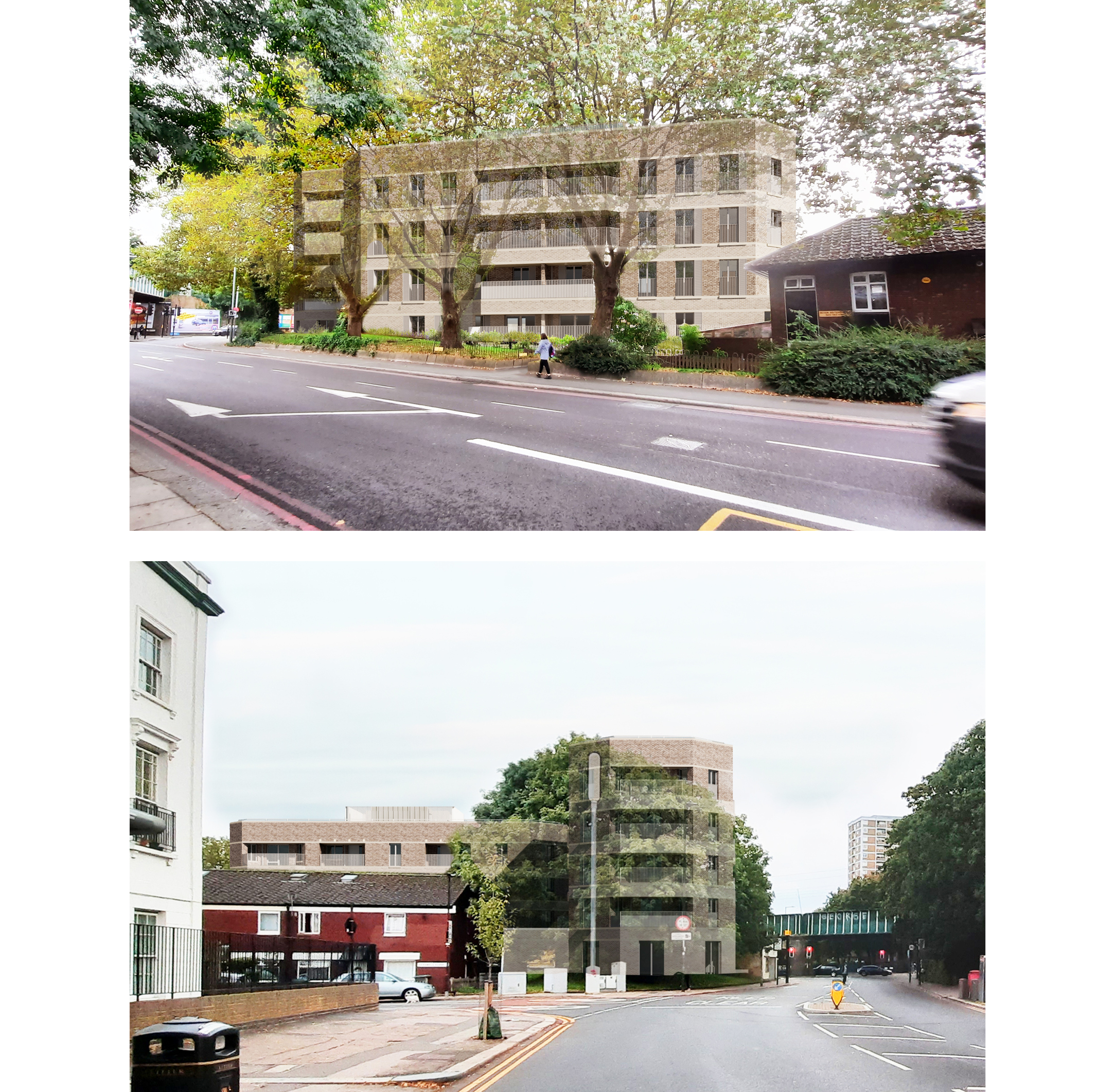 Planning History
This prominent site, which received planning consent on 23 January 2023, had a complex planning history and required careful consideration and consultation to unlock its development potential. Community engagement on the proposed buildings as well as s105 consultation on public realm helped shape proposals. Input from the local authority Quality Review Panel also formed an integral part of the process leading to planning. Proposals for the site's redevelopment were considered in the context of a number of adjacent council-owned sites, which are likely to be brought forward for development in the near future.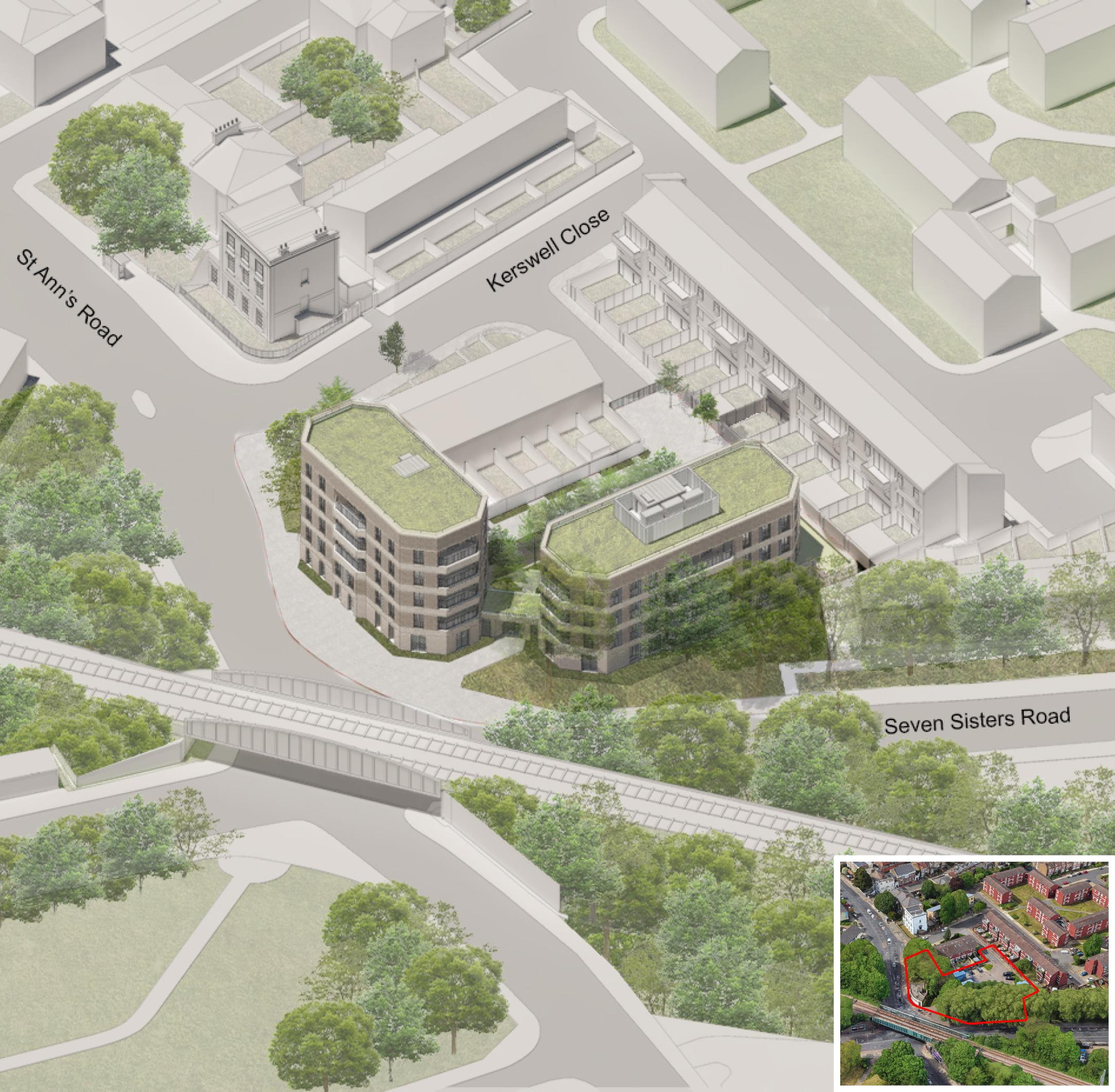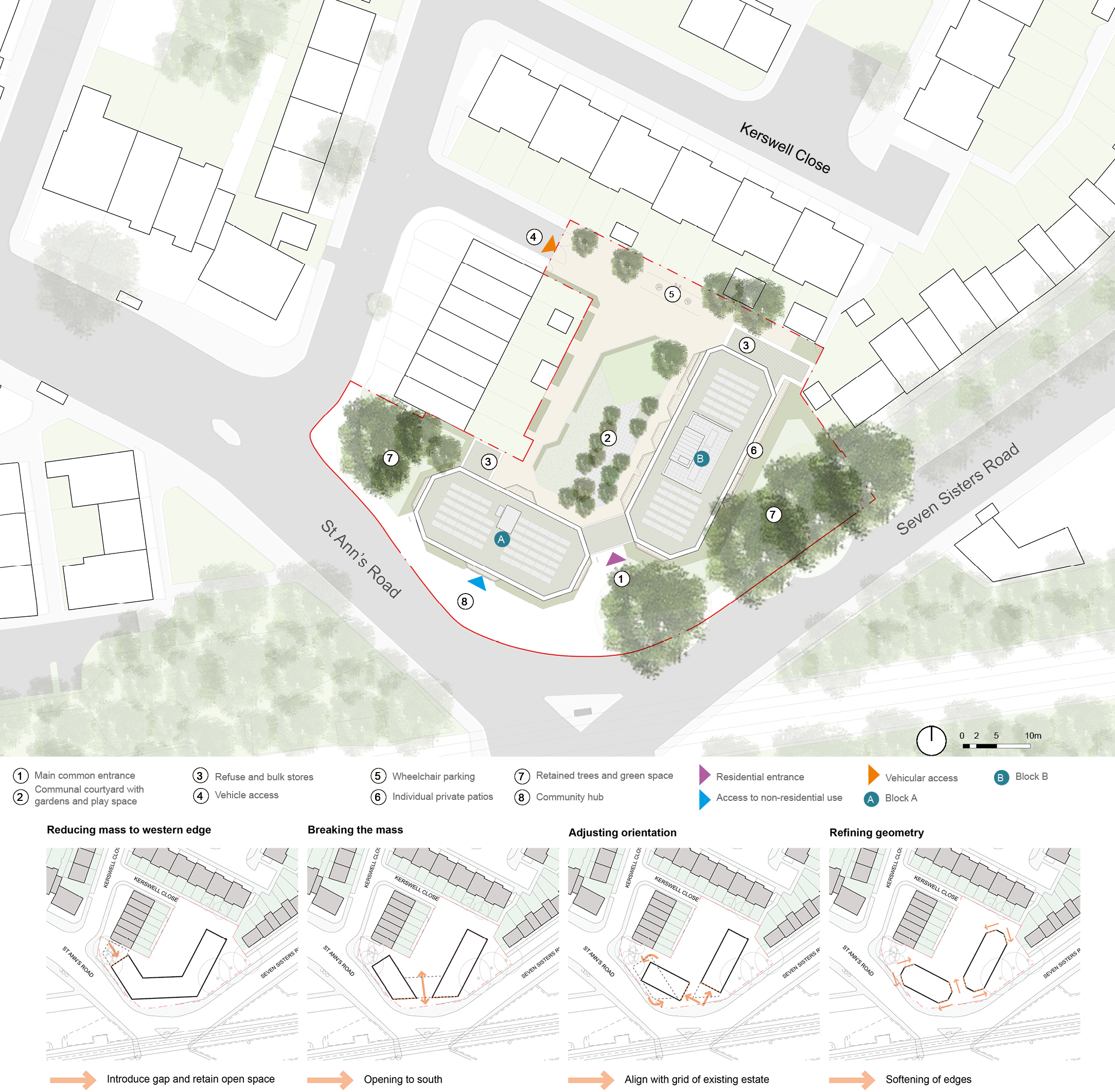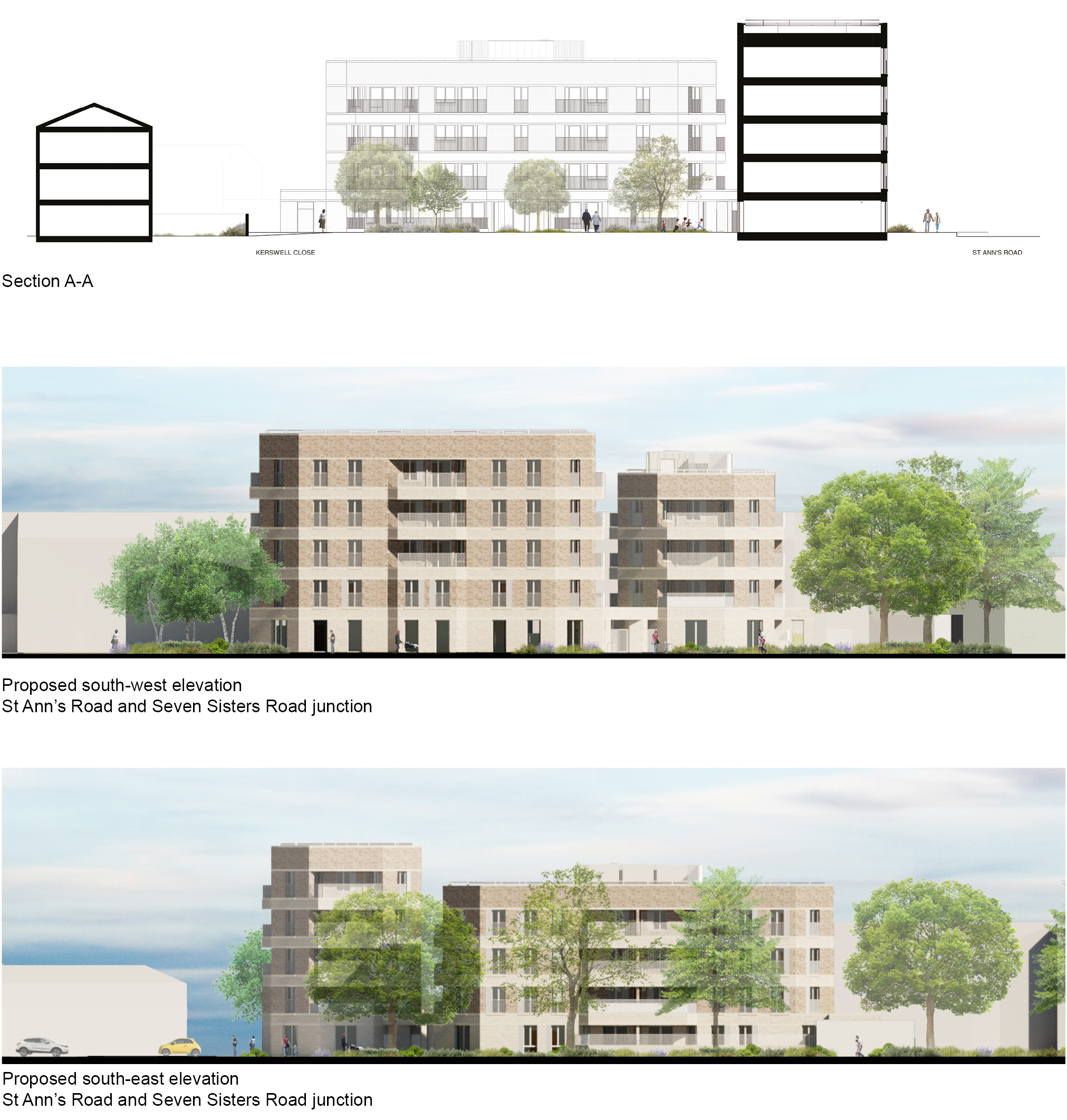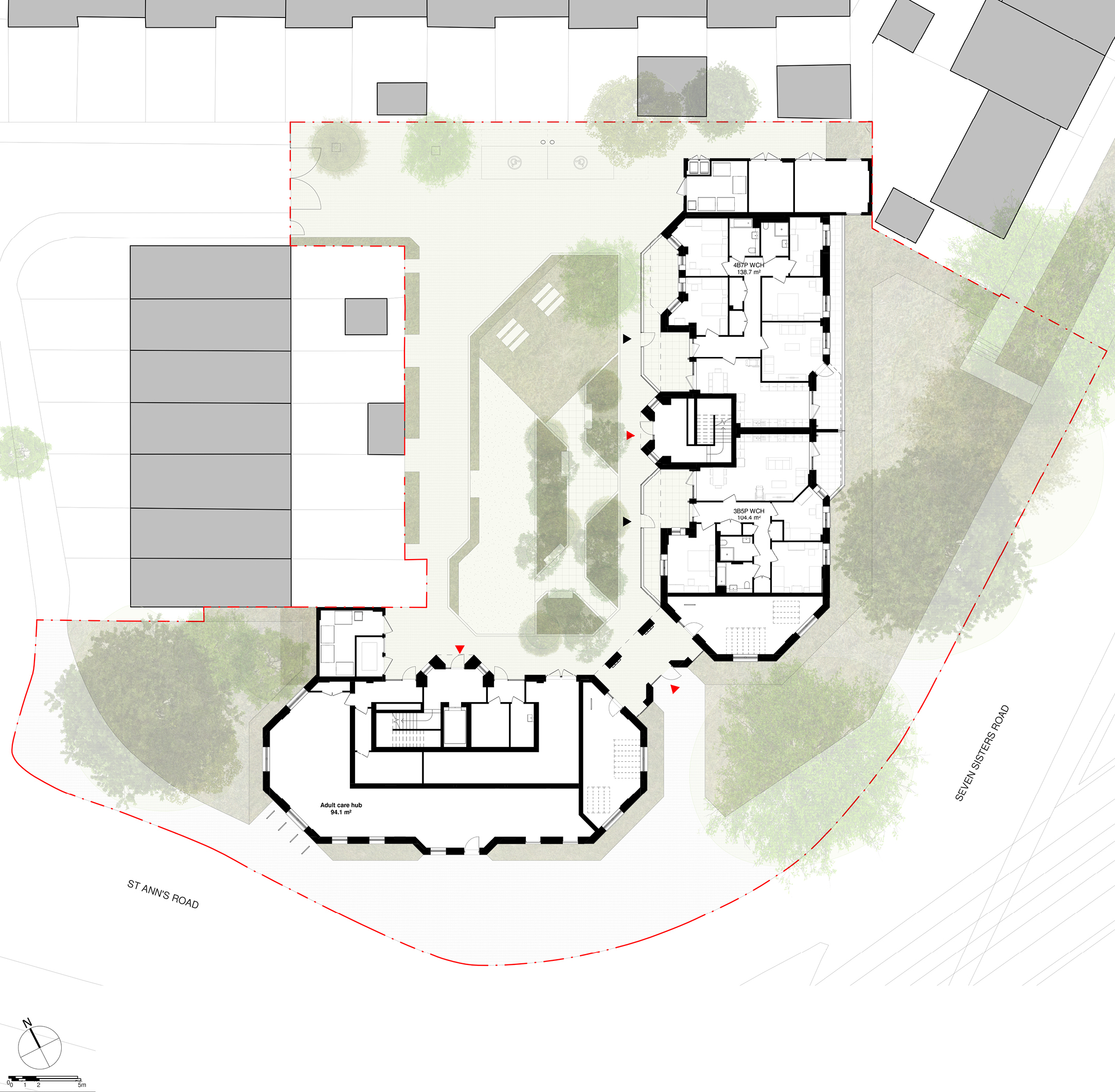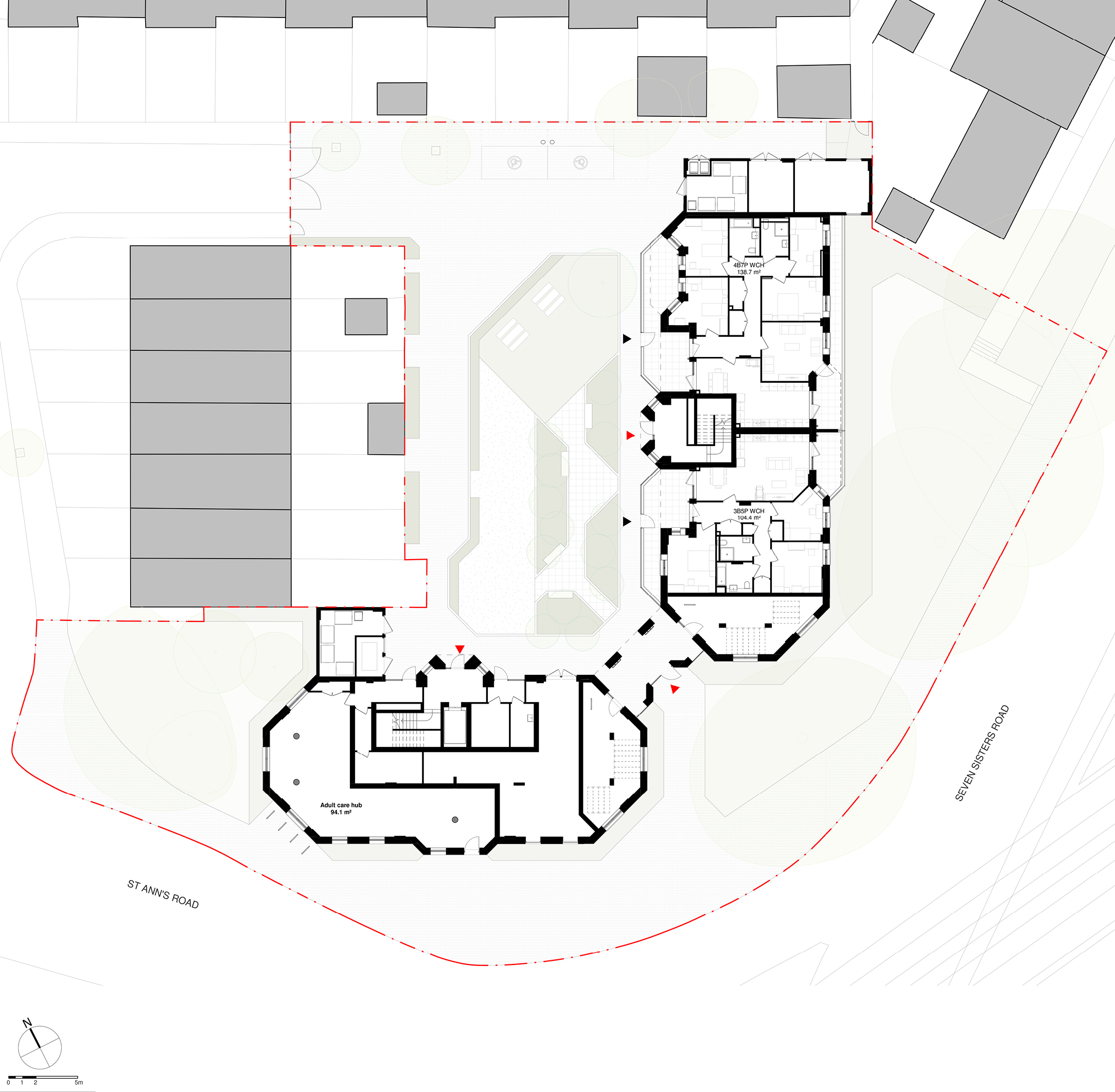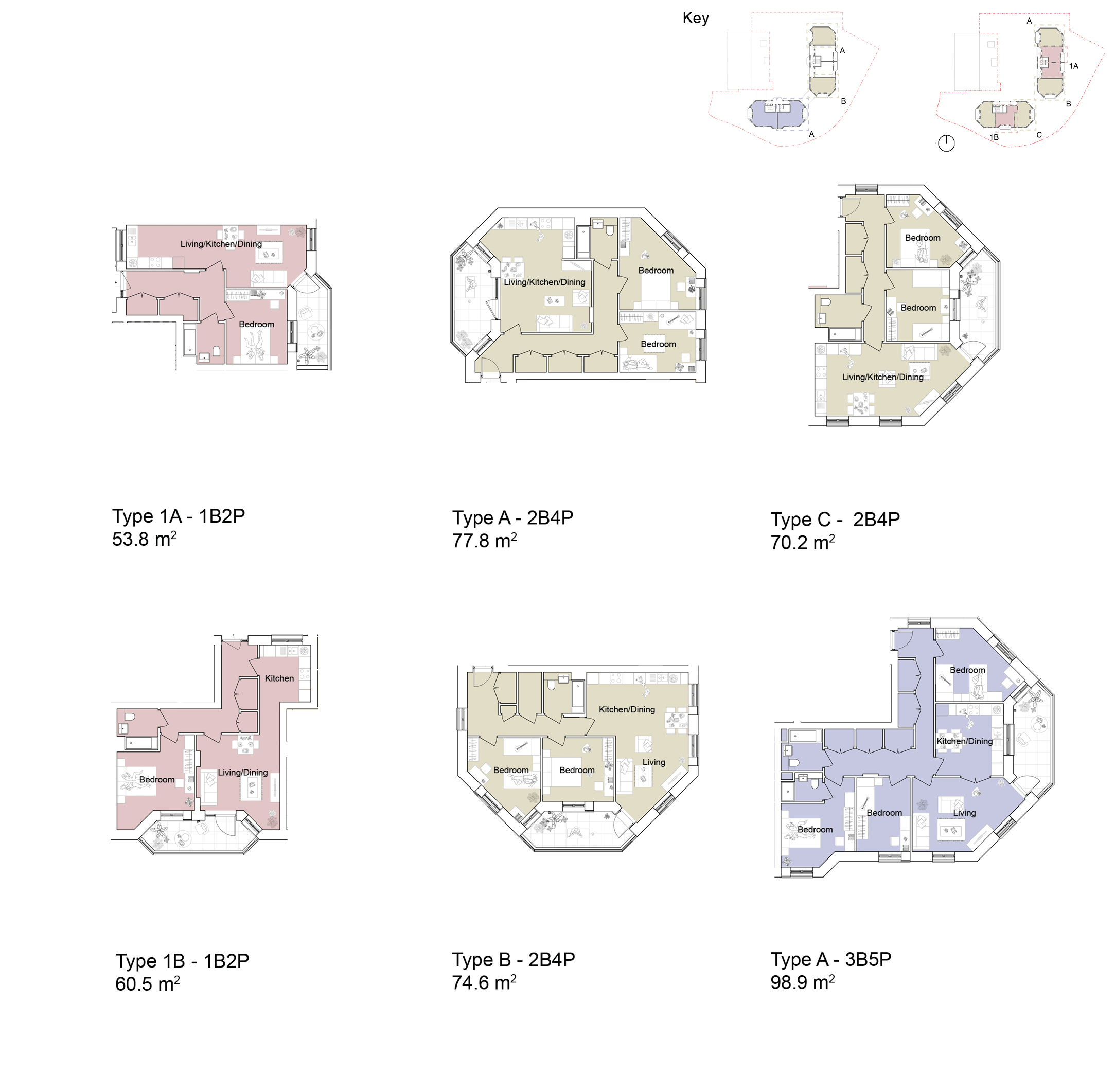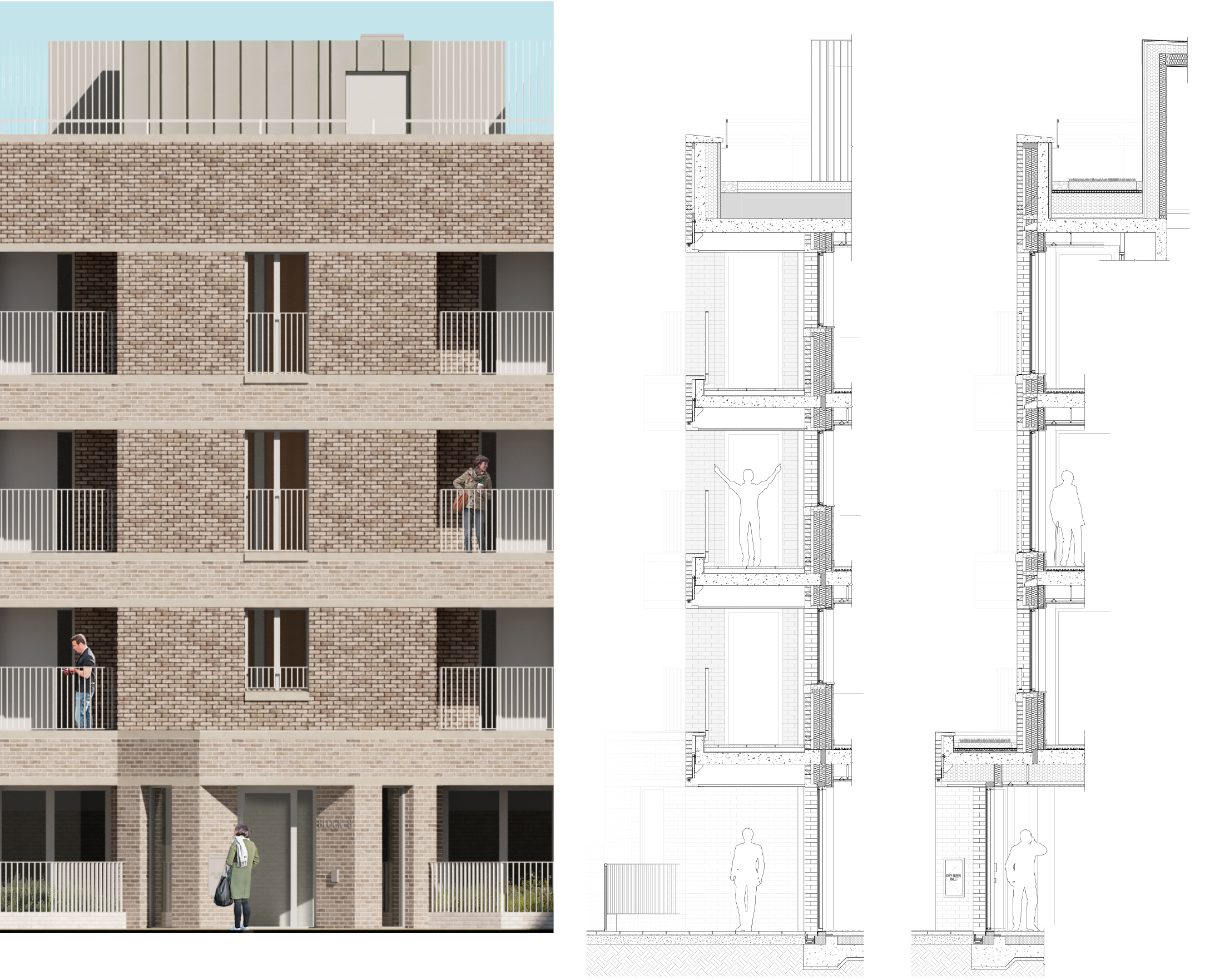 The Design Process
Kerswell Close forms part of the London Borough of Haringey's ambitious new-build development programme, which aims to deliver high-quality homes for council rent: the first direct development of council homes in Haringey for over 40 years. The complex council-owned site is close to the Seven Sisters underground at the junction of St Ann's and Seven Sisters roads and marks the end of the adjacent Conservation Area. The site consists of an area of disused surface parking surrounded by an extensive green margin including mature trees along street frontages, which give the site its character and shaped proposals for redevelopment. The project will provide 25 new homes for council rent and a street-level Adult Care Hub in two buildings, four and five storeys respectively. A single-storey entrance building links the two blocks and acts as a gateway to the development from the busy corner. The new buildings, together with the adjacent 2- and 3-storey 1970s council housing, define a shared internal garden, which provides a place to retreat from the activity of the busy external environment the new buildings now positively address and animate. Central to the design concept was the provision of a range of amenity spaces and public realm improvements as well as the rationalisation of existing convoluted pedestrian paths across the site to design out antisocial behaviour. A range of public open spaces designed around the mature trees along street frontages, together with the communal garden to the centre of the site, offer tangible benefits to existing residents on the back of the provision of new council homes.
Choose a few key elements you want to promote
• Improved connections, security and public/private definition for the existing estate as part of the new development
• Open space and amenity clearly defined with mature trees retained to public frontages and new private courtyard garden
• Adult Care Hub incorporated at street level to provide on-site services and animate street frontages
• Limited blue-badge parking and vehicular service access integrated discreetly within landscape
• Positive urban edge provided to the prominent corner site through articulation of building orientation and geometry
• Building typologies developed, allow for legible entrance and circulation sequence and provide dual/multiple aspect
Download PDF