Fruit Market, Nottingham
Number/street name:
Bath St
Address line 2:

City:
Nottingham
Postcode:
NG1 1DE
Architect:
Letts Wheeler
Architect contact number:
0115 911 0734
Developer:
Blueprint.
Contractor:
Nottingham Developments Limited
Planning Authority:
Nottingham City Council
Planning Reference:
Phase 1
Date of Completion:
02/2024
Schedule of Accommodation:
Phase 1 – 13 homes, 2-3 bedroom townhouses
Tenure Mix:
100% open market sale
Total number of homes:
39 (tbc)
Site size (hectares):
0.6
Net Density (homes per hectare):
65
Size of principal unit (sq m):
125.0
Smallest Unit (sq m):
85 m2
Largest unit (sq m):

No of parking spaces:
Anticipated c. 40. All on street, Local Authority permit controlled.
Scheme PDF Download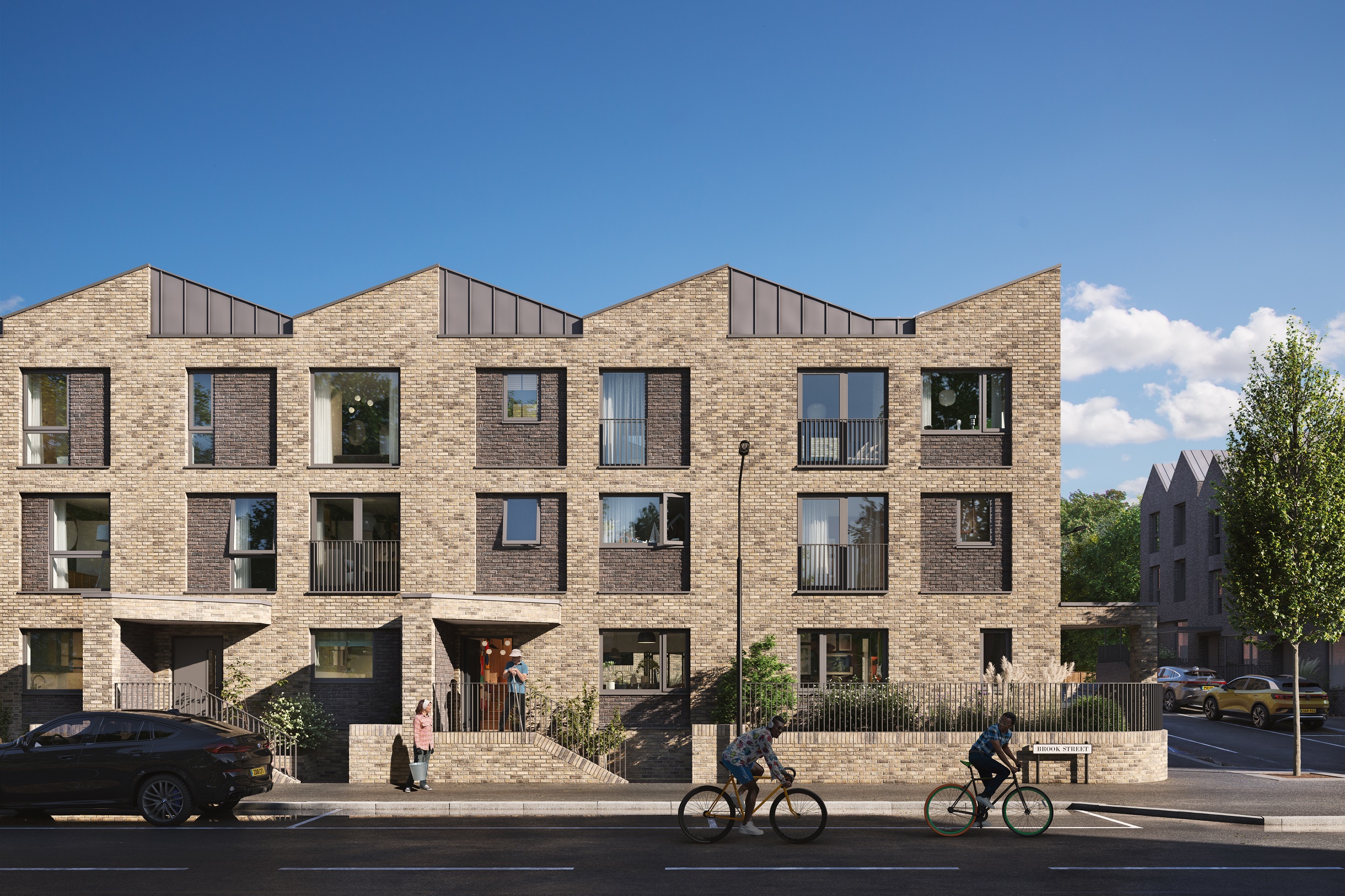 Planning History
Outline planning was granted in 2018 and reserved matters consent for phase 1 was granted in 2019. A planning application for phases 2 and 3 is anticipated to be submitted in late Spring 2023.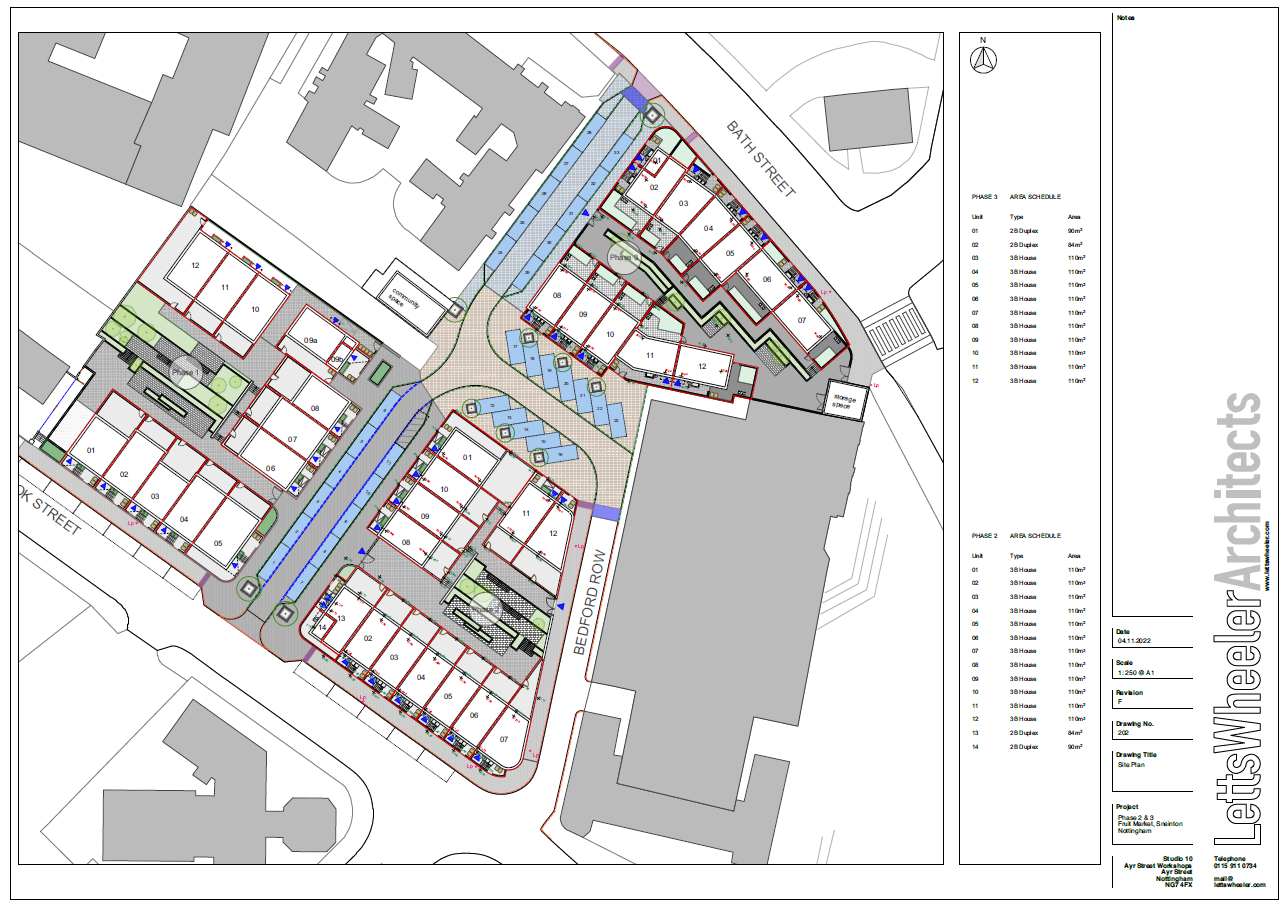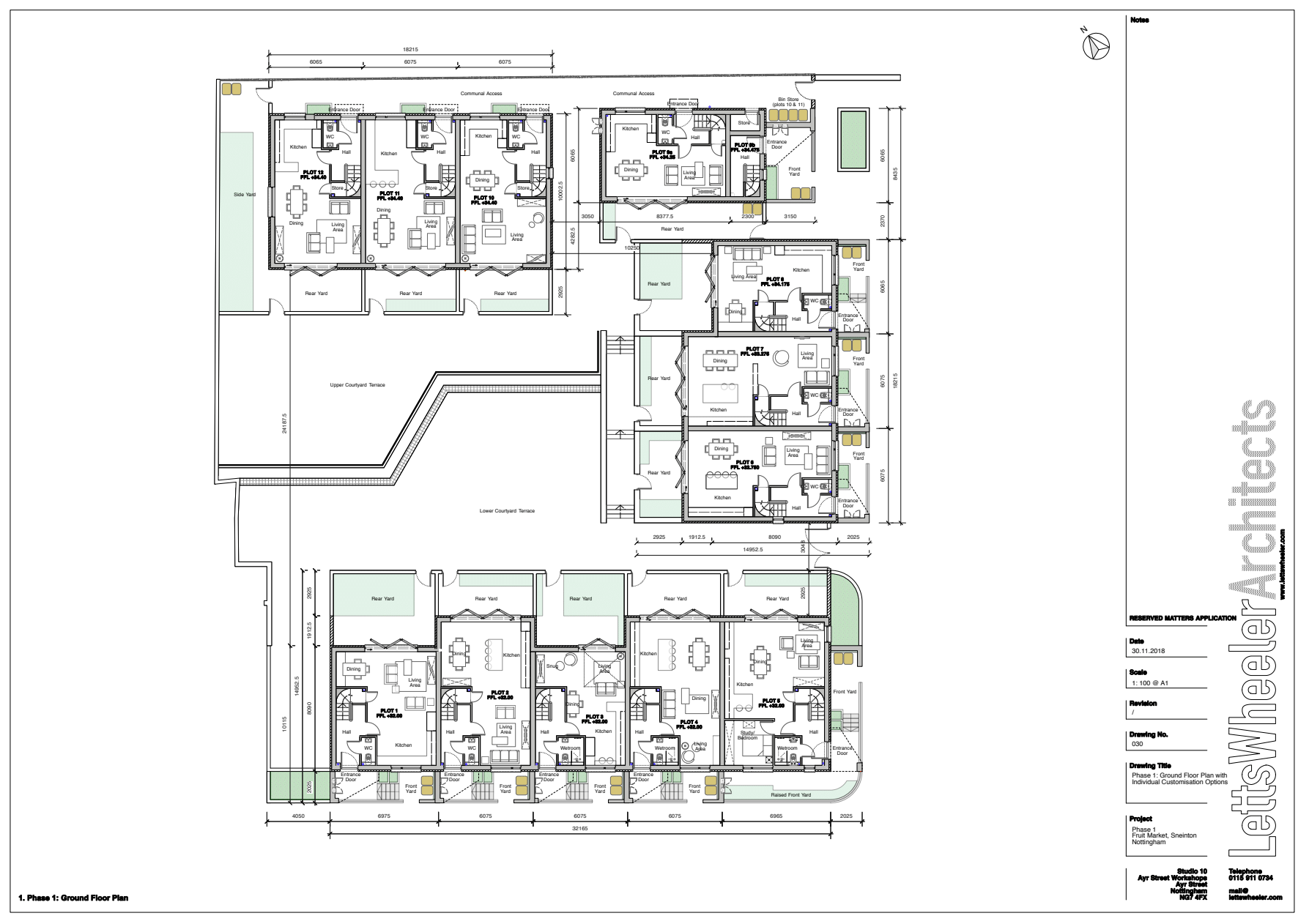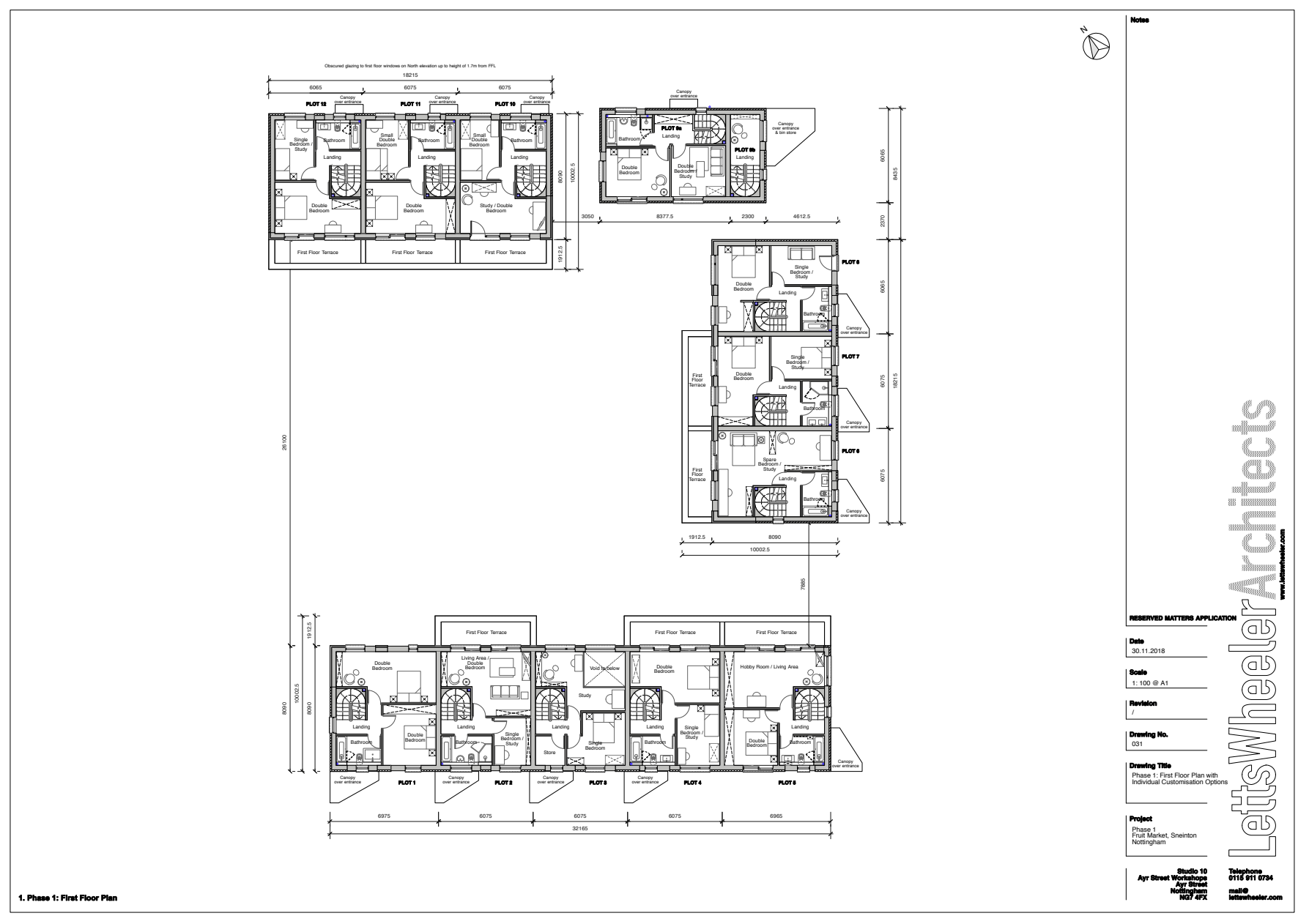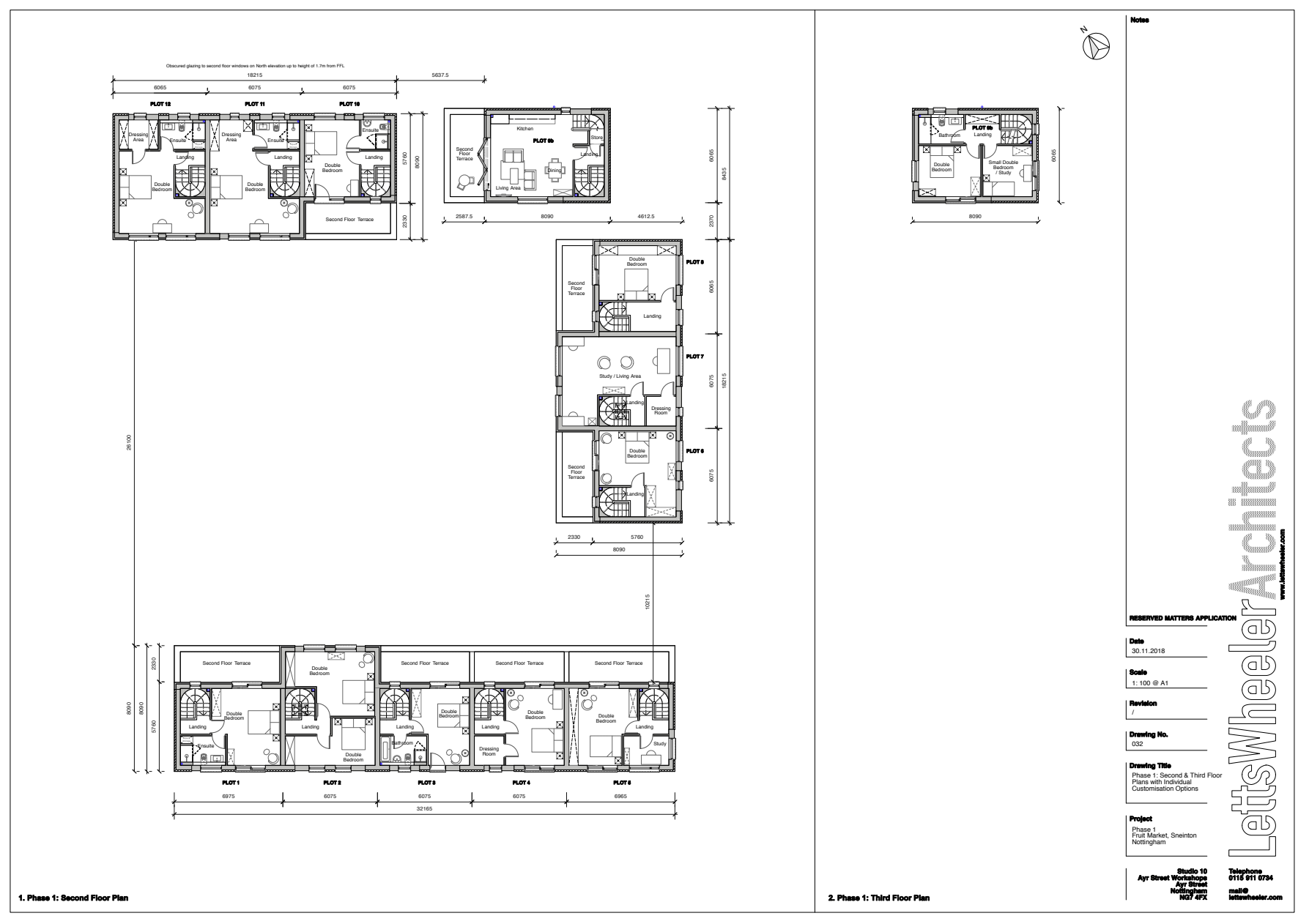 The Design Process
Fruit Market is a development of 39 townhouses in Nottingham city centre, close to the independent retail hub of Sneinton Market. The development provides 3 distinct phases of homes, each clustered around a shared courtyard garden.
13 homes in Phase 1 are due to complete in early 2024.
The project offers a welcome housing addition in an area where almost all recent residential developments have been student accommodation, maintaining the regeneration momentum of the Sneinton Market area, a success story for independent retail/leisure within the Creative Quarter of Nottingham.
Architects Letts Wheeler completed a thorough contextual analysis of the area and the architectural/social character. The townhouses are designed to be contemporary and combine a consistent palette of materials with variations in form and fenestration. Phase 1 was conceived as group custom build and whilst delays to the delivery of the project has meant that several of the group had to withdraw, four of the original members remain and will form the nucleus of the new community. Where group members withdrew, Blueprint 'stepped in' to deliver the homes as market sale whilst retaining the individual character of the 'custom build' design chosen previously. Each home is unique.
As well as elevated gardens to ensure hierarchy between private space and public streets, residents will have access to a shared communal courtyard, with extensive planting areas and passages for wildlife. This area will be owned, curated, and managed by residents. Spaces have been identified where shared buildings can be located in the courtyard – be it a bike shed, outdoor kitchen or gazebo, the residents will be able to choose their preference.
Each future phase of the development will have its own unique character, with variation in the materials and roofscapes, albeit within a considered aesthetic borne out of an over-arching design guide.
Choose a few key elements you want to promote
Social impact – resident-owned courtyard creating a ready-made community.
Custom build options – nucleus of new community in place and has led to generative design features throughout phase 1
City centre family housing – addressing the supply imbalance in many UK city centres and tackling issues such as city flight.
Download PDF