WATCH HOUSING DESIGN AWARDS 2020
Streamed over 4 nights
Monday 13 July 5.00pm-5.25pm
Tuesday 14 July 5.00pm-5.25pm
Wednesday 15 July 5.00pm-5.25pm
Thursday 16 July 5.00pm-5.15pm
BUY TICKET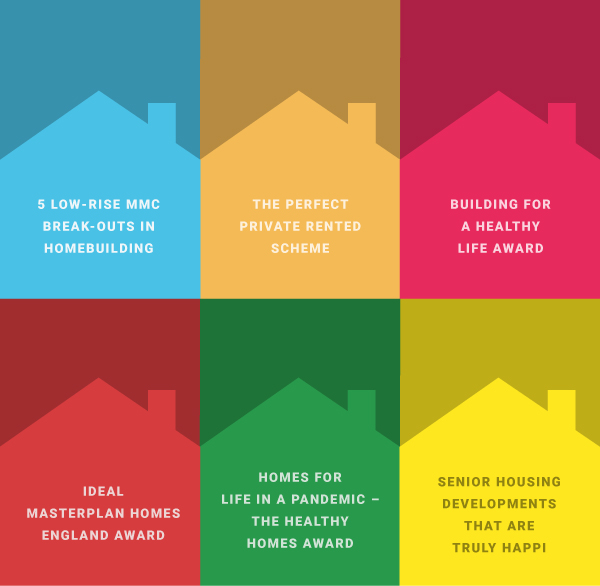 For the first time in their 72-year history, the judges didn't visit the shortlist. Instead drone cameras were sent to film the schemes. Judges then interviewed residents on Zoom. See what they saw and hear what they heard about 16 remarkable winners over four 25-minute film and slideshows, including:
THE PERFECT PRS SCHEME
5 MMC BREAK-OUTS IN LOW-RISE HOUSEBUILDING
HOUSE TYPES IDEAL FOR LIFE IN A PANDEMIC – THE HEALTHY HOMES AWARD
HOMES ENGLAND'S IDEAL MASTERPLAN AWARD
BUILDING FOR A HEALTHY LIFE AWARD
SENIOR HOUSING DEVELOPMENTS THAT ARE TRULY HAPPI
GOOD NEIGHBOUR AWARD (won by Goldsmith Street in 2019)
STREAMED LIVE
FIRST NIGHT IS FREE (SEE IF IT'S WORTH YOUR TIME).
THEN BUY A SINGLE TICKET @£10 (£8.33 + VAT). GETS YOU ACCESS TO NEXT 3 NIGHTS.

50% of proceeds go to HOUSING LIN, Department for Health and Social Care's offshoot which advises on the planning and design for ageing and vulnerable groups.
The social enterprise has had to cancel much of its paid work.
The Housing Design Awards will help.
BUY TICKET